Find your way to the Warren County town of Great Meadows, west of Hackettstown, and from Hope Road, follow State Route 46 east as it passes by some of the village's vintage buildings. The glacial accidents of 600 million years ago produced the deep valleys and veins of decomposed organic matter that accumulated on the prehistoric lake bottom in what is now Great Meadows and Alphano. The eventual swamp was drained in the mid 1800s, converting marsh into "black dirt" farmland known for its rich muck soil. Before the swamplands were drained, islands such as Roe's, Young's, Trimmer's, and Post's Islands existed. Today's Island Road leads back to the fifty-year-old Island Dragway where Don "Big Daddy" Garlits returned this summer, 46 years after officially setting a record here for going from zero to 200 m.p.h. in a quarter mile!
Driving (slower) on Route 46 east, 3/4 mile from Hope Road, turn left onto Alphano Road and cross over the Pequest River. For the next three miles, sandwiched between Cat Swamp and Jenny Jump Mountains, Alphano Road skirts Bear Swamp, part of the Great Meadows. Glimpses of vast truck produce fields peek between wooded areas with homes. Where Alphano Road bends around the western end of Allamuchy Mountain, the small hamlet of Alphano has been swallowed up by a profusion of condominiums and town houses. And out there in a nearly inaccessible section of Bear Swamp is a natural condominium of sorts, a Great Blue Heron rookery containing a profusion of immense nests.
Continue on Alphano Road for 1 3/4 miles to Long Bridge, another former hamlet. Turn left onto Long Bridge Road (you've crossed under Interstate Route 80), on to a short bridge over the Pequest, then through two miles of an eclectic mix of scenic private farms with fields of corn and soy beans interspersed among huge commercial truck produce fields, sod beds, and mum growers. About 1 1/2 miles from the hamlet of Long Bridge, an extended span, possibly signified by the hamlet's name, elevates the road above idyllic fields and pastures as it passes again over the Pequest.
At the end, turn left onto Johnsonburg Road (County Route 612), once used by European settlers traveling between Allamuchy and Johnsonburg, and, before that, part of an ancient Indian trail leading to Atlantic coast. In 3/4 mile the road passes a stone-walled Quaker burial ground and site of a former Quaker meeting house. First built of logs by the Hardwick Society of Friends sometime after 1745, the meetinghouse was replaced with a larger limestone structure by 1764, and a schoolhouse was erected on its foundation in 1866. The old Quaker cemetery is centered in territory known long ago as "the Quaker Settlement", an important stop along the Underground Railroad route for slaves fleeing bondage in the South in the Civil War era.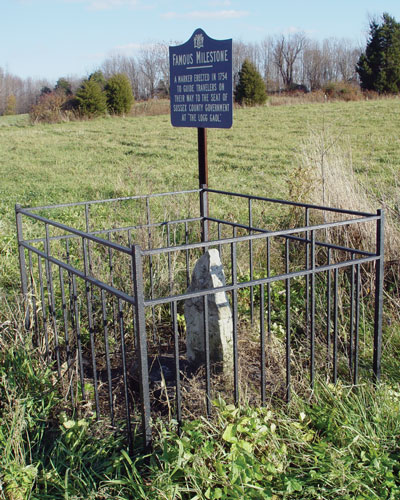 Continue for about a mile to South Street on the right, and, another thousand feet on CR 612, is a very small iron fence surrounding an ancient mile marker that for over two and a half centuries has cryptically indicated to travelers "2 to L.G.", meaning "two miles to Logg Gaol", an early name for Johnsonburg.
Backtrack to South Street and follow the narrow, twisty road through thick woods for 1 12 miles, then turn right onto Greendell Road (CR 611), driving through a mixture of woods and farmland for about 3/4 mile to the intersection with Henry Road at the village of Greendell. Turn right onto Henry Road and then make an immediate left onto Wolf's Corner Road (CR 611). Greendell is a small but active hamlet containing a few homes, a general store, a church, and former railroad station along the Lackawanna Cut Off.
Follow Wolf's Corner Road along a combination of residential properties and the Whittingham Wildlife Management Area. Three miles from Greendell there is parking access to a short trail leading to an excellent wildlife observation platform with a scenic view of vast marshlands. Across the marsh is the thousand-gallons-per-minute Big Spring, one of the primary sources of the Pequest River, which here flows away from its eventual destination, the Delaware River.
Continue one mile on CR 611 to the traffic light at Springdale, turn left onto State Route 206 north for a few hundred feet, then turn onto to Fredon Springdale Road (CR 618) on the left. Continue for a mile, passing a collection of large chainsaw sculptures, to another parking area in Whittingham WMA on the left. The trailhead for Muckshaw Ponds Preserve trails is across the road. Limestone bedrock underlying Muckshaw's swamp has been hollowed by ground water, forming caverns whose ceilings sometimes collapse, creating today's sinkhole ponds. A large trail system allows hikers to explore and view this wet, rugged area, offering dramatic views of the ponds and ridges and wonderful photo opportunities.
Nearly inaccessible within Muckshaw's swamp is a large rockshelter called Moody's Rock, said to have sheltered the notorious Tory Bonnell Moody and his men who caused much trouble for the "rebel" forces during Revolutionary War times. Claims have been made that a cave system once existed here that extended all the way into another cave in Newton.
Continue on Fredon-Springdale Road for 1/3 mile then turn left turn off CR 618, following Fredon-Springdale Road for 1/3 mile to the dirt lane on the left leading into another Whittingham WMA parking area, from which trails to the Big Spring can be accessed. Continue to the intersection with Ridge Road (CR 519), turn left and go 1 3/4 miles. Turn right onto Fredon-Greendell Road and follow for 1 1/4 miles to State Route 94. Turn left and drive for two miles to Yellow Frame Road, which bears the name of the prominent yellow church on the corner.
The present day Yellow Frame church was completed and dedicated in 1887. An older "yellow frame" church, completed by 1786, was built across the road where today's cemetery is located. The Warren Ð Sussex county line ran between that church's pulpit and congregation so that the preacher was in one county while delivering his sermon to the congregation in the other. There is stone monument indicating that location in the cemetery. Before that, this church's original congregation used a log meetinghouse once located at Dark Moon.
The area south of Yellow Frame, namely the Johnsonburg Swamp and Dark Moon Preserves, has been set aside to encourage natural growth with minimal human encroachment. Johnsonburg Swamp Preserve boasts sinkholes, caves, natural springs, and Mud Pond, a wetland harboring rare plant species and endangered wildlife. Trails lead to cliff tops where, at High Rocks, hikers may stop and view Mud Pond far below, or continue to the Yellow Frame caves. The limestone outcroppings overlooking the pond are the largest rock formations of their kind in New Jersey.
From Yellow Frame Church, follow scenic, gently rolling Yellow Frame Road about a mile through fields and woods; turn right onto Wintermute Road (Route 519) and continue 1/3 mile to the stop sign at Hibler and Dark Moon Roads. This corner was probably the site of the former Dark Moon Tavern, operated prior to the Revolutionary War and for a long time afterward, its name illustrated on a sign with a black moon painted on a white background. Amusements included horseracing, quoit pitching, card playing, etc., and, tradition claims, an occasional murder. The tavern gave its name to the surrounding neighborhood.
Turn right and continue 1/3 mile on Dark Moon Road (Route 519) as it passes between high fields and a deep hollow through which Bear Brook flows. Notice, but do not enter, the barricaded lane rising uphill on the right, once part of a curve in the original Dark Moon Drive.
Across Bear Brook, on private property on both sides of the old lane, the old Dyer (or Dark Moon) cemetery was laid out probably about 1764, the same year the former Hardwick Presbyterian Church's log meeting house was built there, predecessor to the Yellow Frame Churches. The grave markers, damaged or destroyed by vandals long ago, bore dates between 1769 and 1841.
After the old Hardwick congregation moved to their new church at Yellow Frame, this abandoned graveyard was referred to as "Dark Moon Cemetery" for many years. Some evidence indicates the cemetery was still used even after its parent church moved. At least one of those interments is relatively well-documented: the burial of "The White Pilgrim". In 1835, Joseph Thomas, an early evangelist of the "Christ-ian" order, delivered a sermon at Johnsonburg. Known as "the White Pilgrim" because he rode a white horse and wore white clothing, he was stricken down with smallpox shortly after his sermon. Although a "Christ-ian" cemetery existed in Johnsonburg, for some reason Thomas was buried here in the abandoned Dark Moon Cemetery, possibly from fear of his contagious disease.
Shortly after Thomas' death, his friend Mr. J. Ellis, stood beside the grave at Dark Moon cemetery and penned a poem entitled "White Pilgrim" that was soon set to music. It became a popular folksong that has survived to this day as the song called "Lone Pilgrim", recorded with slightly altered lyrics by Bob Dylan, Doc Watson, and others.
The rocky, densely wooded tract on the right between Dark Moon and Johnsonburg was once known as Big Woods, today part of the Dark Moon and Johnsonburg Swamp Preserves, both marked by numerous jagged and irregular limestone outcroppings. Dark Moon Preserve contains the remnants of the Dark Moon archaeological site, a Woodland Period Minisink village.
Continue for a half mile to the old railroad tunnel as Dark Moon Road parallels the old Dark Moon Drive hidden in the trees on the right. Soon the old road reappears as a driveway through Dark Hollow Farm. Just before the tunnel, a gravel lane bearing to the right leads to a trailhead in Dark Moon Preserve. The huge stone pile on the left side of the road is part of the Lackawanna RR's Cut Off, actually a rock fill for the railbed on top. The Cut Off was built in the early 1900s to "cut off" some extra miles, eliminating slower trackage.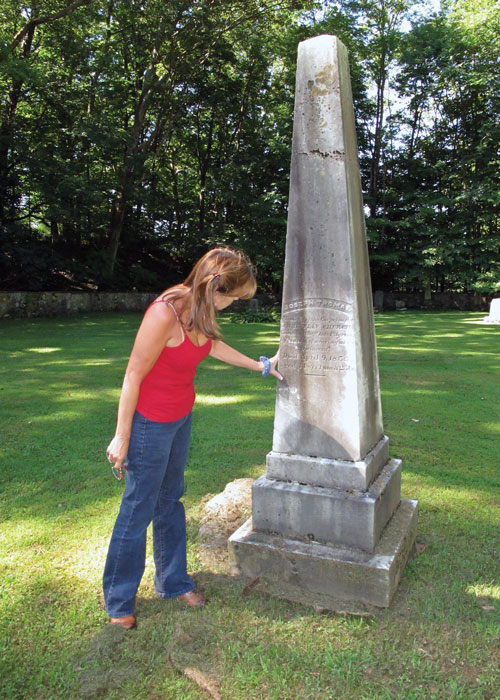 Three-quarters of a mile beyond the tunnel, look on the left for an octagonal stone house, which appears on an 1874 map of Johnsonburg, labeled "Mrs. M. Hart". At the intersection with Ramsey Road continue straight onto Main Street into Johnsonburg. This town was the county seat until 1765. As such, in 1754 the only jail in northwestern New Jersey was built here, its log construction giving the town its early name, Logg Gaol. Surrounded by intriguing sites such as the Logg Gaol, Federal Springs, Indian Hollow Rockshelter, the Devil's Wheelwright Shop cave, Devil's Kitchen cave and old stories such as that of the Old Pig Drover, this area bears exploring. For today though, drive through Johnsonburg's Main Street, passing by vintage buildings, churches, and a still-active general store. Turn left onto Allamuchy Road (CR 612), passing along the steep sides of Mount Rascal. Just beyond, stopping at the Johnsonburg Christian Cemetery will bring to conclusion the story of the White Pilgrim. In 1846, a convention of ministers held at Johnsonburg decided that Joseph Thomas' remains should be removed from the Dark Moon cemetery and reburied here at the Johnsonburg Christian Cemetery. The obelisk then erected in his honor is easily seen, marking his grave in the center of the cemetery, still oddly isolated from the surrounding graves.
Just beyond the cemetery, turn right back onto CR 519. Drive 1 3/4 mile and turn left onto Southtown Road, a narrow wooded road heading toward Jenny Jump Mountain ahead. Continue one mile through thick woods to the large rock outcropping at the intersection with Heller Road, the site of the lost hamlet of Southtown. At the large rock outcropping, bear left to stay on remote Southtown Road as it weaves around through thick woods at the northern end of Jenny Jump Mountain. Signs along the road indicate the land is part of Glovers Pond Preserve, which hosts a wide diversity of plants and wildlife, some of which are rare and endangered. There are no trails visible here.
Drive 3/4 mile to the intersection with Shades of Death Road, named perhaps for murders along the road, deaths due to malaria, the dark tree cover, or for an Indian massacre in a dark ravine now covered by Ghost Lake which appears a half mile through dark swampy woods on the right. In 1917, a New Jersey state archaeologist referred to "a ravine known as Shades of Death", which he marked on his maps as the area converted to an artificial pond shortly afterward. Its fanciful name was influenced by the pond's spirit-like rising mists. The forbidding reputation has another rationale: in the 1880s even the hardiest, bravest gleaners refused to cut grain grown in the ravine due to the all-too-frequent strikes by copperheads "as thick as your arm."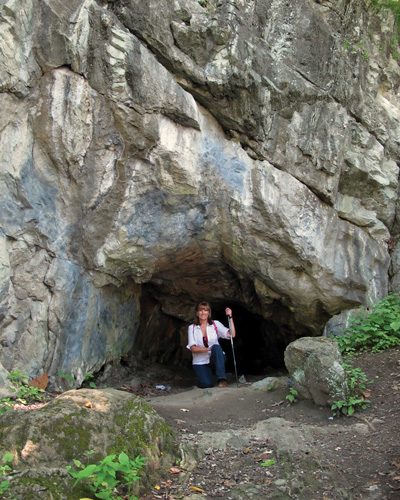 The gravel parking area at Ghost Lake is marked by a sign for Jenny Jump State Park. By walking a few hundred feet along the lake's northern shore, you will find a cave called the Fairy Hole, where archaeologists have found Indian artifacts, a fire pit, and over ten thousand bones and fragments from 23 different species of mammals, including the tooth of a prehistoric giant beaver, the only one found in New Jersey. Jenny Jump Mountain rises behind Ghost Lake and can be accessed by a park trail leading up the from Ghost Lake. Continue on Shades of Death Road for three miles to Hope Road, passing through the mucklands on the left and steep rocky slopes of Jenny Jump Mountain on the right. Although the road still passes through dark overhanging trees, occasional breaks occur which give beautiful expansive views of the dark, fertile Great Meadows. To return to the town of Great Meadows turn left onto Hope Road and follow it back to Route 46, or turn right towards the village of Hope.
The author welcomes any questions or comments and may be contacted by email .
Nearby accommodations and attractions
, Bloomsbury

The UACNJ facilities in Jenny Jump State Forest, near Hope in Warren County, are 1,100 feet above sea level, one of the few dark sky locations left in the state.

, ,

540 Warren Street, Phillipsburg 08865

Restored c.1754 stone ironmaster's home associated with c.1741 Oxford Furnace.is open first and second Sundays, 1-4pm, for tours through Colonial and Victorian rooms with costumed docents. There are special events throughout the year as well as programs for schools. Sunday concerts on the manor lawn are a favorite during the summer.

8 Belvidere Ave, Oxford 07863, 908/453-4381

Consider Rutherfurd Hall as refuge and sanctuary in similar ways now, as it served a distinguished family a hundred years ago.

1686 Route 517, Allamuchy 07820, 908/852-1894
This story was first published: Autumn, 2010