February 2 - 9
Seasonal Adaptation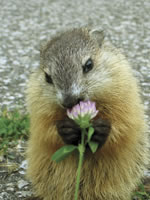 Gardeners can attest to the adaptability of that overgrown squirrel known as a groundhog, able to breach most any obstruction known to man in search of juicy fruits and veggies. The robust rodent has even achieved a degree of cuteness, and learned how to predict the seasons, although the arrival of this year's winter weather is as uncertain as its end.
---
Learning Lenape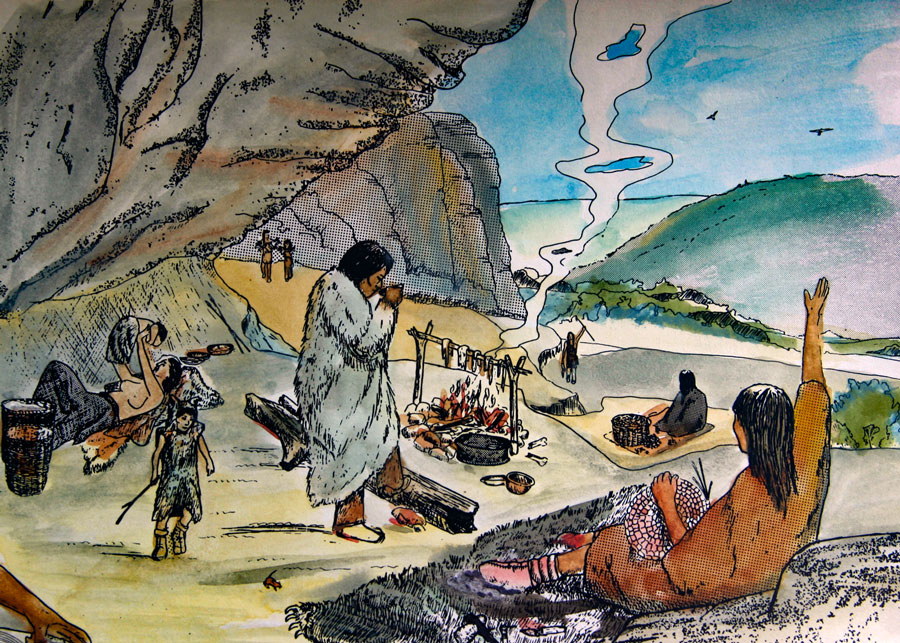 For Archaic peoples, rock shelters, consisting of natural overangs or hillside depressions, were temporary stopovers that offered protection from the rain and snow. In winter they might have been closed in with windbreaks made from skins or brush.
The native people of northwestern New Jersey had no written history. In fact, they had no writing except for the use of pictographs, some of which were carved on stone. Much of what we do know about New Jersey's prehistory is a result of work done by archaeologists, or from early accounts by explorers and travelers, along with journals kept by missionaries and settlers in the 1600s and early 1700s. For over 12,000 years the Lenape and their ancestors occupied northwestern New Jersey, successfully adapting to climatic changes in their environment. But, after a little more than a century following European colonization, only a few Indians remained. Arrowheads, stone axes, pottery and other objects are still occasionally found in a farmer's field or along a riverbank, but only a rough sketch of a robust culture remains; we know nothing of the human deeds and dramas that occurred. More...
---
Points of View
Although

10,000 previous winters

had taught native peoples how to adapt, the Morristown encampment of 1789-90 presented a supreme challenge for patriot soldiers. Walk up the hill at Jockey Hollow that held two hundred soldier huts for the Pennsylvania Brigade in early 1790. Imagine staying there until it gets warm enough sometime in April to take off your down jacket, not to mention long johns. Imagine standing there without your shoes on, without even one of the huts on top of the hill for retreat from the incessant cold. Try to conceive of something important enough to keep you on that hill for the rest of the winter. More...
Visit the site of the

Great Story

, Morristown National Historical Park, and learn about the life of a common soldier during the encampment at

Jockey Hollow

, where General Washington and the Continental survived through what would be the coldest winter on record. Call 973-543-4030 for more information.

---
Peace on Montana Mountain

The Tibetan Buddhist Learning Center on Montana Mountain in rural Washington Township in Warren County.
No story of American Buddhism would be complete without recognizing the passionate energy and devotion that the Tibetan Buddhist Learning Center's founder,

Geshe Wangyal

, poured into Buddhism on this soil. One of the Skylands' most sublime settings,

Labsum Shedrub Ling

, as it's known in Tibetan language, is a tranquil, park-like setting, open to the public. This Sunday's (Feb. 5) Founder's Day is a celebration of Geshe Wangyal's arrival in the United States on February 5, 1955 and his ferocious efforts on behalf of Americans.

Guests are welcome

to the remembrance held within the Main Temple, where the service will include prayers, a teaching, and sharing of stories of Geshe Wangyal's life.
Buddhism has seeped into American life with great flourish and has flowered into a vast array of forms. Introduce yourself to this very special place! For more information click or call 908-689-6080. 93 Angen Road, Washington, NJ.

---
---
Tap our calendar for the best events for you and your family, or check our current stories. Pick from a multitude of daytrip itineraries and watch out for our virtual efforts to keep you informed. For the more aerobically inclined, the Outdoor Map shows the way to go, or choose among dozens of natural attractions or outdoor activities suggested on our website.

Choose your own adventure!


Northwest New Jersey and destinations just beyond those borders, in Pennsylvania and New York, offer brilliant ways to get out and enjoy the pleasures of the season.

---

Share this email
*|MC:TOPSHARE|*
---
Skylands Visitor Magazine, PO Box 329, Columbia, NJ • Privacy Statement