Sussex County Leaf Peeping
Sussex County is a leaf peeper's paradise. You can spare yourself the time, road miles and money of a New England journey and enjoy brilliant colors and friendly, rural charm in New Jersey's Great Northwest. Sussex County contains six State Parks and one State Forest, accounting for almost 1/3 of the county's land mass. The Kittatinny Mountains stretch north to south along the county's western boundary, and camping, fishing, hunting, wildlife viewing, biking, birding and boating opportunities abound. Picnicking facilities are found throughout the system.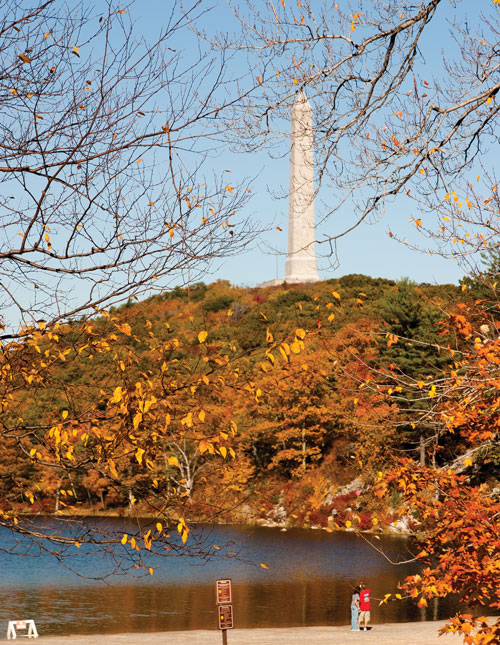 Campsites and/or cabin rentals occur in High Point, Swartswood and Allamuchy Mt. State Parks and Stokes State Forest . One of our best kept secrets is the annual hawk migration that occurs over the Kittatinny Ridge and attracts birders from a tri-state region. Data is recorded daily from Sunrise Mountain by the Sussex Bird Club. A novice hawk watcher will probably find someone with expertise manning the mountain regularly between September and November.
The ridges and valleys throughout the county's 539 square miles, form a canvas of alluring vistas of gold, crimson and mahogany, showing off many species of hardwoods, accented by the deep greem of the native conifers. During the early morning, the valleys exhibit exciting contrasts and interplay between the vibrant foliage and the hues of rock outcrops, fog and evergreens. The splendor usually begins early in October, peaking two weeks later around Columbus Day and continuing into November.
A visitor to Sussex County will find rural charm along many miles of county roads. Be adventurous and travel off the beaten path. Eventually, all roads lead back to a State Highway. And in the meantime, you will be treated to turn of the century dairy barns, farm scenes with cows, horses and sheep grazing peacefully in their fields, fall colors, apple and pumpkin picking patches, hayrides and all our country charm. You may even decide to stay a little longer at one of our bed and breakfasts, or camp under a starlight canopy.
Fall Foliage Tours in Sussex County: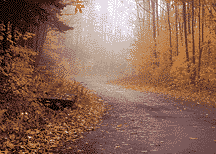 Photo by Herb Watson
Several routes will give the visitor a taste of the rural splendor that is Sussex County. The county boasts vistas that equal any found in New England, especially in the Fall when the mountains glow red, gold and orange and there is a crisp, fresh breeze blowing the leaves on their journeys.
A visit to Sussex County would be incomplete without visiting High Point State Park and Monument, the highest point in New Jersey at 1,803' above sea level. The Monument affords a spectacular 360 degree view of three states and the Delaware River valley. The park entrance is on Route 23 in Wantage Township - approximately 1 1/2 hours from New York City. Hikers have a variety of trails to chose from, including the Appalachian Trail which runs for many miles through High Point and Stokes State Forest. Or, for a shorter trip, there is the Kuser Natural Area with trails through forested areas onto a boardwalk over a bog.
Just north of the High Point State Park entrance, continue north on Route 23 and turn onto Sawmill Road. This pleasant drive will continue through High Point State Park into Stokes State Forest where you can access the Sunrise Mountain Road. Or, travel to Sussex County via Interstate 80 to State Highway 15 to State Highway 206 where a sign points to the Sunrise Mountain Road. This excursion through Stokes offers views similar to New England or the Skyline Drive in Virginia. The road journeys along the Kittatinny Ridge with open vistas into neighboring states. Fall colors usually peak around Columbus Day Weekend, but the swamps show vibrant colors early in September and the ridges will hold their golden hues well into November.
Pick Your Own Produce; Cut Your Own Christmas Trees:
You'll not only enjoy the splendor of Jack Frost's pallet, rich enough to make the greatest painters envious, you'll also have the opportunity to enjoy a rich heritage in agriculture. Farms, barns and cows dot the countryside. Farmstands advertise Jersey Fresh homegrown produce including apples, pumpkins, yellow and butternut squash, zucchini, peppers, tomatoes, and sweet corn. Many farms offer harvest hayrides out to the pumpkin fields - perfect for families and children. Watch the apples being pressed and then try fresh apple cider. Halloween activities also figure into the programs at many farms.
For the Holidays, Sussex County offers over three dozen Christmas tree farms to seek out the spruce, fir or pine of your choice. Most farms open in November and continue right up to Christmas. Santa Claus may be found along the way to delight your children, and many farms offer decorated wreaths and a variety of Christmas crafts. There are also sleigh rides (snow permitting!) on selected farms. What a wonderful way to spend a day in the country!
Nearby accommodations and attractions
, Sussex

Step Into Earth Science! Mining museum with underground mine tour and over 30 acres of indoor & outdoor displays and historical buildings. Recent additions include expanded fluorescent display at Thomas S. Warren Museum and the Million Dollar display at the Oreck Family Mineral Gallery. Gift shop with a collection of world wide minerals.

30 Plant St., Ogdensburg 07439, 973/209-7212

Located in Sussex County near the Kittatinny Mountains the camping resort offers park model, cabin and luxury tent rentals as well as trailer or tent campsites with water, electric and cable TV hookups on 200 scenic acres.

69 Kymer Rd., Branchville 07826, 800/526-2267
This story was first published: