The serpentine walk is low and narrow through the floodplain. The trail is skinny and unobtrusive with scattered benches good for watching hawks and herons. It slinks through cattails, above grasses and wildflowers dotted with shrubs and edged in woods. Wawayanda Mountain forms a ridge across the valley to the east.
Wheelock says that every board and all materials for the boardwalk were hand-carried in except for one time when a helicopter dropped materials. After Hurricane Floyd flooded the first stretch of the boardwalk, volunteers worked by rowboat. The hardest part of building the boardwalk was hauling and sinking almost 900 metal piers to hold it up.
Wheelock says that 10 percent of the 1.5-mile boardwalk use is by AT thru-hikers and section-hikers. The other 90 percent of the traffic consists of locals--joggers, dog-walkers and school kids doing nature studies. There is nothing on the AT that is as much like a community park as this is. On this day, one woman comes by with her dog. She's here all the time. She says it's nice because she has a place to walk and doesn't have to worry about traffic. They cross the 110-foot Pochuck Quagmire Suspension Bridge over Pochuck Creek and continue on their peaceful, easy journey.
The AT relocation was a joint effort of cooperating federal, state and local governments, private organizations and volunteers. It began in 1980 when the DEP and National Park Service started buying the needed land as buffer for the AT. "They bought the corridor and then the question was, 'how do we get across it?'" says Tibor Latinscics, bridge project engineer. Before now, with the completion of the boardwalk, hikers did an extra 2.1 miles on roads to get around Pochuck Creek and the 3,000-foot wide wetland that becomes a lake when the creek floods. Latinscics says there are three words for the project: inspiration, perseverance and perspiration. "You had to be there about 15 years ago, knee deep in water with no budget. We had this vision. It was ten seconds of inspiration and ten years of perseverance to gather partners and funding."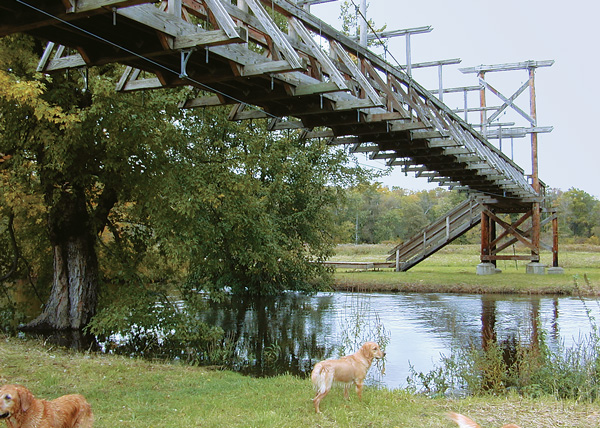 Latinscics designed the bridge using his daughter's baby food jars for the model in 1989. As the project gathered steam and GPU stepped in as a partner, he redesigned it using a sudden stockyard of resources. Funding for the project escalated as people went to the floodplain to see the suspension bridge. "You walk out there and there's this dinosaur sitting out there in the swamp," he says. "Initially, we just wanted to get over the creek." The Pochuck Quagmire Bridge over Pochuck Creek on the AT was completed in 1995.
When the bridge was up, it became a high profile project and more money flowed in to build the boardwalk. Wheelock rounded up the 350 volunteers to complete the boardwalk three years ago. It was dedicated last summer, and both bridge and boardwalk are maintained by the New York/New Jersey Trail Conference.
The amazing thing Latinscics finds about the bridge is that it's worth $400,000, but cost only $36,000 in materials, thanks to the voluminous hours of volunteer man and womanpower.
The floodplain is designated by the DEP as an "Exceptional Resource Value Wetland" because it provides habitat for endangered and threatened plant and wildlife species like Cooper's hawk, barred owl and wood turtles and over 200 species of birds. It's a great place for wildlife viewing. "The area close to Rt. 517 in the morning is great if you're a bird watcher," says Latinscics. "I've never not seen a hawk overhead. It's amazing."
One and one-quarter hours of serenity can be yours. The walk is easy and varied, with a lot to see. For information call NY/NJTC at 201- 512-9348, or online.
Nearby accommodations and attractions
Wilbur's is the perfect destination on a drive through the New Jersey countryside. British foods and candy, Yankee candles, wind chimes, pet-themed gifts, preserves, much more. Charming location in barn complex between Newton and Blairstown.

735 Route 94, Newton 07860, 908/362-8833

, Sussex

One day you are likely to find yourself headed to New Jersey's northernmost corner in search of adventure.
This story was first published: