The Rutherfurd family has occupied what is now Allamuchy and Green Townships (spanning both Warren and Sussex Counties) for hundreds of years, since 1758, when Walter Rutherfurd married Catherine Alexander and joined in ownership of this portion of her family's extensive holdings. They gave the property to their son John and his bride, Helena Morris, and the young couple set up residence on their estate, which they named "Tranquility", through John's term as US Senator from New Jersey, from 1791-98. As Rutherfurd's career and influence grew, the couple moved away from Tranquility, leaving it to their son, Robert Walter Rutherfurd, who, in turn bequeathed the property to his children upon his death in 1852. Lewis Morris Rutherfurd acquired the entire domain from his siblings and lived there with his wife, Margaret Stuyvesant Chanler until 1892. Lewis Morris' first-born son, John Stuyvesant Rutherfurd (who changed his name to Rutherfurd Stuyvesant in order to qualify for a wealthy uncle's inheritance) embarked on a major expansion at Tranquility Farms, increasing his ancestral estate to 5,000 acres. He established Deer Park, a 1,000 acre private game preserve on Allamuchy Mountain, and remodeled the original 1763 house, tripling its size to what became known as the Stuyvesant Mansion. It was Rutherfurd Stuyvesant's youngest brother, Winthrop Chanler Rutherfurd (1862-1944), who built the home known by the family as the "Big House", identified by the rest of us as Rutherfurd Hall.
Famed architect, Whitney Warren (1864-1943), designed Rutherfurd Hall, an 18,000 square foot Tudor country house, with 38 rooms, in 1902. Warren, with his firm, designed Grand Central Station, and a number fancy hotels and clubs in New York City. The gifted architect moved in the same rarified social circles as the Rutherfurds and was known also for his work on Newport mansions. Rutherfurd Hall's brick exterior, and its interior woodwork, fireplaces, ceilings, and original furnishings, echo Jacobean themes, an English style that followed the Tudor period, often remembered for Shakespearean plays, and the monarchy's merger of England and Scotland. It is to this cultural era that the Rutherfurd Family traces its lineage.
When Margaret Stuyvesant Rutherfurd, the mother of five children, died in her late twenties from appendicitis, Winthrop remarried Lucy Mercer Rutherfurd. Loved and lauded by the family for her free and generous spirit, Lucy has gained celebrity in recent years from a number of books that have been written about her lifelong relationship with Franklin Delano Roosevelt, who visited Rutherfurd Hall after Winthrop's death in the 1930s. Lucy Rutherfurd was with FDR when he died in Warm Springs, GA in 1945. At the time he collapsed, Roosevelt had been sitting for a portrait painting by the artist Elizabeth Shoumatoff, known as the famous Unfinished Portrait of FDR. Shoumatoff, who maintained close friendships with both Roosevelt and Mercer, rushed Mercer away to avoid negative publicity and implications of infidelity.
---
Lucy's story is but one of hundreds of tales that unfold inside and out at Rutherfurd Hall as it advances its interpretation plans and exhibits. Planners have developed a museum and education facility that focuses on relating the history from 1902 to 1930. This quintessential country estate has achieved NJ State Historic Landmark Designation, and National Designation is in final process. The three-story mansion is well-preserved, cared for by the Congregation of the Daughters of Divine Charity who lived there since it was given to them by the Rutherfurd family the 1950s. The Order sold the property in 2008 to the Allamuchy Township Board of Education, shifting the estate from private to public ownership. An infirmary, added by the nuns in 1959 added, has been adapted as a public elementary school, housing the younger grades. The mansion, behind and adjacent, serves as a museum and educational facility on Wednesday afternoons from 1-4pm.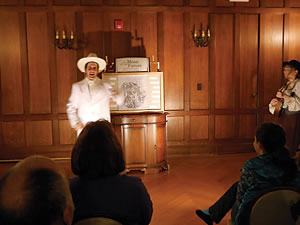 Allamuchy Farms (the school and Rutherfurd Hall) is under preservation stewardship by the project architect and various municipal and non-profit entities engaged in extensive research, planning and restoration work, and ongoing grant writing and community fundraising, all overseen by the Allamuchy Board of Education Steering Committee. The Vision for Rutherfurd Hall is to become a self sufficient enterprise that protects and preserves its historical, cultural, and architectural integrity; all while providing educational and enrichment opportunities for the residents of Allamuchy and surrounding communities.
Initial exhibits include 24 photographic postcards of Allamuchy and the estate taken in 1906, recording landscape, animals, and architecture of the era. Many of these images were made and sold by F.W. Kluppelberg and Son in Hackettstown. There is also a photograph by Lewis Morris Rutherfurd, who became a well-known astronomer after he was the first to photograph the moon through a telescope in the late 1800s. He made these remarkable first photographs, with an instrument that he designed and built, both from the Columbia University Observatory and from here at Tranquility Farms.
Over ninety pieces of original furnishings from the house have found their way home to the Hall, and with that support a major campaign to raise the funds for the furnishings restoration and conservation as well as professional interpretation. In addition to the site's initial interpretation about the architecture and the family, there is a fun "treasure hunt" for kids, who are encouraged to find ten attributes of Tudor architecture on the first floor and on the building's exterior. A wide range of programs are scheduled for summer entertainment and youth learning including a Harry Potter Camp that uses literature and the mansion as the setting for all sorts of instructional and creative adventures.
The family crest above the front door of Rutherfurd Hall reads "Nec sorte nec facto" which means, in Latin, "Not by chance nor fate." These are marvelous words to live by, and to work by. Great projects, and the development of meaningful non-commercial enterprises, are never accomplished by chance or fate, but rather from hard work, perseverance and unending commitment. Come visit, and leave with an idea of what it takes to build a remarkable history, and preservation with integrity.
Rutherfurd Hall is open to the public Wednesdays from 1-4pm; and the grounds and trails are always open. Tours can be arranged for groups with advance reservations. Visitors may opt to pay a suggested donation of $5 per person, and children under 12 are always free.
To learn about our public programs and exhibits, or about how you can assist in the project, please visit our website. or call 908-852-1894 ext138
Nearby accommodations and attractions
Choose and Cut from thousands of trees! Blue Spruce, Norway Spruce, White Pine, Scotch Pine Fraser Fir, Canaan fir, Douglas Fir. Family run on preserved farmland. Open Nov 27 - Dec 23, 9-4. Closed Mondays and Tuesdays. Easy Access from Routes 78 or 80.

77 Jackson Valley Road, Washington 07882, 908-835-0557

In 2019, the Historic Moravian Village of Hope celebrated 250 years since the Moravians first settled the hills along the Beaver Brook.

, Columbia

Local roots!

56 Mine Hill Rd, Washington

A canal boat captain and her daughters navigate the Bread Lock in June, 1863.

, ,
This story was first published: Spring, 2012