Through May 6 • A MOST REMARKABLE FAMILY. The Macculloch/Miller/Post Family, 1810-1950, included canal builders, explorers, educators, poets, musicians, architects, writers, a bank president, a mayor, U.S. Senator, Naval Commodore, and two Civil War heroes.
Through June 17 • NAVIGATING NEW JERSEY. Macculloch Hall Historical Museum's small but mighty map collection includes over fifty maps and atlases. The majority of these maps are of Morristown, Morris County and New Jersey although the collection also contains a few national and international maps..
Upstairs Gallery, 45 Macculloch Avenue. ; 973/538-2404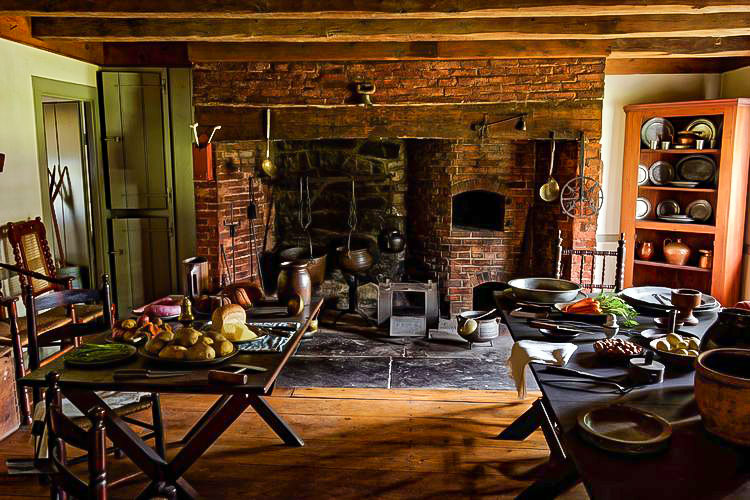 May 19-December 28 • GEORGE WASHINGTON'S HEADQUARTERS: PHOTOGRAPHS BY XIOMÁRO. 22 large images of the Ford Mansion, Washington's Revolutionary War headquarters, that highlight its dual role as a residence. "The domestic aspects are easily lost in the presence of Washington, but Xio has managed to capture the Ford Mansion's essence as a home," explains curator Jude M. Pfister, the park's Chief of Cultural Resources.  Pfister is the author of the award-winning book, The Jacob Ford Jr. Mansion:  The Storied History of a New Jersey Home (The History Press, 2009). 
Xio has been commissioned by the National Park Service to create collections for parks in New Jersey, New York, Connecticut, and Massachusetts.  "My impressions of MNHP highlighted to me how the various historic sites of the National Park Service form a tapestry of our nation's founding," explains the artist. "When I saw, for example, the kitchen and the traveling liquor box at Washington's Headquarters, it drew a visceral connection with kitchen and liquor box at the William Floyd Estate in New York (also part of the National Park Service at Fire Island National Seashore)." You can download a free copy of the Morristown book of photographs at the artist's website .
Museum Auditorium, 30 Washington Place. ; 973/539-2016
Morris Museum, Morristown
Through November 11 • STORYBOOK STYLE: A SELECTION OF WORKS FROM THE MINDS OF LIVING ILLUSTRATORS. Established and emerging illustrators.
November 21-February 18 • MUSEUM DETECTIVES: WHAT IS IT?. Visitors will use their observation and problem solving skills to classify objects and draw their own conclusions.
March 16-June 20 • A CACHE OF KINETIC ART: CURIOUS CHARACTERS. Drawing parallels of innovative engineering, design and imagination, and bridging the gap between vintage and contemporary kinetic art, Curious Characters make connections between the technological ingenuity and talent of 19th century automata makers and artistic individuals of kinetic and interactive figures, inspiring a deeper understanding and appreciation of this unique art form.
6 Normandy Heights Rd.. ; 973/971-3700
Peters Valley Crafts Center, Layton
April 14-May 20 • ACT 2: ART AS A CAREER SEQUEL. This exhibition celebrates the determination and passion of those who have pursued an artistic path after initially choosing another career or field of study. Architects, scientists, educators, financiers, a dentist, a barber, and a plumber are just a sampling of the diverse backgrounds that these second career artists have.
Craft Store and Gallery, 19 Kuhn Road (Rt. 615). ; 973/948-5202
Permanent • THE HALL OF CHAMPIONS. The signature architectural space in the Arnold Palmer Center for Golf History celebrates every USGA champion and championship to date, housing all 13 USGA national championship trophies, while the names of every USGA champion are inscribed on bronze panels that encircle the room.
February 12-March 11 • ANN GREGORY: BREAKING BARRIERS. The first African-American to compete at a national level, visitors to the USGA Golf Museum in Liberty Corner, New Jersey can view Ms. Gregory's contestant badge from the 1956 U.S. Women's Amateur Championship and other items from her career10 - 5pm. $10.
77 Liberty Corner Road. ; 908/234-2300