February
Friday, 16; North Branch
PEKING ACROBATS. This troupe of elite gymnasts, cyclists, jugglers and acrobats leave audiences breathless, defying gravity with amazing displays of strength, balance, agility, grace and artistry. 7. $25 & $35. Rt. 28 and Lamington Road.
Saturday, 17; Madison POSTPONED DUE TO EXPECTED SNOW
BLACK MARIA FILM AND VIDEO FESTIVAL. Now in its 37th year, the festival features some of the best short films and videos being made today. Programs are custom curated for each site, featuring a rich international selection of narrative, documentary, animation and experimental works. Festival representatives are on hand to provide perspective and a post-viewing discussion. 8pm. $10. Madison Public Library, 39 Keep Street.
Madison Arts and Culture Alliance; 973/377-1743
Saturday, 17-19; Morristown
GRAND OPENING OF THE DISCOVER HISTORY CENTER. The result of nearly a decade of work, the new Discover History Center (DHC) is a $2.2 million dollar project for the 21st –century. The immersive, interactive, exhibits will engage visitors of all ages with hands-on and multi-media experiences to explore the stories of Morristown, the Continental Army, General Washington, and Continental Congress during the years that "tried men's souls." The galleries feature many never-before seen artifacts, interactive activities geared towards children and adults, and five new videos to experience. The weekend will feature a variety of activities in addition to the new exhibits. 30 Washington Place.
Sunday, 18; Bridgewater
FIVE GENERALS NARRATED BUS TOUR. Discover five of the original Somerset County houses that served as general staff headquarters during the Revolutionary War—the Van Horne House in Bridgewater, the Van Veghten House in Finderne, the Abraham Staats house in South Bound Brook, the Wallace House in Somerville and the Jacobus Vanderveer House. Visitors will be greeted by General Henry Knox, chief artillery officer of the Continental Army. The tour starts from the Van Horne House and runs approximately two and a half hours. $25 per person. Students $15. Children under 6 free..
Sunday, 18; Succasunna
RIVERSIDE RHYTHM & RHYME. Gathering Time is the featured group. 4 - 6:30pm. $20. Roxbury Performing Arts Center, 72 Eyland Avenue.
Skylands Songwriters Guild;
Thursday, 22; Morristown
T.S. MONK. Drummer, bandleader, and composer and his group pay tribute to his famous father, Thelonious Monk. 7:30pm. $40. 6 Normandy Heights Rd..
Morris Museum Bickford Theater; 973/971-3700
Friday, 23; Blairstown
SCOTT SHARRARD & THE BRICKYARD BAND. 8:30pm. 30 Main Street.
Roy's Hall; 908/362-1399
Sunday, 25; Allamuchy
NY NJ ALL STAR BIG BAND. 18 piece big band play music of Count Basie 3pm. $30/ $35 advance. 1686 Route 517 (Mountain Villa School).
Sunday, 25; Frenchtown

OPEN HOUSE. The gallery's annual open house includes refreshments, special guests, and door prizes to support the Mercer County Wildlife Center. 1 - 5pm. 55 Bridge St..
Sunday, 25; Morristown
THE MAGIC OF LYN. Eye-defying illusions 3pm. $30. 6 Normandy Heights Rd..
Morris Museum Bickford Theater; 973/971-3706
Monday, 26; Morristown
DAN LEVINSON'S JAZZ 101. A salute to the trailblazers of America's original art form. 7:30pm. $20. 6 Normandy Heights Rd..
Morris Museum Bickford Theater; 973/971-3700
Tuesday, 27; Morristown
GO, DOG. GO!. P.D. Eastman's book comes to life in a frolicking musical party that's gone to the dogs! Featuring audience participation, this hilarious visual spectacle is a musical romp full of surprises, singing/barking, and of course, six lovable dogs! 7:30pm. 100 South Street.
Mayo Performing Arts Center; 973/539-8008
Tuesday, 27; North Branch
TAYO ALUKO: CALL MR. ROBESON. One of the 20th Century's most impressive but overlooked figures is revived in this powerful, compelling tour-de-force performance that takes audiences on a roller-coaster journey through Robeson's remarkable, eventful life. 1 & 7. Rt. 28 and Lamington Road.
---
---
Ongoing Theater and Concerts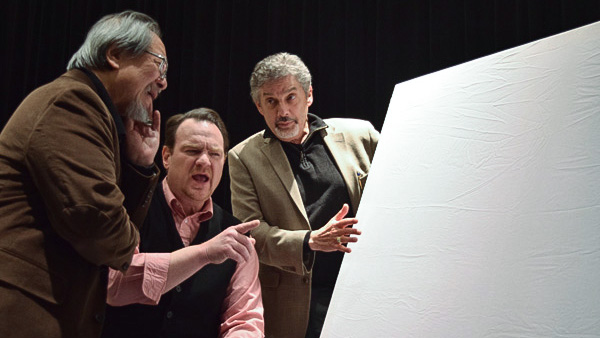 February 16-March 4 • ART. Starring Randall Duk Kim, ART focuses on the meaning of art (in the form of a solid white painting) as well as the meaning of friendship, to both the man who bought the painting and the two friends who come to see it. $25.
Lackland Center, 715 Grand Ave.. ; 908/979-0900
MINSTREL CONCERT SERIES. Shows every Friday, presenting traditional American and ethnic "folk" music, as well as music of contemporary, primarily acoustic songwriters. The second Friday of the month is an open stage/audition night. 7:30pm. $10 adults; children 12 and under free.
Morristown Unitarian Fellowship, 21 Normandy Heights Road. ; 973/335-9489
Ongoing Programs and Events
Saturdays • NATURE WALKS. Hike the Paulinskill Valley Trail. Hike different sections with various themes. Hikes leave from Kittatinny SP, Warbasse Jct., or Footbridge Park in Blairstown. Free.
Paulinskill Vally Trail Committee; 908/684-4820
Weekends • THE PEQUEST TROUT HATCHERY AND NATURAL RESOURCE EDUCATION CENTER hosts a series of programs about the natural world around us for young and old alike. Preregistration is usually required. Topics range from a child's first introduction to nature to seminars for expert fly fishers.
; 908/637-4125
Tuesdays, February 6- March 20 • FLY TYING CLASS. The Beginner class includes tools, materials and instruction – learn how to master the basics! The Intermediate class must bring your own tools and thread, some materials are provided. Learn how to tie the flies you usually buy as well has new techniques and materials. Learn the names of the different dry flies, nymphs, streamers and attractors and how to fish them. Seven consecutive Tuesdays. 7 - 9pm. $50.
Sparta VFW, 66 Main St.. ; 201/207-0928
Ongoing Tours and Exhibits
Ongoing • TOURS OF WASHINGTON'S HEADQUARTERS AT THE FORD MANSION. The Washington's Headquarters Museum includes includes three exhibit galleries, a 30-minute introductory video, tours of the furnished house will be made available at 10 and 11am and at 1, 2, 3 and 4pm. Adults Beginning January 1, 2018, Morristown National Historical Park will no longer charge an entrance fee to visit the park's Washington's Headquarters Museum.
Beginning on January 1, 2018, the Jockey Hollow Visitor Center and Wick House visitor facilities will be closed to the public until Saturday, February 17, 2018. During that same period (January 1 through February 16, 2018) the Washington's Headquarters Museum and the Ford Mansion will be open on Saturdays only.
Please note that the park's grounds, parking areas, tour road, 27 miles of hiking trails, and restroom facilities at the Jockey Hollow area will remain open to the public, seven days a week, 9:30am - 5pm.
30 Washington Place; 973/539-2016 x210