June
All events are subject to change or cancellation. Most are likely canceled or postponed. Please click or call ahead to confirm. We maintain the listings so that you may acquaint yourself with various organizations who sponsor events in the area for future reference.
Thursday, 4; Lebanon
NIGHTLIFE: NEW JERSEY'S MAGNIFICENT MOTHS (CANCELED). Enjoy a PowerPoint of moth photography and then go outside if weather permits to see what moths are around the park. 8 - 9:30pm. Pre-register. Hunterdon County Arboretum, 1020 State Highway 31.
Hunterdon County Parks; 908/782-1158
Friday, 5; Hampton
FULL MOON HIKE (CANCELED). Listen to summer insects, learn about nocturnal animals and the phases of the moon. 8:30 - 9:45pm. $3. Hoffman Park, 26 Baptist Church Road.
Hunterdon County Parks; 908/782-1158
Saturday, 6; Chester
ANNUAL CLASSIC CAR SHOW (CANCELED). 10am - 5pm. Routes 206 & 24/513.
Chester Business Association; 973/223-2665
Saturday, 6; High Bridge
SOAP BOX DERBY (CANCELED). Main Street.
Borough of High Bridge; 908/638-6455
Saturday, 6; Oxford
FREE FISHING DAY. You don't need a license to fish this Saturday! 605 Pequest Rd..
NJ Division of Fish and Wildlife; 908/637-4125
Saturday, 6; West Milford
WHOA ORIGINAL ART SHOW AND SALE (CANCELED). The show is open to all professional, amateur, and student artists, photographers and sculptors. 10am. 65 Lincoln Avenue.
Friends of Wallisch Homestead;
Saturday, 6-7; Port Murray
SPRING OPEN HOUSE (CANCELED). Postponed until July 11. Free informative lectures, herb & perennial presentations, tours of our spectacular gardens, as well as a special 'Friends of Well-Sweep' Craft and Farmers' Market – featuring 15 different vendors. Our largest selection of herb plants will be available on this day. Homemade refreshments can be enjoyed by all. Feel free to bring a picnic lunch or enjoy freshly prepared food from local restaurants. 9am - 5pm. Free admission and parking.. 205 Mt. Bethel Rd.
Friday, 12-14; West Milford
GREENWOOD LAKE AIR SHOW (CANCELED). 12th annual event is fun for the whole family, with a variety of food vendors on the field and entertainment for the children provided. 2 - 9pm. $10 - $139. 126 Airport Road.
Greenwood Lake Air Show; 973/728-7721
Saturday, 13; High Bridge
POOCH PARADE (CANCELED). Main Street.
Borough of High Bridge; 908/638-6455
Saturday, 13; Stewartsville
PARKFEST (CANCELED). 11am - 5pm. Breadlock Park, 2627 Rt. 57.
Sunday, 14; High Bridge
SOLITUDE HOUSE OPEN HOUSE (CANCELED). Solitude House Museum, 7 River Road.
Borough of High Bridge; 908/638-6455
Friday, 19; Gladstone
FULL MOON FAMILY CAMPFIRE . Gather around a warm campfire to roast marshmallows and learn about some incredible night wildlife!  We'll have special guests from the Raptor Trust to teach us about New Jersey's hawks and owls and learn about stars and constellations under the glow of the Full Strawberry Moon! 7 - 9pm. Registration required. Fairview Farm, 2121 Larger Cross Road.
Friday, 19-20; Phillipsburg
OLE TOWN FESTIVAL (CANCELED). Music, fireworks, car show, crafts, food. Shappel and Walters Parks.
Saturday, 20; Chester
TACO PALOOZA (CANCELED). Celebrate this delicious creation & our love for all things TACO! 11am - 8pm. $5. Municipal Field.
Chester Business Association; 973/223-2665
Saturday, 20; Columbia
PLEIN AIR PAINTING AND PHOTOGRAPHY. Bring your easel, paints, camera, lawn chair and other materials for a plein-air fest! The views along the Delaware River are spectacular as well as intimate woods scenesand of course the old restored Ramsaysburg homestead buildings. Bring a pot luck dish and a drink of your choice to share with others. Ramsaysburg Rd, and Rt 46.
Saturday, 20; Stanhope
ANNUAL WATERLOO CANAL DAY FESTIVAL (CANCELED). Boat rides on the Morris Canal, exhibits on aspects of canal history, walking tours of the village's canal features and of its architectural history. Eight Waterloo Village buildings will be open with historic trades demonstrated at the carpenter, seamstress and blacksmith shops. The recently discovered canal boat exhibit will also be open. There will be live music and food service available. 10am - 4pm. Free. Waterloo Village.
Saturday, 20; Washington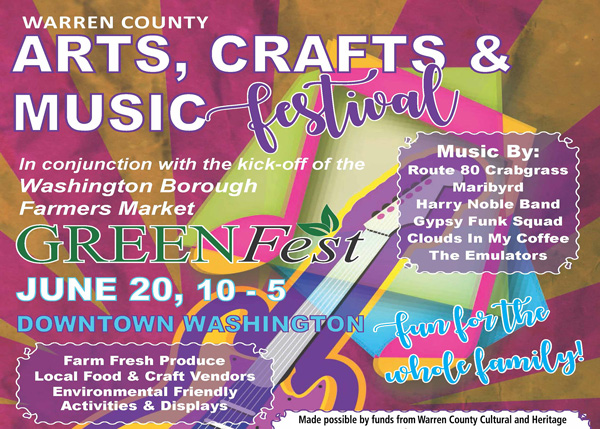 ARTS, CRAFTS AND MUSIC FESTIVAL WITH GREENFEST. A live music, original art, and crafts, celebration in conjunction with GreenFest and the Washington Borough Farmers Market kick off, Explore upcycled and recycled goods vendors, gardening and outdoor groups, environmental preservation exhibitors and related non-profit organizations and vendors. 10am - 5pm. Downtown borough.
Saturday, 20-26; Delaware River
ANNUAL DELAWARE RIVER SOJOURN (CANCELED). A seven-day guided paddling trip on the wild and scenic Delaware River, combining canoeing/kayaking, camping, educational programs, historical interpretation, and more. Call for fees.
Sunday, 21; Belvidere
FATHER'S DAY BBQ FEAST . Live music, games and fun for the whole family. 12 - 4pm. 783 County Road 519.
Saturday, 27; Washington
SENIOR CITIZEN APPRECIATION DAY. Washington Ave.
Washington Business Improvement District; 908/689-4800
Saturday, 27-5; Kutztown, PA
KUTZTOWN FOLK FESTIVAL (CANCELED). America's oldest continuing folk life festival offers genuine Pennsylvania German and Early American folk art and crafts by over 200 craftsmen. Kutztown Fairgrounds, 225 N. White Oak St,.
---
---
Ongoing Theater and Concerts
MINSTREL CONCERT SERIES. Shows every Friday, presenting traditional American and ethnic "folk" music, as well as music of contemporary, primarily acoustic songwriters. The second Friday of the month is an open stage/audition night. 7:30pm. $10 adults; children 12 and under free.
Morristown Unitarian Fellowship, 21 Normandy Heights Road. ; 973/335-9489
Ongoing Programs and Events
Saturdays • NATURE WALKS. Hike the Paulins Kill Valley Trail. Hike different sections with various themes. Hikes leave from Kittatinny SP, Warbasse Jct., or Footbridge Park in Blairstown. Free.
Paulinskill Vally Trail Committee; 908/684-4820
Weekends • THE PEQUEST TROUT HATCHERY AND NATURAL RESOURCE EDUCATION CENTER hosts a series of programs about the natural world around us for young and old alike. Preregistration is usually required. Topics range from a child's first introduction to nature to seminars for expert fly fishers.
; 908/637-4125
Ongoing Tours and Exhibits
Ongoing • TOURS OF WASHINGTON'S HEADQUARTERS AT THE FORD MANSION. The Washington's Headquarters Museum includes includes three exhibit galleries, a 30-minute introductory video, and the Discover History Center. Tours of Fords Manion will be made available at 10 and 11am and at 1, 2, 3 and 4pm. There is no entrance fee to visit the park's Washington's Headquarters Museum.
The park's grounds, parking areas, tour road, 27 miles of hiking trails, and restroom facilities at the Jockey Hollow area are open to the public, seven days a week, 9:30am - 5pm.
30 Washington Place; 973/539-2016 x210