January 16 - 23
Points of View
For many, winter is a season for reflection. The challenge of the season strips away pretense, and offers a time for learning.
Although 10,000 winters before had taught native peoples how to adapt, the winter of 1789-90 presented a supreme challenge for patriot soldiers at Morristown. Walk up the hill at Jockey Hollow that held 200 soldier huts for the Pennsylvania Brigade in early 1790. Imagine staying there until it gets warm enough sometime in April to take off your down jacket, not to mention long johns. Imagine standing there without your shoes on, without even one of the huts on top of the hill for retreat from the incessant cold. Try to conceive of something important enough to keep you on that hill for the rest of the winter.
More...
Visit the site of the
Great Story
,
Morristown National Historical Park
, and learn about the life of a common soldier during the winter encampment. Call 973-543-4030 for more information. .

On Thursday (tomorrow, Jan. 17, 7pm ) Hal Benz from the
Climate Reality Project
will present a slide show and discussion of
climate change
science, impacts, and solutions. If you have doubts about this immense issue of our time, or want to get clear on the science, make time for this
free program
at the Hunterdon County Parks; Please pre-register at 908/782-1158.
Hunterdon County Arboretum.
1020 State Highway 31, Lebanon
(Clinton Twp.)

Should fortune hold for clear skies on Sunday evening (Jan. 20), make your way to the
UACNJ Observatory at Jenny Jump State Forest
for a
Lunar Eclipse Viewing.
The moon turns red during this weekend's
total lunar eclipse–
and is therefore also known as a
blood moon.
There's no danger from looking at the moon during a lunar eclipse, and don't need any special equipment or to take extra precautions to enjoy a blood moon. The observatory's location 1100 feet above sea level in Jenny Jump State Forest is one of the few dark sky locations left in the state. Dress warm and enjoy the view along with knowledgeable members of the United
Astronomy Clubs of N.J.
Hot and cold beverages will be available for purchase. 8:30pm - 1am. Free. UACNJ Observatory,
333 State Park Rd. near Hope
, 908/459-4909.
---
Good Medicine

Have a laugh and an evening of warm hospitality at Brook Hollow Winery.
Paul Ritter has built a reputation for good ideas about how to get people through his door at
Brook Hollow Winery,
even in the dead of winter. Here's one:
Comedy Night!
On Friday,
January 25
, bring your own dinner and make a night of it with three great comedians from NYC: Bill Chang, Melvin George, KC Aurora. 8pm. $20. Ritter's wines, for which he has built an equally impressive reputation, will, of course, be on hand. The winery is open weekends for tastings, accompanied by live music. For more tickets or more information,
click
or call 908/496-8200.
594 State Highway 94, Columbia
.
---
Life of Wiley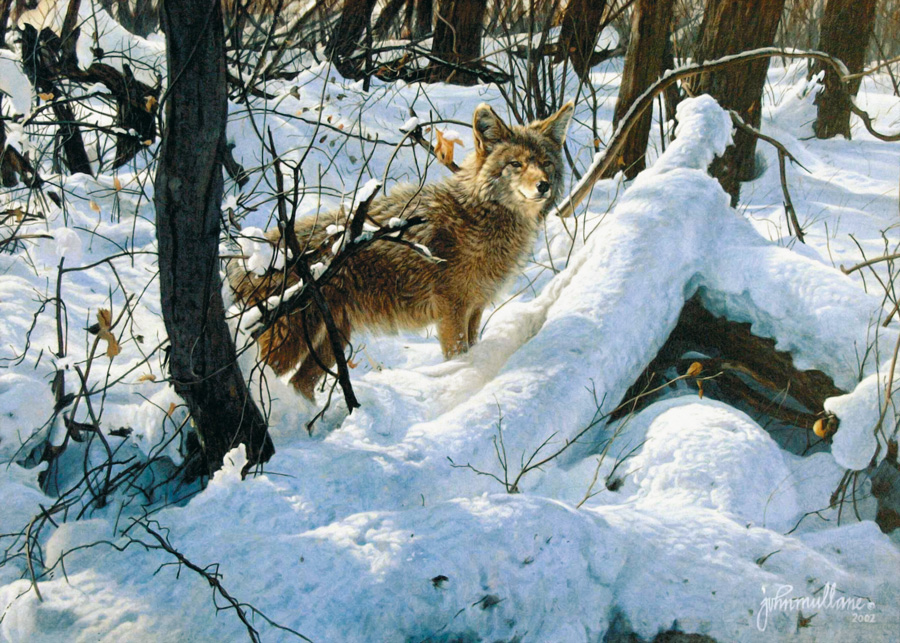 Coyote in Winter. Painting by John Mullane.
If rarely seen, the coyote is frequently heard. In the winter, during the January to March breeding times, listen for nocturnal howls when coyote are at their most vocal. They are happy to tell other coyotes, and the world, their location.
Stop and listen.
They'll fall silent all too soon.
---
Warm greetings and best wishes
for a new year marked by achievement and fulfillment! This will be our
twenty-ninth year
of exploration among the hills and valleys of Northwest New Jersey. We hope you keep the
personality of the New Jersey Skylands
near and dear when you need to freshen your horizon!
---
Cold Calls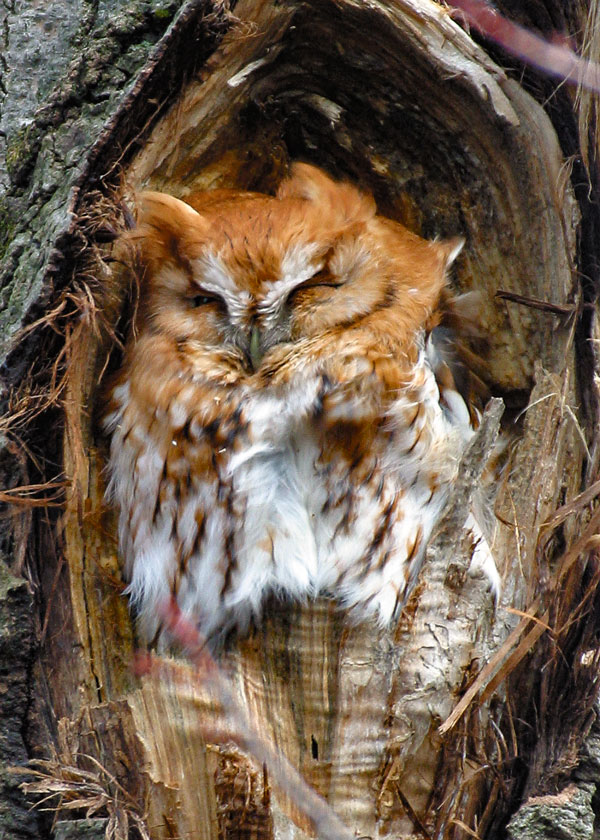 The shortened days of winter in the Skylands afford a chilly but unequaled opportunity to draw closer to nature and to enjoy the quiet that descends with the withdrawal of activity to the indoors. On these cold days, while local countryside vistas remain open and unshrouded by their canopy of leaves, the fields, forests, and woodlands of our region are prime for the pastime of winter birdwatching.
More...
---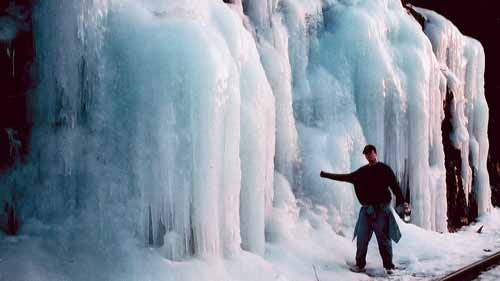 The many rolling hills of the Skylands offer an abundance of viewpoints not otherwise visible in other seasons. Some intrepid hikers don't
take to the trails
until the branches are bare and the ground is frozen, in search of vistas from ice formations to sun glistening on a freshly fallen snow.
---
Hot Stuff
Michael Davis and the New Wonder
The
Jay Leonhart Quartet,
featuring Tomoko Ohno on piano, graces the stage this Sunday (January 6, 3pm) at this year's first installment of the
Jazz at Rutherfurd Hall Series.
Click for tickets
or call (908) 852-1894.
1686 Route 517, Allamuchy.
Next Saturday (Jan. 12),
Centenary Stage Company's January Thaw Music Fest
series at Centenary College's Lackland Center kicks off with
Michael Davis and the New Wonder,
classic jazz from the 1920s and 30s. Jazz continues on Sunday, Jan. 20, with the
Harry James Orchestra
. For tickets,
click
or call 908/979-0900.
715 Grand Ave, Hackettstown.
---
Touchy Subjects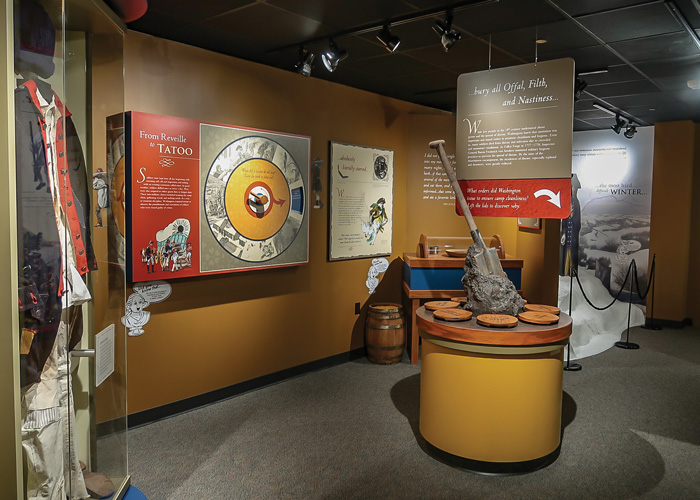 Interactive exhibits at the Discover History Center help visitors confront the plight of the common soldier stranded for months during the Hard Winter of 1789-80.
At Morristown National Historic Park's
Washington Museum
, a new and entirely different approach at the
Discover History Center
invites visitors to jump into an arcade of history, a labyrinth of interactive exhibits with spinning roulette wheels and slot machine handles, each pleading for a touch, each with a purpose. Make it a holiday destination for your family!
3 Washington Place, Morristown.
---
Season's Greetings!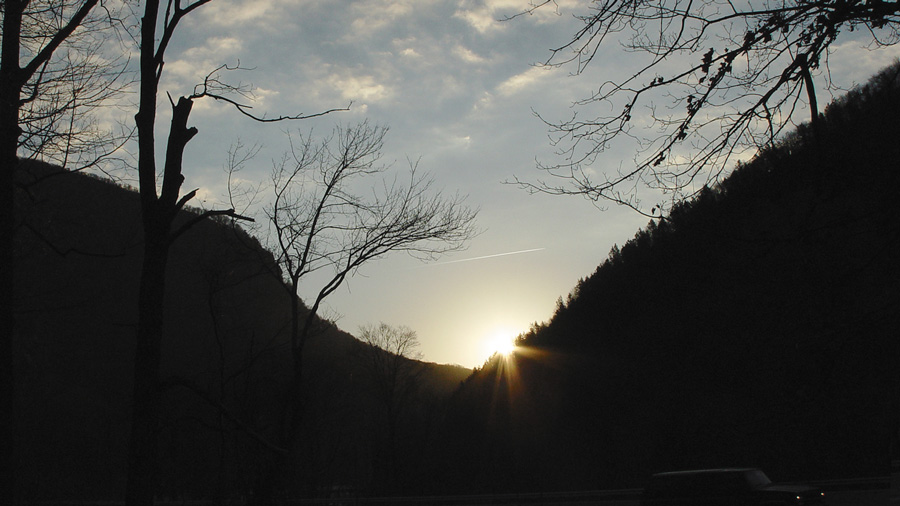 Winter solstice: For a special treat, on the first day of winter, pull over into the grassy overflow parking area on Route 80 just across Dunnfield Creek. Look back, and, if you are here early enough, you will see the sun rise out of the middle of the Water Gap.
The
winter solstice
will officially greet the new season next Friday, December 21. The celestial event seems to have inspired ancient people to observe the year's shortest day with carefully aligned markers on a sight-line that points to the sun's low point in the sky. The most famous of these is
Stonehenge
in England, but there are
local monuments
that may have had a similar function. On the Pennsylvania side of the Delaware River,
overhanging rocks
form a shelter perfectly placed to observe the sun rise out of the center of the Water Gap on the winter solstice. A large obelisk protruding from the earth near Haynesville in Sussex County might have been similarly used. And three "sighting stones" near Mt. Bethel in Warren County seem to align with the winter solstice sunrise. Along the shore of Mountain Lake in White Township is a large flat rock outcropping on which legend claims the Lenape stood in ceremony to "bring up the sun". And Morris County's 170-ton
Tripod Rock
resting on top of Pyramid Mountain suggests use as a "calendar site" long ago.
---
Close Encounters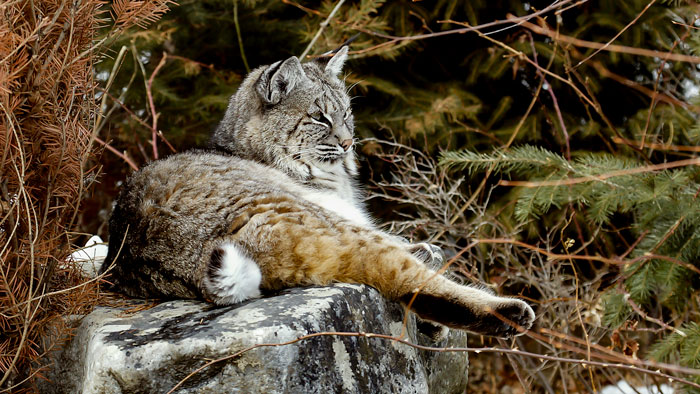 Photo by Dan Bacon
Should you traverse any stretch of woods this winter, or even your backyard, alert eyes are usually rewarded.
Bobcats
thrive in habitats that merge open lands and forests. The most remote areas in northern New Jersey offer prime bobcat habitat. Many tracts of land still contain large areas of contiguous forest, and the bobcats introduced more than thirty years ago have apparently settled in. Bobcats are protected under the New Jersey Endangered Species Act. Hunters are not the problem, or not a significant one. But fragmentation, caused by development and traffic, seem to have constrained the local populations. Keep your eyes open and you might
get lucky!
---
Million Dollar Highway

Seen from Promontory Rock, Mt. Tammany rises across the river in New Jersey.
Lost history of the Delaware Water Gap area comes to light along a short
drive along the Delaware River
north of Portland, PA. A few stops along the way to get out and walk a bit reveal some of the area's old resort sites, all now gone. Of the lost resorts, the largest and most lavish were on the Pennsylvania side of the river.
---
Skylands Prime!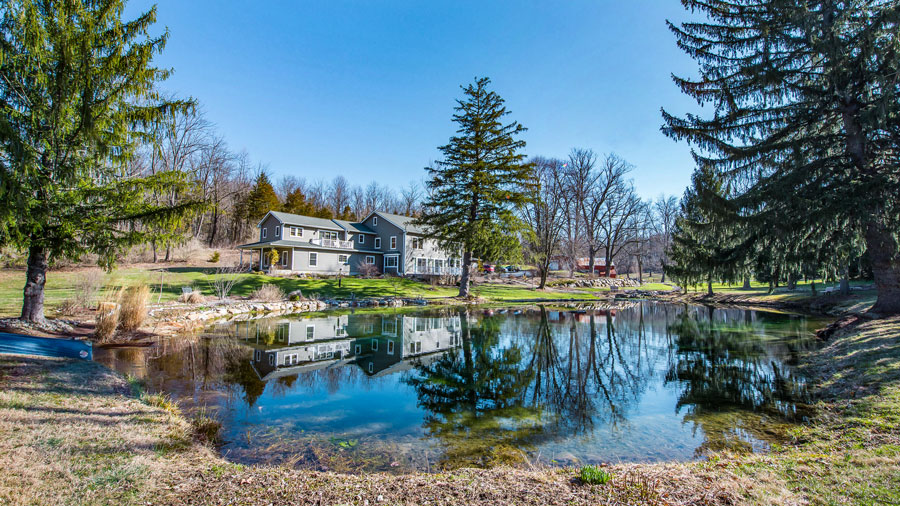 The Rosemary Inn on 17 pastoral acres near the Delaware Water Gap.
For a late-season or holiday getaway, The RoseMary Inn speaks hospitality and comfort loudly and clearly. Overlooking a picture-postcard pond, surrounded by seventeen pastoral acres, the inn is furnished with period antiques. There are five distinctive guestrooms for your lodging accommodations — four on the building's upper level and one wheelchair accessible room on the ground level—all with separate heat/ac controls, Wi-Fi, sound board for privacy, etc.
Nature trails wind throughout the property inviting you to view abundant wildlife and birds. For more avid hikers, the Inn, situated at the edge of the Delaware Water Gap Recreation Area, offers quick access, not only to the spectacular network of hiking trails in the Gap, but also to the Appalachian Trail, which runs along the top of the Kittatinny Ridge, and the Paulinskill Valley Trail, a former railbed perfect for long bike rides. The inn also shares their Columbia address with the beloved Lakota Wolf Preserve, the Brook Hollow Winery, an abundance of farms, and several fine restaurants, including Ellia's Food and Drink.
A complimentary traditional-style European breakfast lures guests to the table every morning with a multiple-course menu that varies with the seasons. 88 Hainesburg River Road in Columbia. Call 908-496-8855 or click!
---
Restaurants Worth The Trip!
---