January 8 - 15
Warm greetings and best wishes
for a new year marked by achievement and fulfillment! This will be our
thirtieth year
of exploration among the hills and valleys of Northwest New Jersey. We hope you keep
the personality of the New Jersey Skylands
near and dear when you need to freshen your horizon!
---
Cold Calls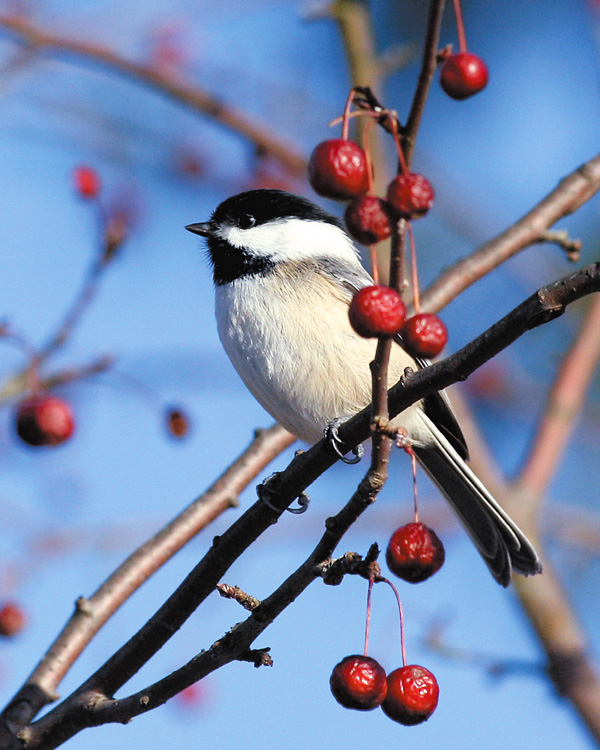 The shortened days of winter in the Skylands afford a chilly but unequaled opportunity to draw closer to nature and to enjoy the quiet that descends with the withdrawal of activity to the indoors. On these cold days, while local countryside vistas remain open and unshrouded by their canopy of leaves, the fields, forests, and woodlands of our region are prime for the pastime of winter birdwatching.
More...
---
Hot Stuff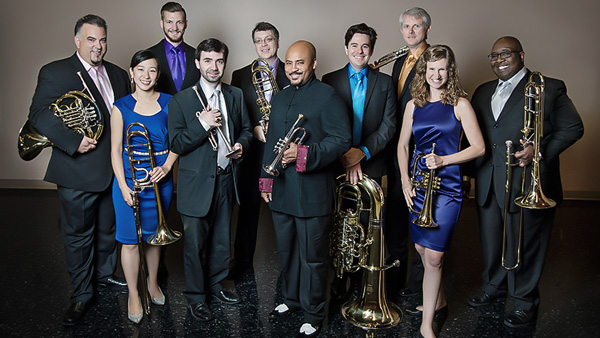 Rodney Marsalis Philadelphia Big Brass
Nothing warms the heart and soul like good jazz, and this month's
Centenary Stage Company's January Thaw Music Fest
series at
Centenary College's Lackland Center
is a real ice-breaker.
The series launches with
Rodney Marsalis Philadelphia Big Brass
on Saturday, January 11 at 8pm. The Marsalis name signifies jazz royalty, and the sound of Rodney's trumpet, who learned from his cousin, Wynton, has reverberated throughout the world. The Philadelphia Big Brass brings together top musicians from across the country, mixing classical, big band jazz and New Orleans swing.
On Saturday, January 18,
The Bossa Nova Wave
comes to town as Grammy nominated guitarist,
Diego Figueiredo
, and clarinetist extraordinaire,
Ken Peplowski
, bring to life the music of the famous album "Jazz Samba."
Rounding out the festival will be
Sam Reider and the Human Hands
on January 25. Reider is an award-winning composer, multi-instrumentalist, and singer who is making waves at the intersection of the jazz and Americana worlds. The Human Hands are a collective of virtuoso acoustic musicians based in New York City who have developed a reputation for mind-bending sets of high-energy, improvised music. For tickets,
click
or call 908/979-0900.
715 Grand Ave, Hackettstown.
---
Engagement Parties!
Sooner than you think, the birds will be tweeting, the bees will be buzzing, and lovers will be wedding. If that's in your future,
now is the time to plan the wedding that you have always dreamed of!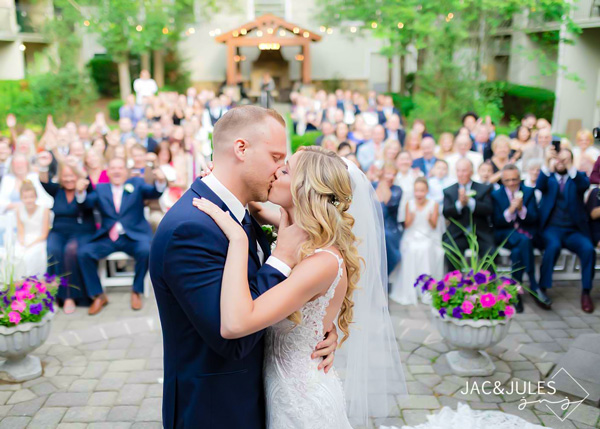 January 12th Olde Mill Inn Bridal Showcase (co-sponsored by New Jersey Bride Magazine).
See everything that you need in one place at one time, and have a great afternoon at the
Olde Mill Inn Bridal Showcase
on
Sunday, January 12
(noon - 3pm).
See a wide array of exceptional wedding vendors, sample wedding cuisine, taste wedding cakes, try a signature drink and listen to music! This show will feature wedding celebrants, florists, bridal gowns and bridesmaid dresses, tuxedos and formal wear, photographers, invitations, videographers, djs, live entertainment, limos, hair stylists and makeup artists, cocktail hour music, a caricaturist, and much more!
Brides and their guests admitted free, but registration is required
here
or call 908/696-2315. The Olde Mill Inn is located just south of Morristown at
225 Morristown Road, (Rt. 202) in Basking Ridge.
---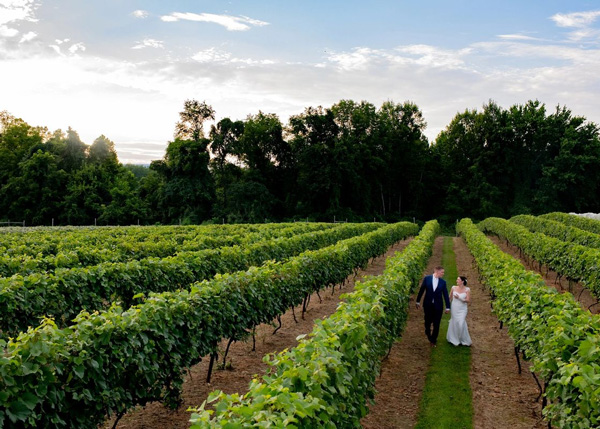 Brook Hollow Winery in Columbia
Or plan on a trip to the
Brook Hollow Winery & Event Facility
Annual Bridal Show
on
Saturday, January 11
(12-5pm). You'll find everything you need to complete your special day at this bridal event. Whether you've booked your venue, caterer, DJ, baker, florist, or photographer,, you'll enjoy your day of discovery at this unique facility, with giveaways, wine, music, food, and much more! Family and friends are invited (up to four guests per couple).
Free Registration
is required. Brook Hollow is located at
594 State Highway 94 in Columbia
. 908/496-8215
---
Consider
Winter Marsh. Painting by Al Barker.
2020!
It is a nice round, pleasant sounding number. But as we embark upon a year that will bring inevitable political turmoil, and a decade crucial in the planet's survival as we know it, consider the work of author, philosopher, and cultural historian,
Thomas Berry
, long revered as a voice for Earth's voiceless. In 1993, Berry wrote a paper that would later be revised, edited and included as a chapter in one of his major books,
The Great Work: Our Way Into the Future.
Take a few moments to sample the seeds of vision he planted, even while he grieved the terminal phase of Earth's
Cenozoic Era.
Here are Thomas Berry's thoughts on the
The New Political Alignment.
---
Season's Greetings!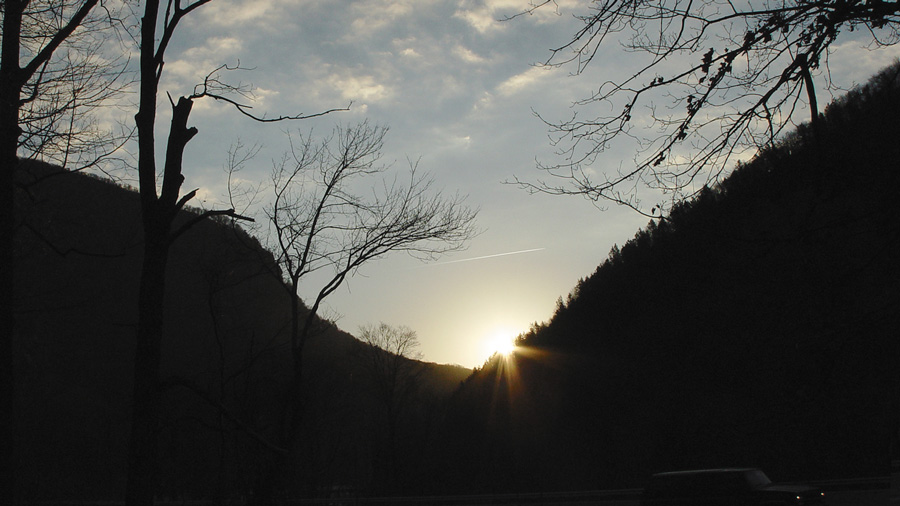 Winter solstice: For a special treat, on the first day of winter, pull over into the grassy overflow parking area on Route 80 just across Dunnfield Creek. Look back, and, if you are here early enough, you will see the sun rise out of the middle of the Water Gap.
The

winter solstice

will officially greet the new season next Saturday, December 21. The celestial event seems to have inspired ancient people to observe the year's shortest day with carefully aligned markers on a sight-line that points to the sun's low point in the sky. The most famous of these is

Stonehenge

in England, but there are

local monuments

that may have had a similar function. On the Pennsylvania side of the Delaware River,
overhanging rocks
form a shelter perfectly placed to observe the sun rise out of the center of the Water Gap on the winter solstice. A large obelisk protruding from the earth near Haynesville in Sussex County might have been similarly used. And three "sighting stones" near Mt. Bethel in Warren County seem to align with the winter solstice sunrise. Along the shore of Mountain Lake in White Township is a large flat rock outcropping on which legend claims the Lenape stood in ceremony to "bring up the sun". And Morris County's 170-ton
Tripod Rock
resting on top of Pyramid Mountain suggests use as a "calendar site" long ago.
---
Close Encounters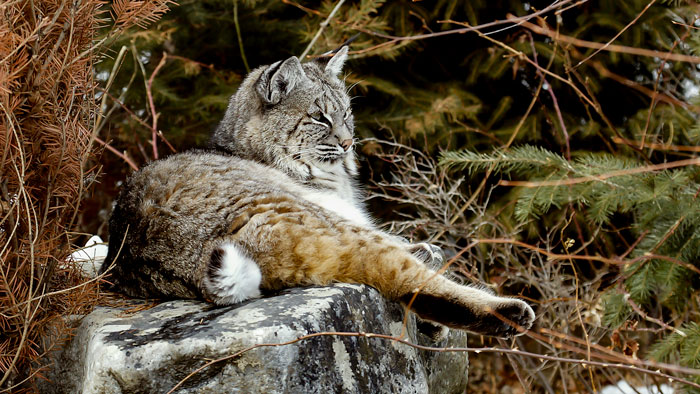 Photo by Dan Bacon
Should you traverse any stretch of woods this winter, or even your backyard, alert eyes are usually rewarded.
Bobcats
thrive in habitats that merge open lands and forests. The most remote areas in northern New Jersey offer prime bobcat habitat. Many tracts of land still contain large areas of contiguous forest, and the bobcats introduced more than thirty years ago have apparently settled in. Bobcats are protected under the New Jersey Endangered Species Act. Hunters are not the problem, or not a significant one. But fragmentation, caused by development and traffic, seem to have constrained the local populations. Keep your eyes open and you might
get lucky!
---
Million Dollar Highway

Seen from Promontory Rock, Mt. Tammany rises across the river in New Jersey.
Lost history of the Delaware Water Gap area comes to light along a short
drive along the Delaware River
north of Portland, PA. A few stops along the way to get out and walk a bit reveal some of the area's old resort sites, all now gone. Of the lost resorts, the largest and most lavish were on the Pennsylvania side of the river.
---
What Did God Wrought?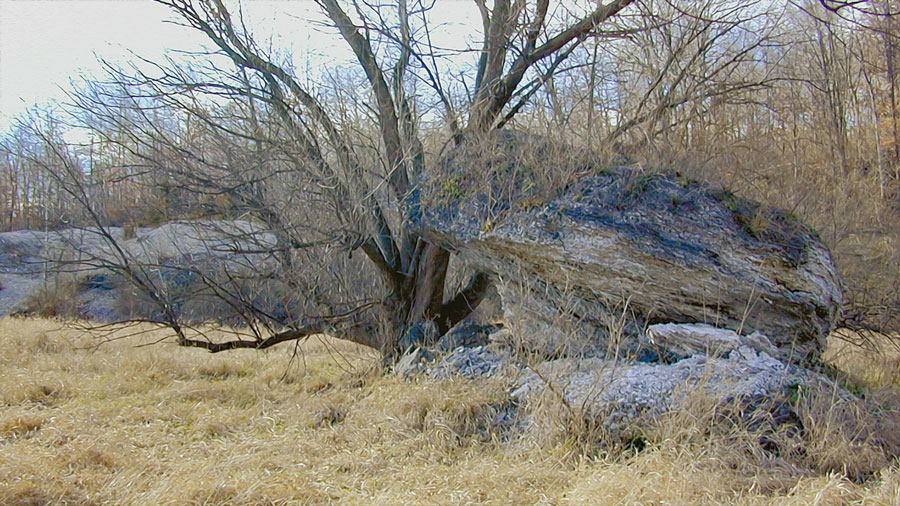 What the heck kind of rock is that big brown petrified toad anyway? All those layers... it looks kind of like its growing out of the ground. How did it get here?
A walk in the woods at this time of year can reveal more than you can imagine. The beaten-down forest rewards hikers with visible reminders of a busy past, sometimes in remote tracts high in the hills. And there are less renown, but equally intriguing remnants of history lurking in the woods of Northwest New Jersey. Try walking the domain of the former
Pequest Furnace
near Oxford, which played a role in the Industrial Revolution along with dozens of other sites in Northwest New Jersey. The part played here is relatively obscure, pieces of a puzzle hidden in the Warren County woods. Beyond the brown wispy remnants of last summer's green field at the edge of the woods, there sits a
small, gray, alien hill
, a pile of what might be lunar matter or crushed-up meteor.
More...
---
Partners Du Jour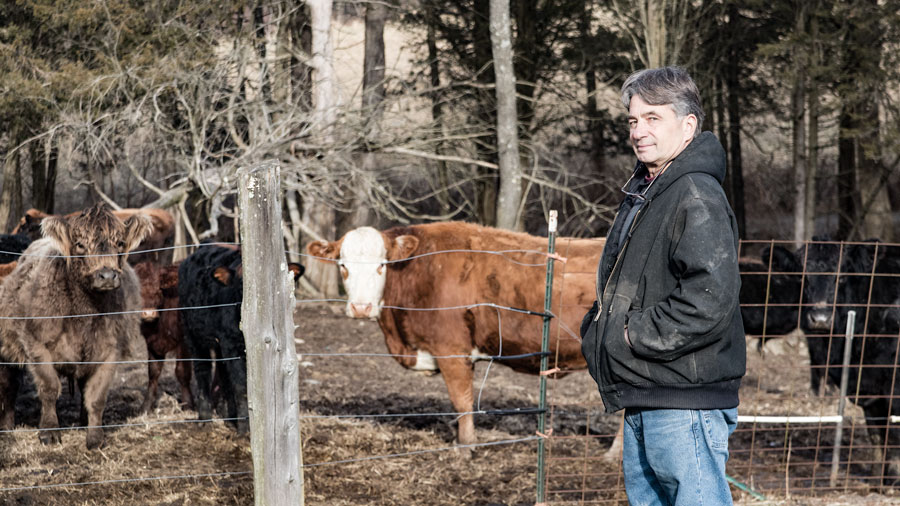 Lou Tommaso at LL Pittenger Farm in Andover provides grass-fed beef, chicken and pork for several area restaurants, as well as for the general public. The cheese and charcuterie board, a staple at James On Main restaurant in Hackettstown, utilizes the local charcuterie produced from Tommaso's Berkshire hogs.
There is no formal definition for a "
farm-to-table
" menu, but diners usually expect that so-described selections are prepared with locally sourced ingredients supplied directly by farmers who have raised their crops or livestock without the use of pesticides or hormones. Is this just another exclusive food fad, or can it be part of a social movement towards a sustainable local economy in Northwest New Jersey?
More...
---
The Tripod Rock Caper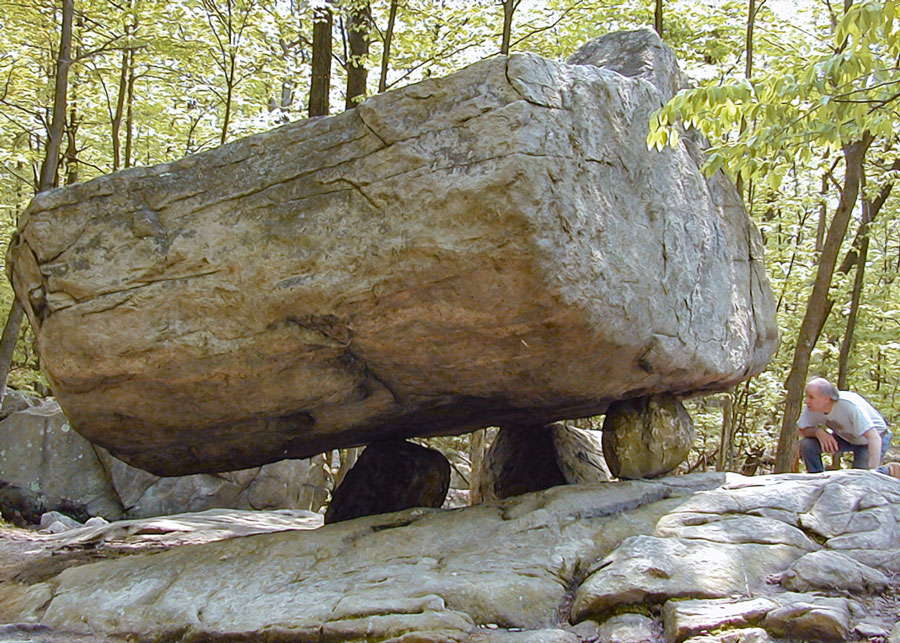 Tripod Rock at Pyramid Mountain
Tripod Rock -- begetter of mystery, artifact of glacial motion or signpost of Indigenous People? Two such monuments decorate the Northwest Jersey landscape ­ one on a Morris County mountaintop, the other protected by rock outcrop on the side of Kittatinny Mountain in High Point State Park. The rocks are not to be missed ­ phenomena
for all to enjoy.
---
Find Your Furnace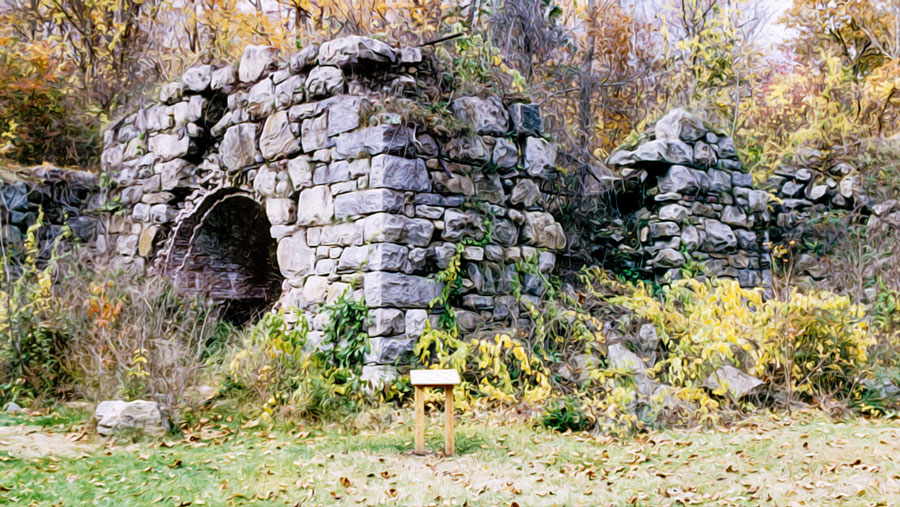 The area now called
Hewitt
was once the
Long Pond Ironworks,
where men took iron ore from the Ramapo hills, burned and extracted it into pig iron and forged it into wrought. Farms and schools and whole support systems sprung up around the ironworks village to maintain this rugged venture. Standing at the crossroads of this
ghost town
, you can sense the men and women who helped set the wheels of America in motion at the dawn of the nation's birth and the Industrial Revolution. Stop and feel the energy. The Ironworks is a beautiful place to visit, a serene one- hundred-year-old forest now replenished, breathing the enterprise of our past.
---
Rock Legends

Bevans Rock House is a large rockshelter formed by a huge overhanging rock slab and was probably used by Indians for many years.
New Jersey's Skylands offer beauty, awe, history, and mystery to any weekend traveler discovering the region's mountains, lakes, fields, forests—and rocks!! Nearly everywhere you look there are rocks; big ones, little ones, sometimes fields of them resembling a Golem's garden. But amidst this lithic profusion curious explorers cannot help but wonder why certain rocks and boulders have drawn enough attention in days gone by to have been given names of their own. Where are these special boulders anyhow, and what are their stories?
More...
---
---
Denville Detour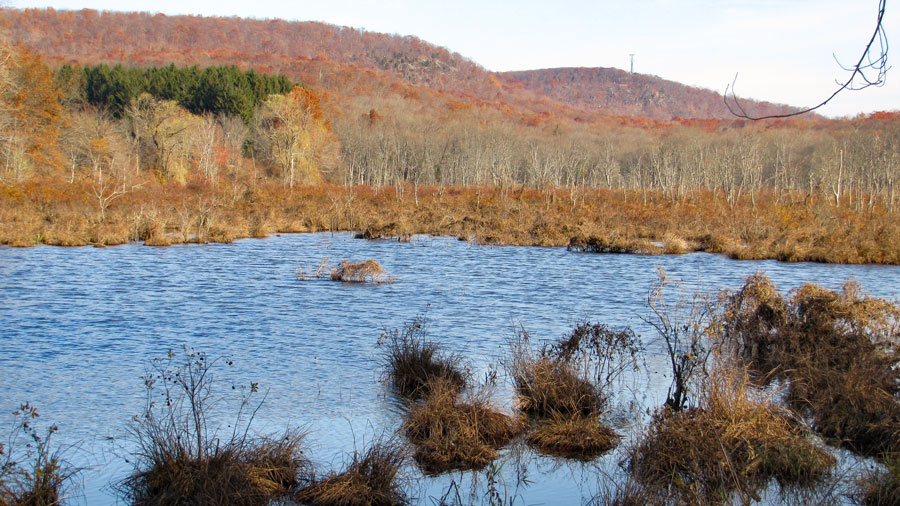 Even today, if you needed a natural hideout—a really good one—
Jonathan's Woods
could work. This six hundred plus acre pocket of undeveloped property, speckled with high and low ferns and Indian paintbrush, crossed by slender streams and marked by sharply rising rocky outcroppings, lies not far from one of Morris County's busiest highways: Interstate Route 80. And yet the tract offers unexpected isolation. You could, as they say,
get lost here!
---
---
Consider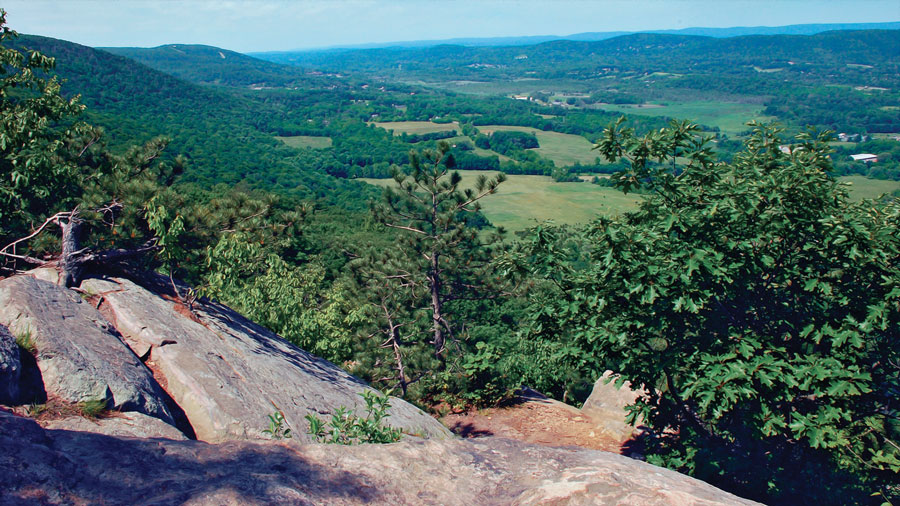 A grand view of the New Jersey Highlands from Wawayanda State Park
The word "
consider
" has its origin in the early French word for star-like: "sidereal". Its use suggested that important thoughts, judgments and decisions ought to take into account the perspectives of the stars. We might suggest that "Consider" now has
an expanded meaning
, the promise that with some corrections in our perceptions we might also be inspired to change our behaviors.
Many, many stories adorn the history of the Highlands. But what about the future? What are the significant challenges ahead for our cherished home? That question has an easy answer:
climate change.
---
---