It was more or less a straight shot southeast from their Pequannock Township roost to Manhattan, over mountains and piedmont and finally the Hudson River to the Kinney factory, a block from the river on West 22nd Street. There workers churned out cigarettes stuffed with Turkish and American tobacco and branded with names evoking privilege: Full Dress, White Caps, Cross Country, and Latest English.
The $5 million the Kinneys made when their company merged with the Duke American Tobacco Company in 1890 would amount to more than $150 million today. Francis S. Kinney, one of the owners, could have chosen any place to retreat with his family, ride horses, breed dairy cows, fish and hunt. But he chose this: a swath of rocky, rising land in the state's northwest corner, where he built a stone country manor with eight chimneys, called "The Cottage." He referred to his new surroundings as "Kinney Lawn."
While Francis set down roots close to home, his younger brother Abbott Kinney travelled the world, then ventured out to Southern California where he established the now famous oceanside enclave and celebrity magnet near Los Angeles called Venice.
Years later, when the section of Pequannock the Kinneys inhabited broke away and formed a borough, the name Francis had given his estate stuck in modified form as "Kinnelon." Upon incorporation in 1922, the new municipality remained a family affair, welcoming Warren Kinney, Francis' son, as its first mayor. The town celebrates its 100th anniversary next year.
---
Today's Kinnelon, sitting just south of busy Route 23, still reflects the high/low contrast between the mega-monied Kinneys and the farmers who occupied the land before them. Much of the town's present-day acreage stands open to all, but what remains of the Kinney estate and its centerpiece Lake Kinnelon, developed as a private club community called Smoke Rise beginning in the 1940s, remains gated and guarded.
It's easy to imagine the escape the Kinneys relished once you leave Kinnelon Road, which snakes north through hills and woods leading from the Boonton Township border toward Route 23. One turn down the long drive to Silas Condict Park takes you into a quieter place, marked by birdsong, the happy voices of children racing to fish or play ball, massive rock outcroppings and stone slab pile-ups, softened and colored by lawns, ferns, mountain laurel, and scruffy pines. This is where former farmland and Kinney land meet.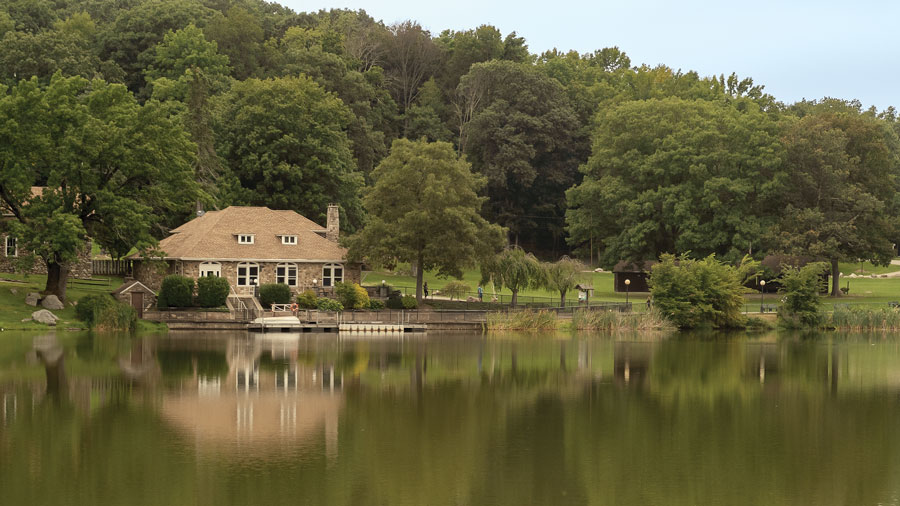 The Morris County Parks Commission established the Park, named for Revolutionary War era New Jersey farmer and Continental Congress delegate Silas Condict, in 1963. More than forty years later, after New Jersey's Highlands Act restricted local property development, the Commission expanded the park by purchasing land once held by the Kinney family. The Park now encompasses more than 1,500 acres and more than nine miles of trails. Ultimately, according to Commissioner Richard Seabury, given certain easements and acquisitions, those trails may link up to a larger loop, including nearby Buck Mountain and Koehler Pond. "It's like stringing beads," he says of the process.
Administered by the Commission, Silas Condict offers something for nearly everyone — from solo nature treks, to sports and social gatherings.
Fishing? Canty Lake.
Hiking? Yes, with views of Manhattan and the Ramapo Mountains.
Outdoor Picnic? Lawns and covered picnic areas.
Indoor Party? In a historic stone building with a paneled bar and lake views.
Horseback Riding? Yup. Bring your own.
Baseball? Check. The park has its own diamond.
And if all that seems a little too healthy and happy, check out a relic of the property's sketchy side. Local history pegs the stone building tucked in by the lake and dubbed the "Casino" as a former boot leggers paradise — a well-appointed rustic speakeasy. Standing on its outdoor terrace and peering through ground floor windows at the carved wooden bar, it's easy to imagine drinkers raising glasses of contraband applejack, a New Jersey distillery favorite. These days the Parks Commission rents the out Casino for weddings and other social gatherings.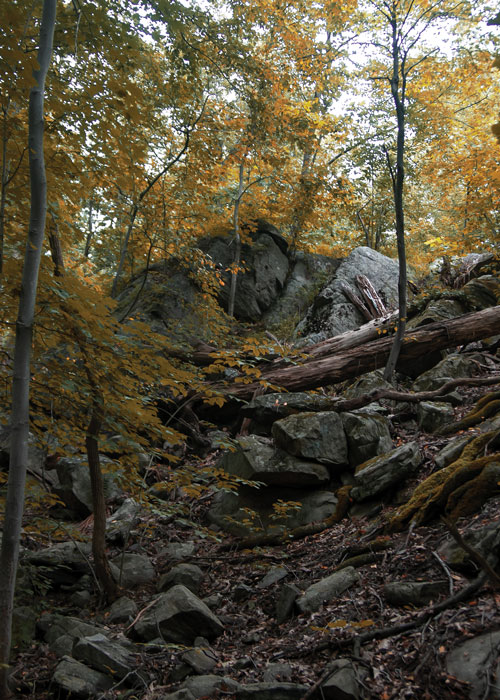 If it's a quieter experience you're seeking, take to Silas Condict trails. The park offers some of the highest elevations in Morris County, with far-reaching hilly vistas flaming with color in the fall.
"I love Silas Condict," says Amy Lutsko, the Park Commission's recently appointed "Trail Boss" (Assistant Superintendent of Trails), who hikes county park trails daily. "There are so many different kinds of trails…some are smooth some are rough, some are flat, some are steep and some are back country. There's something for everyone."
Those who favor flat paths and sure footing can choose to walk around seven-acre Canty Lake and across its dam, detouring down short paths that tuck into picnic tables and seating areas.
By contrast, steps from Canty, the ruggedly rocky White Trail offers more challenge, taking you up and down stone slants, over and around crevices and past grey boulders covered with bright green velvety moss. At the top, a roughhewn wood slab on two heavy logs provides a seat and chance to contemplate the miles of highlands scenery stretching out below you, toward New York City, over rolling hills.
Pay attention – the White Trail doesn't follow a straight path, and some terrain is rugged enough to confuse. At certain points, you may have to turn back to confirm you're still following the white blaze. If you tend to get distracted by talk or terrain, put a companion who pays attention in the lead.
After elevated views but not up for a rock scramble? You can cheat a little, still on foot. Take a shortcut off the Park's access road by skirting around a yellow vehicle gate across from the Lake. Then walk up residential Sheep Rock Road. At the top you'll find a spectacular spread of scenery.
And where can you get a glimpse of Smoke Rise, the private community that borders the park's western side?
That, as they say, is complicated. You can't cross that border on a trail. Officially Smoke Rise trails are private and open only to residents and their guests. But you can get a look in other ways that are both legitimate and worth the trouble.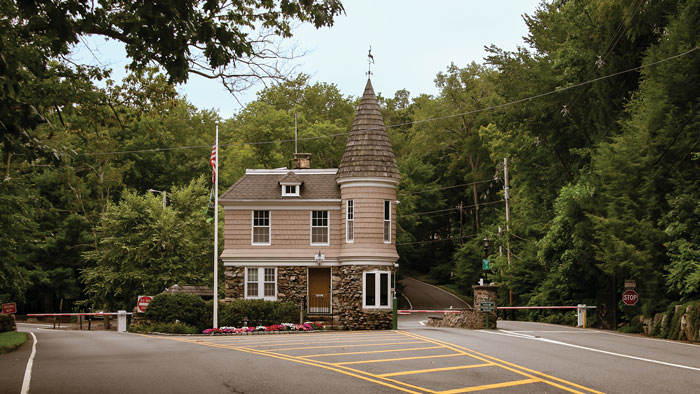 Get a peek at the community and one of its historic buildings simply by booking a table at the Smoke Rise Village Inn, which occupies part of what once was the Kinney dairy barn (the family bred Brown Swiss cows). A reservation for a meal at the Inn not only gets you through the Gate, but into a clubby and welcoming bar and dining room. Enter through the East Gate off Kinnelon Road (once you make the reservation, the gatekeeper will have your name) and off you go through the woods, past fields with stables and paddocks, and in the direction of Lake Kinnelon, losing cell service seemingly with every turn.
The other entry pass option takes more planning, but pays off with the promise of something priceless: St. Hubert's Chapel, an unexpected and exceptional artistic and architectural work undertaken by Louis Comfort Tiffany.
Francis S. Kinney had the Chapel built in 1886 on a little Lake Kinnelon island to save his wife Mary from traveling to a faraway Catholic church. Accessible only by boat, it's interior and exterior are dominated by a bold stained glass window in the shape of a Celtic cross. Destroyed by vandals beginning in the 1950s, the chapel has undergone a comprehensive restoration funded through individual, family and foundation donations. That's almost complete, bringing windows, marble floors, altar, statues, and the clocktower back to life. The goal is to have the building listed on the National Register of Historic Places this year.
As an early foray into ecclesiastical work, St. Hubert's, named by Kinney for the patron saint of hunters, paved the way for Tiffany commissions nationwide, according to Thomas Kline, who first worked on repairing the chapel as an Eagle Scout while growing up in Smoke Rise and now serves as lead conservator for the Club's chapel committee. "The ideas that he used at the chapel were later used in churches through the country," he explains.
Non-Smoke Rise residents can visit the chapel by appointment only on scheduled tour days. Book a tour (which includes the boat ride) by calling the Smoke Rise Club office.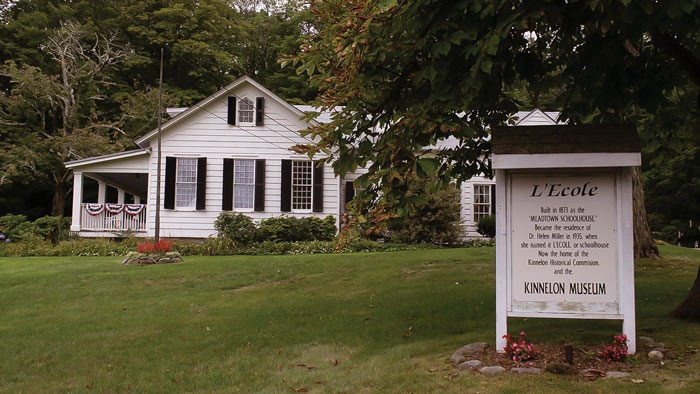 A short drive from Silas Condict and Smoke Rise, the Kinnelon Museum, headquarters for the Kinnelon Historical Commission, illustrates the Kinney, Smoke Rise and other borough stories with maps, photographs, objects and archival documents. The museum occupies a simple 19th century schoolhouse that Dr. Helen Miller turned into a residence named L'Ecole(French for school) as a nod to its original use. On its lawn grows a sapling sprouted from a nut salvaged from what was New Jersey's oldest Butternut tree, a walnut variety, which stood nearby until a storm uprooted it in 2017 at an estimated age of 245.
Heading back down Kinnelon Road on the way to or from Kinnelon destinations, a countryside detour will take you to a deli popular beyond borough borders - as much for its unexpected location as its food. Take the turn onto Fayson Lakes Road, and drive past the Butler Reservoir and the private lake community of Fayson Lakes. Near Lake Reality, another private Kinnelon lake neighborhood, look out for the sign that says "Taste of Reality." Irony intended or not, here's a place to grab a sandwich or salad for a hike, picnic or the road out of town.
Nearby accommodations and attractions
For the formative steps in a guide dog's youth, The Seeing Eye relies on a network of Puppy Raisers throughout New Jersey and eastern Pennsylvania who participate in a program that began in 1942 as a joint effort with 4-H Youth Development.

, ,

The Theatre at Raritan Valley Community College, which offers a full season of professional music, theatre, dance, cultural events and children's programs is conveniently located near the border between Somerset and Hunterdon counties. Box Office Hours: 11am-4pm, Monday - Friday

Rt. 28 and Lamington Road, North Branch 08876, 908/725-3420

A visit promises ample scenic vistas, woodland or urban hikes with water views and flashes of Revolutionary and Civil War history.

, Rockaway Twp.

View historic buildings, elegant bridges, a chain of beautiful man-made lakes, lush meadows, woodlands. waterfalls and ornamental fountains at the historic estate.

80 Route 206, Hillsborough 08876, 908/722-3700

F.M. Kirby Shakespeare Theatre\n36 Madison Avenue, Madison 07940, 973/408-3807
This story was first published: Autumn, 2021