Morris Museum
Jersey Rocks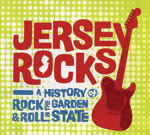 Who can resist the Jersey Rocks exhibit at the Morris Museum? No, it's not about geology. It's about Rock & Roll, and, no matter who you are, there's something there that relates to you, whether you're from New Jersey or not. This exhibit can't help but evoke nostalgic memories and emotional blasts from a million pasts. But Jersey Rocks is not an assortment of memorabilia, or a state Rock & Roll Hall of Fame. It is an interpretation of New Jersey's heritage involving works of art, collectibles, historic items and technological innovations.
Ellen Snyder-Grenier, consulting curator for the Morris Museum, proposed the exhibition a year-and-a-half ago. As an undergraduate, Snyder-Grenier concentrated in Early American literature, American folklore, and studio art before pursuing her curatorial training. She assembled the Museum's permanent Guinness Collection of Mechanical Musical Instruments and Automata, which describes a time in the early 1800s when inexpensive music boxes were just beginning to bring melodies to the masses. Jersey Rocks jumps to an era when tunes infuse every part of life.
Early in the exhibit's development, Claudia Ocello joined as Project Director and Assistant Curator. Both women have - had long tenures at the New Jersey Historical Society, and Ocello brought twenty years of experience developing educational programs at leading regional museums, writing and teaching courses at Seton Hall University, and serving on numerous advisement committees for schools throughout New Jersey as well as exhibition development experience. Daniel Schnur, the exhibition designer, and Jody Graff, the graphic designer, quickly grasped the concept and added the melody to the words.
Ocello, who worked on Jersey Rocks as an independent consultant (her Morristown based company is Museum Partners Consulting, LLC), thinks visitors will be delighted with the results. "This exhibition is full of surprises," she says. "Often people think about just a few of the big names when associating the state with rock music; we wanted to tell stories that span geography, time, and cultural and ethnic boundaries. We look forward to families comprised of children and grandparents alike in to hear, see, and share changes in music, the technology of listening to music, and the experience of venues that hosted rock & roll music from the early 1950s to the 1990s and into today."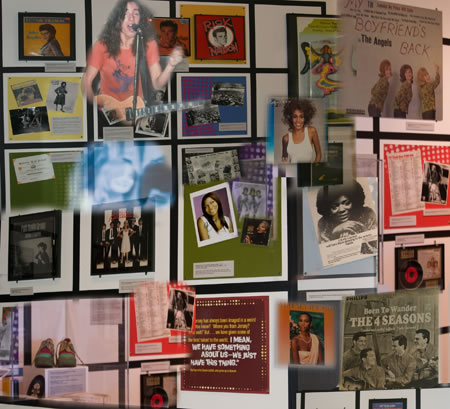 You don't have to be a rock and roll professor to recognize the album covers and photomontages on the walls, progressing chronologically from early gospel, rhythm and blues and doo-wop artists, around the horn, to punk and disco. The Ad Libs, Avons, and Faye Adams give way to Connie Francis, Leslie Gore, and Dionne Warwick. Patti Smith, Blondie, and Gloria Gaynor run to Whitney Houston, Queen Latifah and the Catholic Girls. Three instructive media stations serve as summary documentary. One features clips by 36 performers and venues, from the Asbury Jukes to Zacherley's Disc-o-Teen, with styles ranging from Ben E. King to Gaslight Anthem.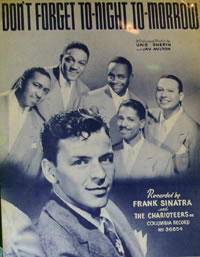 In 1945, the gospel group, the Charioteers, joined Frank Sinatra in the classic recording of Don't Forget Tonight, Tomorrow (sheet music above).
Look closely at the glass enclosed cubes stuffed with items you've never seen before, contributions from performers, as well as their fans. At one station you'll learn about David Brigati, whose doo-wop group, the Hi Fives, had a regional hit in 1958. Later that year, Joey Dee saw the band at Garfield High School and recruited the singer into the Starliters (Peppermint Twist). Brigati left the band in 1964 and was replaced by his brother Eddie, who with Starliters Felix Cavaliere and Gene Cornish, went on to form the Rascals. At the same station, a photograph and fan club card from another Fifties group, this one from Bergenfield, portends a Jersey Boy luminary. Royal Teens piano player Bob Gaudio, who co-wrote the group's hit, Short Shorts, went on to the Four Seasons, composing (with Bob Crew) a long string of hits.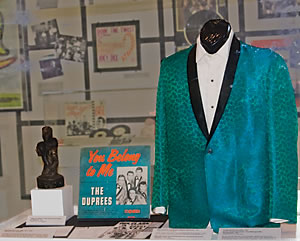 Tom Bialoglow lent his turquoise tuxedo from his days with the Duprees.
Tom Bialoglow, who, with his Jersey City high school friends, formed the Duprees in the early 1960s, lent the turquoise tuxedo jacket that he wore in the album cover photo that featured their huge hit, You Belong to Me. Maria Gatewood, Director of Advancement at the Museum, remembers, "He was so excited. He came in with a walker carrying the donated jacket, and wearing another just like it!"
There's more original garb: an outfit worn by the Shirelles, even a pair of leather, button-down wizard shoes from 1910 Fruitgum Company member Frank Jeckell. Another display holds a patchwork costume made by Looking Glass drummer Jeffrey Grob, while the group recorded their hit Brandy. The Rutgers band later morphed into Starz, who, along the Lodi band, the Misfits, were key in the advance of punk and heavy metal alternatives in the late 1970s and 80s.
One display pays homage to Les Paul, who moved to Mahwah early in his career, and who invented the solid body electric guitar so that he could produce electronic sounds without distortion. Paul also invented multi-track recording, an innovation that revolutionized the music industry. Another display holds vintage Guild guitars, made in Hoboken, and Ampeg amplifiers, made in Linden.

Some performers really gave it up for Jersey Rocks. Felix Cavaliere lent his Hammond B-3 (left), Max Weinberg his classic "Ringo-style" Ludwig drum set (right).
The exhibition's special touches come with contributions from fans—autographs, diaries, record logs, pictures, ticket stubs—each chosen for an extraordinary, usually rare, feature. A reproduction of a scrapbook that belonged to Susann Scaglione when she was a teenager in the 1950s and used to go to TV shows such as "Rate the Records" and out dancing, has autographs and ads and photos in it. Ocello notes, "We reproduced some of the pages to show a fan's perspective on rock & roll from the 1950s, how the performers were more accessible and how there was a growing market for rock & roll in the teenagers with disposable income."
Fan donations make up a shrine to the Capitol, the Passaic vaudeville-era theatre that hosted some of the best bands in America from 1971 into the mid 1980s. Along with a jacket, t-shirt, and photos, there are bricks and a wall sconce from the building, which was demolished in 1991.
Central to the "Jersey Shore Sound" portion of the exhibition are collages of photographs from the Upstage Club in Asbury Park. A large blow-up of a photo taken by the granddaughter of the club's owners hangs on the wall: Bruce, way-back-when, with Little Steven on bass.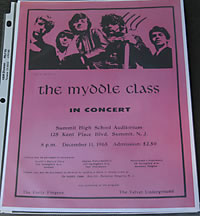 My friend dropped by to retrieve his vintage Myddle Class flyer from a Summit High School appearance in 1965.
I was a little disappointed that I didn't find something from the Myddle Class among the hundreds of objects on display. The pride of suburban North Jersey, the Berkeley Heights band with big time connections to people like Carole King, was going places in the mid-Sixties. I was about head out the door when a gentleman approached and asked, "Are you a contributor?" "No, but I wish I had known," I replied. He had lent a collection of ticket stubs for shows all over New Jersey, dating back to 1970. One of his friends had contributed to the display for the Capitol Theater in Passaic, and the discussion turned towards venues. We remembered the great shows at Drew University back in the late Sixties, and agreed that it was a shame that the Stanhope House didn't have more memorabilia. And when we came around to Newark's Mosque Theater, I quickly announced, (as I do whenever I get the chance,) that I was fortunate enough to see the Rolling Stones and James Brown there in 1965. It turns out that my comrade-in-memories had come to collect something else he had submitted, but was not accepted for the exhibition. It was an 8 X 11 flyer announcing a Myddle Class concert at Summit High School 46 years ago. Opening the show was somebody called the Velvet Underground.
Stop by Jersey Rocks. You never know who you'll meet!
Jersey Rocks runs through September 5. Admission: $10; seniors, students and children 3 to 18, $7. Open Wed-Sun. The Morris Museum is located at 6 Normandy Heights Road, Morris Township. For information click click or call 973/971-3700 or click morrismuseum.org
This story was first published: