With growing collections and demands for accessibility, the construction of a new northeast wing in 2005, modernized physical access to the Museum, and created the space required to house the collection and accommodate research. The latest phase, the result of nearly a decade of work was completed this winter with the opening of the Military Gallery and the new Discover History Center (DHC), a $2.2 million dollar project for the 21st –century. The Washington Association's fundraising efforts — including gifts from members, friends, and corporations — contributed $1.8 million dollars to the project, enabling its completion.
The ground floor Military Gallery is somewhat in keeping with the austerity of the pedestaled marble bust of Washington, cordoned off in the entrance hall to the museum. Incorporating an interactive timeline that tells the entire history of the Revolutionary War, the collected art and armor help us appreciate the resourcefulness and the coincident sacrifice of our Revolutionary forebears. Touch screens that describe seminal events through the entire colonial geography, beyond the New Jersey frontier, are complemented by a rich assortment of artifacts displayed, for the most part, under glass. From Morristown come relics of simple practicality and folk wisdom: a hand-fashioned shovel and frying pan, and medical devices and improvisations crucial in winning a war of survival.
---
Downstairs, the story of "When the War came to Morristown" continues, but with a new and entirely different approach in the Discover History Center. Visitors jump into an arcade of history, a labyrinth of interactive exhibits with spinning roulette wheels and slot machine handles, each pleading for a touch, each with a purpose. "There are several places where you have to look at the choices that Washington made, or that the civilians made," notes Burt Dunkerly, Acting Chief of Interpretation and Education. "It really brings it home that these were real life decisions. We put visitors in those situations."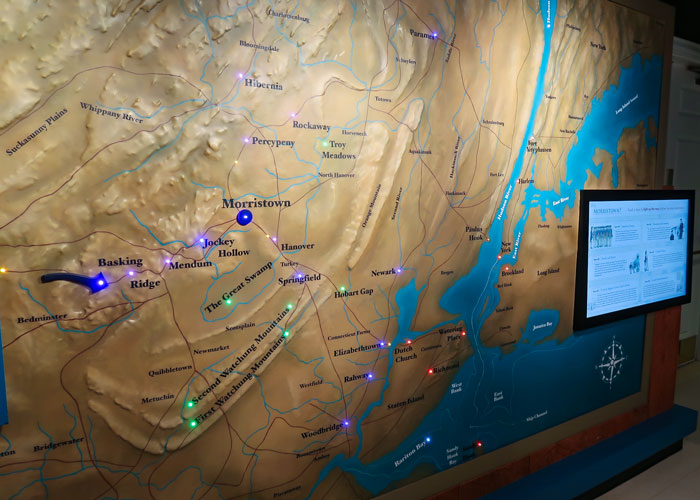 Visualize the realities of the Patriot army's predicament at a huge interactive map that illustrates troops, outposts, enemy troops, critical support, roads and rivers, and natural resources in the region. Then walk from station to station that narrate stories from motion-activated halo speakers. Open drawers and panels that reveal Washington's support system — from his servants and slaves to his aides-de-camp — as the general and his officers faced the challenge of providing for the troops during the Hard Winter of 1789-80. Try your luck at preparing a shipment of supplies for 250 soldiers. Buy or forage? Take from local citizens? How to send a message? Then confront the plight of a common soldier, stranded for months in bitter cold. Climb into his bunk, turn a knob to reveal his everyday chores. Wear his tattered uniform, feel the weight of his 56 lb. equipment pack, or lift a musket. Confront literal starvation on rations of bark and roasted shoes. Lift a series of lids to discover orders issued for camp cleanliness: the disciplines prescribed to manage the "necessaries". Then learn about hospital rooms, suitable for six men, crowded with twenty. Study aspects of military justice at a series of interactive panels, or peer through the original door to the Morristown jail that confined citizens and soldiers disparate to the Patriot cause.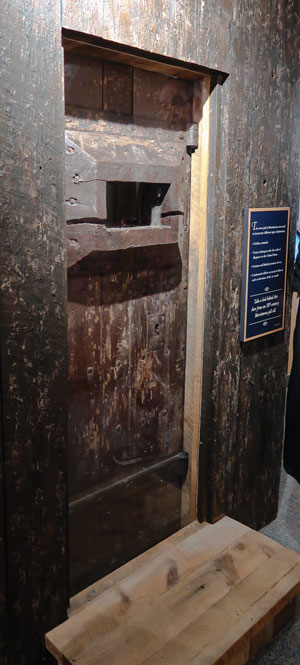 "This was a very complex time, not as clear cut as usually portrayed. Sometimes it was neighbor against neighbor," explains Jude Pfister, Chief of Cultural Resources at MNHP. "The intricacies are hard to convey, and it was difficult to decide what to include. But these displays make the artifacts easy to connect with, because you don't have to read anything." Even so, the team spent untold hours working out phrasing on signs throughout the exhibit intended to immerse each visitor in the historical experience. There is a balance that will involve both school children and serious students of history. No one can emerge from the Discover History Center having learned nothing.
"What a terrific addition to the Washington's Headquarters Museum," says Leslie Bensley, Executive Director of the Morris County Tourism Bureau. "Not only will children find the new Discover History Center to be packed with interactive exhibits but adult lovers of American's Revolutionary War will too! I suggest giving yourself plenty of time to take in all that the new DHC has to offer. Make a day of it in historic Morristown."
The Washington Museum is open Wednesday-Sunday, 9:30am to 5pm. During museum operating hours, guided tours of the Ford Mansion are available by timed tickets available at the museum information desk. Admission to the Washington's Headquarters Museum and Ford Mansion tours is free to the public. For more information click or call the museum at 973-539-2016 x-210.
Nearby accommodations and attractions
The Raptor Trust is one of the premier wild bird rehabilitation centers in the United States.

1452 White Bridge Road, Millington 07946, 908/647-2353

F.M. Kirby Shakespeare Theatre\n36 Madison Avenue, Madison 07940, 973/408-3807

Just off the old, now-vanished, Ledgewood Circle, a stone's throw from the mall, the Drakesville Historic Park pays tribute to Morris County's pedigree of innovative pioneers.

, ,

View historic buildings, elegant bridges, a chain of beautiful man-made lakes, lush meadows, woodlands. waterfalls and ornamental fountains at the historic estate.

80 Route 206, Hillsborough 08876, 908/722-3700

A visit promises ample scenic vistas, woodland or urban hikes with water views and flashes of Revolutionary and Civil War history.

, Rockaway Twp.
This story was first published: Spring, 2018