Rites of Spring
Springtime in the Skylands is magical in its landscapes, tame and wild, with new life and new hopes. Rites of Spring include embellishing one's self with wearable art offered by many boutique owners with special visions. Here are five:
Gill Cohen says Interplay Couture (41 Theatre Center, Sparta) is a European boutique with wearable art. How true it is. Here, every woman can dawdle for hours and walk out happy. At first glance, racks of clothing arranged by color dominate the view. A closer look reveals that each piece is beyond the ordinary as is the ambiance with art on the walls, music and candle-lit fragrance blended to create a sensuous mood. Along an entire wall, a mix of jewelry, gloves, hats, boots and bags are stunningly displayed on industrial shelving beneath paintings and tapestries.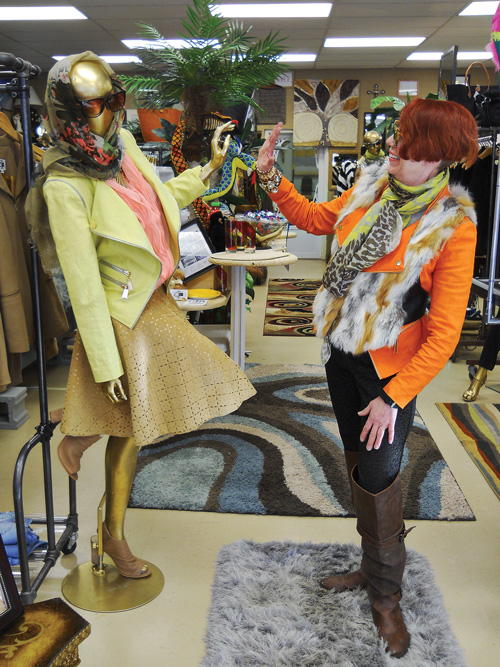 After I get over my initial "Wow!" I spot a red carpet/diva dress in iridescent violet silk taffeta with marabou feathers across the strapless top. I want it. It is hard to put back. It hangs next to a classic sheath done up with an edge in tropical lime stretchy fabric and racy front zippers. Nothing here is ordinary and I want almost everything.
The owners, Lynn and Gill Cohen, design and produce 40% of the merchandise and buy the rest globally. They have been in the business for 35 years with shops in Paris, SoHo, The Village, Chelsea and now Sparta and Newton. Lately they've been spending more time at their Hampton farm than their Village home.
"Nothing stands alone here," says Lynn." Culture transcends. That's why the art, the music, the scented candles. A lot of times we lose sight of engaging our senses. If you touch the textures you will see how tactile friendly it is. Everything feels like you want it on your body; the next thing is you wonder how great you'll look in it." Techno fabrics like liquid leather and micro suede are super travel friendly with stretch, flattering body sculpture, flexibility, washability and lots of attitude.
Lynn has been dressing women and celebrities for 35 years. "As a woman you want to feel alive and modern; it's very important for your health," she says. (I know the violet dress will make me feel better.) "I get to do what I love: make that connection with women to help them rediscover themselves as sensual, modern human beings with relevance without the guilt. Interplay is a mix of business, social, culture, and fashion. Everything is ying-yang: sophisticated clothing and playful fabrics."
---
At Onore Clothing, an upscale men's custom clothing boutique at 21 White Deer Plaza, Sparta, expect to be greeted by the warmest welcome ever from owners Richard and Edna Cintron. Though the shop where everything is made to measure is new to Sparta, it hails from malls in Hackensack, Bridgewater, Short Hills and Paramus for 32 years. After closing the last store in Riverside Square due to high rentals and a changing economy, Richard moved his business home. For three years he brought samples for custom shirts and suits and racks of suits to corporations while inventory took over the house until Edna gave him an ultimatum: get a store or move. Luckily, business increased and, in September 2013, he opened the Sparta store, where Edna joined him as their children grew. "I love it, especially all the nice people. He's the pro with the knowledge and I'm a great assistant to take a load off his back when he's busy and managing the tailor shop," she says.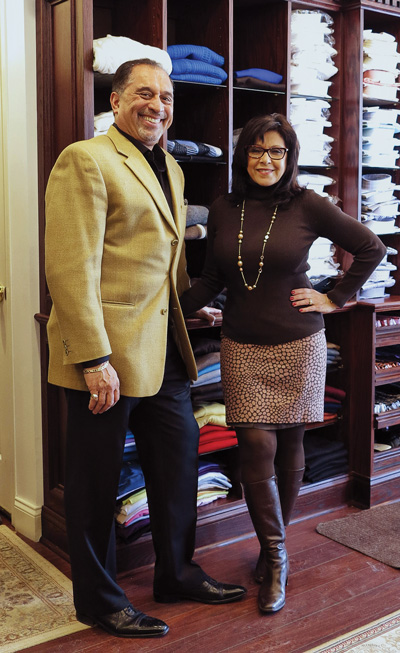 Custom suits and shirts from 14 to 25-inch necks are 25-30% of the business. Custom garments take six weeks. "If you have the time, nothing fits you better than a custom garment," Richard says. "Whether someone buys off the rack or custom, we tailor every detail. Everything has to be right. Department stores lack the individual service the independent has to offer," says Edna. "And we brought something that Sussex County needed."
Richard started in the business at 15 years old in a Bronx men's store. He folded shirts, stocked, and learned fabrics and fit until they let him sell. "When I closed the store in Riverside I couldn't wait to reopen in Sparta," says Richard. "I had hit a hiatus and realized my passion was in men's clothing. I'm good at it. I love it."
---
Mary Lou Carhart has recently re-opened Amaryllis, a women's clothing boutique at 12 Main Street, Clinton. After a 10-year hiatus of owning a deli in Maine and traveling a bit, they retired back to Clinton, their original home. "I found I wasn't the retirement type," she says.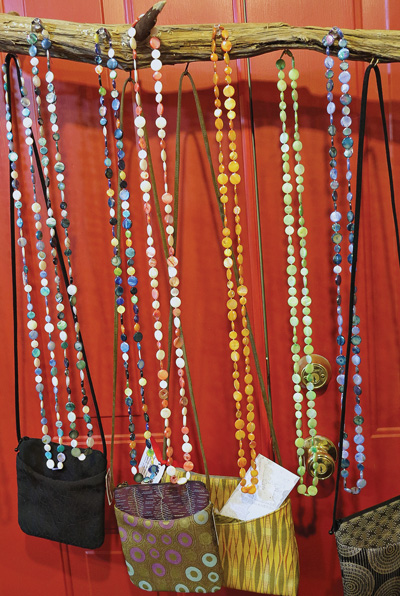 Amaryllis specializes in natural fabrics aimed at mature women who want to live in contemporary clothes with new arrivals every month. Along one wall, jackets, blouses and skirts are separated by fabric: linens, flax, cotton and bamboo next to tencel. "I try to carry sustainable clothing," she says. "I like cotton because it breathes really nice. And linen, though it wrinkles sometimes it has that classy look." She also carries American crafts: pottery, jewelry, scarves, purses hand-made in Colorado, iridescent Sea Lily glass-beaded necklaces, a necklace of toga seeds from a rainforest in Peru, bags and tin boxes from BlueQ, an environmentally-conscious company that gives a percentage of sales to The Nature Conservancy. "I buy things I like," says Mary Lou. Amaryllis is open seven days. Sizes run from Extra Small to Extra Large and some Plus sizes. Mary Lou in her new store of natural fabric clothing where the glitter is on the floor.
---
Welcome to Dreamsville at Lady K Lingerie (33 Broadway in Denville), where you can walk among clouds of pastel and shimmering luxuriant lounge and dreamwear. Plan to slip into a slinky satin gown, the softest pleated cerulean camisole and tap pant set, lacy retro thongs and tanks, or for pure romance – classic caressing florals and lace from days gone by, a startling, pure white "poet's shirt" style cotton gown.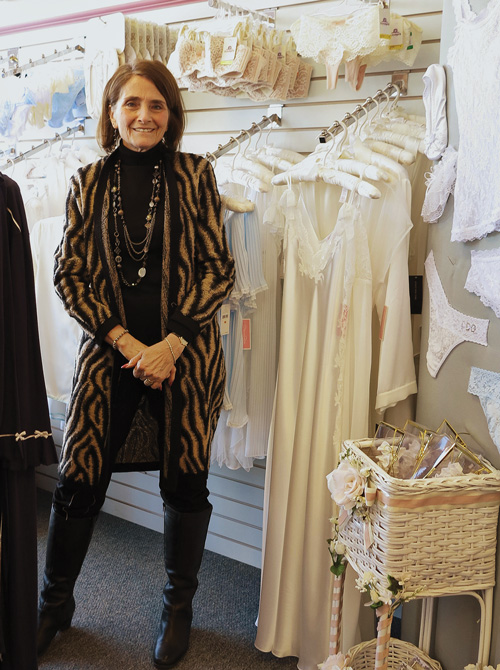 Before opening Lady K Lingerie 25 years ago, Kyle designed bras for noted companies including Playtex and Vassarette for 23 years. A third of Lady K business is bra fitting- something department stores don't do. With a clientele referred by word of mouth, physical therapists, chiropractors (avoid pinched nerves with the right size straps), Kyle stocks larger sizes and specializes in mastectomy fittings and bras. She even encourages customers to bring in their special dress to find the right bra. "It's all in problem solving – identify the problem and solve it. You wouldn't think a lingerie store would be so technical but this one is. We don't just dress bodies, we make them feel good and solve problems. I get hugs every day here. We bond with a lot of our customers, especially our mastectomy customers." Also find multi-purpose garments for travel, camisoles with built-in bras, fleece under and outerwear, and sleek nightgowns for mother-of-the-bride-wear.
---
If romance or fantasy is your thing, you must visit Midnight Owl at 75 Main Street, Chester. Here, the clothing is to die for: frilly, feminine dresses straight from fairy tales or sci-fi, long cape-like sweaters to steal away into the night for a romantic rendezvous, funky socks, hand-made Goth-inspired jewelry and hand-made hats for a whimsical flourish.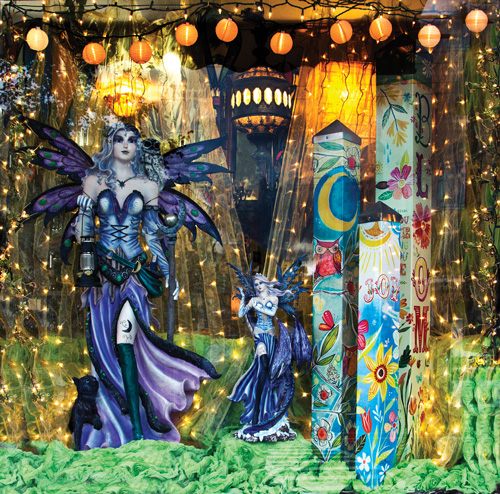 Suzanne Pfister, owner for 10 years, does it right. Her own dreams and tastes influence her choice of goods to sell and if you're looking for the ordinary, you won't find it here. Steampunk jewelry and sculptures (Victorian influenced, mechanical, steam-powered), crystals, garden goodies, hand-made jewelry and clothing. Midnight Owl has your fantasy. "I always wanted to be different, even as a kid with my clothes and accessories," she says. "Once everybody had it I was moving on to something else. I don't have two bracelets the same in the store."
True to her independent nature and passion for science fiction and fantasy, Suzanne decided to open her own shop after working at a clothing store. Midnight Owl also has a lot of items about comfort and quality and sells to women of all ages who are looking for something different. "I've been told that walking in here is like walking into a different time. I think of it as Goth and girly. We've got gargoyles, dragons and beautiful frilly, girly clothing." Treat yourself.
This story was first published: Spring, 2015