Delaware View House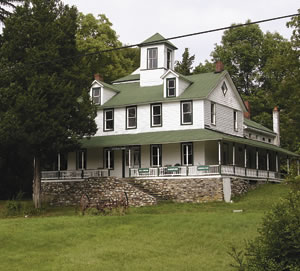 Delaware View House on Old Mine Road
From the wrap-around porch of the Delaware View House you can see clear across the valley just about to Bushkill, PA. The building is one of a few hundred still standing in the wake of the abandoned Tocks Island dam project of the mid 60s, the misadventure that resulted in condemnation and destruction of thousands of residences in the valley and, the silver lining, the Delaware Water Gap National Recreation Area. But the 70,000 acre park, Elysian Fields for millions of visitors each year, remains dotted with decaying, falling structures, all of which are listed or eligible for the National Register of Historic Places.
The original Greek Revival farmhouse- 2 rooms up, 2 rooms down- was built in 1837. In 1892 a 2 1/2 story addition was built around the house to become a lodge called the Flatbrook Hotel. Sometime in the early 1900s it became known as the Delaware View House until 1926 when the building became known as Salamovka, a resort for Russian emigres.
To get to Delaware View House enter the DWGNRA from Rt. 80 at Exit 1 and continue on Old Mine Road. The house is about 1 1/2 miles past Millbrook Village on your right. Or from Route 94 in Blairstown via Route 602 to Millbrook Village, then right on Old Mine Road.
This story was first published: Spring, 1999