Fly Fishing
Music To A Hare's Ear
By Henry Bell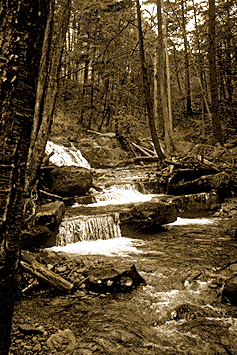 Fly fishing is best described as fishing with an artificial lure (fly) designed to imitate aquatic insects and bait fish that live in a trout stream. Fly lures also imitate land insects such as ants, beetles, inch worms, and grasshoppers that find their way into the water. The material used to construct these flies are fur, feathers, tinsel, yarns and flosses which are wrapped around a hook. A successful fly fisher is one who possesses a good knowledge of the insects which inhabit the streams that he or she fishes. In recent years fly fishing, a sport which has been practiced in the United States since pre-revolutionary days, has enjoyed increased popularity.
A delicate sport, fly fishing requires patience and a love for quiet. Deceiving the elegant trout with a self-made fly is a great thrill, but one that requires patient pursuit and the skill to place the bait where it seems natural to the prey. Fly fishers spend years learning the intricacies of the fish, the streams where they live, the tackle and the technique. Yet seldom does a seasoned expert find a thrill that exceeds that of the first hit on a fly rod.
Equal (at least) to the excitement of the catch is the requisite acquaintance with some of nature's most ornate exhibits alongside the water's edge creeping into the bed beneath the water. The clarity of the stream's rush seems to match the crispness of the air, so fresh as to seem intoxicating, laced with that smell that belongs only to a mountain stream. Whether you fly fish or not, fresh, free-flowing waterways are the most captivating of nature's gifts. Learning to fish the streams is a wonderful way to get closer to what is available here in New Jersey's Great Northwest.
---
To equip yourself for fly fishing in the Skylands, outfit as follows. A 7 1/2 to 8 foot rod for a 4 to 5 weight line will do nicely. Leaders 7 1/2 to 9 foot with tippet material of 4, 5, 6 and 7X should handle any fishing situation you come across. The following selection of flies should work well: for streamers use muddler minnows, matukas, wooly buggers in sizes 8, 10 and 12. For nymphs use gold ribbed hares ears, fox squirrel, prince nymph, caddis larva, and stone flies in sizes 10, 12 and 14. For wets use soft hackles, lead wing and white wing coachmen in sizes 12, 14 and 16. For dry flies used Adams, blue wing olives, elk hair caddis in sizes 12, 14, 16 and 18. Don't worry if your comprehension of these terms resembles that of a foreign language; they will quickly become familiar. more on flies...
Before those of you who are already equipped take your first trip out this year, run some yarn through the guides to check for burrs, which can ruin a fly line in no time flat. Next, inspect your fly line for any abrasion cracks. If it's smooth dress your line with a good fly line cleaner-floatant combination. And don't forget to check your waders for leaks. Entering a stream in April with leaky waders can be an eye-opening experience! With your gear checked and your fly reel lubricated, head for the hills.
One of New Jersey's most popular streams, the Big Flat Brook offers fine trout fishing in beautiful settings from Route 206 to where the river empties into the Delaware below the town of Walpack in Sussex County. It also boasts a 4 mile "fly fishing only" section located from the Route 206 bridge downstream to the Roy Bridge on Mountain Road. During April and May it can be crowded at times but if you take some time to explore the river you will find a spot to escape the crowd and enjoy the fishing. The fly fisher may expect all the major fly and caddis fly hatches. Remember, don't limit yourself to the "fly fishing only" section of the Flat Brook. During April and May the State Department of Fish and Game stocks this stream every Friday (check your compendium for the dates) and the entire stream has a good trout population during these months. During late May and into early June you will find prolific blue wing olive hatches and enjoy wonderful dry fly fishing in the early morning hours.
Our next stop is Van Campen Brook located just a stone's throw from the Flat Brook in Delaware Water Gap National Recreation Area. Van Campen is a small mountain stream which is not stocked by the state; you are fishing wild fish. Since it is designated as a wild trout stream you should check your compendium for speical regulations which govern this stream. Hip boots are all you need to get around. Read the water and keep a low profile; it doesn't take too much to spook wild trout which lie in the little pools and riffles. There is nothing more rewarding than to catch a few wild trout in a beautiful setting. Oh, by the way, it is not uncommon to come face to face with a black bear; so beware!
Just over the mountain from Van Campen Brook is the lower end of the Paulinskill River running near Blairstown. The river is easily accessible anywhere along its journey from Limecrest in Sussex County to the Delaware, is heavily stocked, and holds a good trout population during June and July. The Paulinskill has a prolific mayfly and caddis fly population, and you can expect all the major hatches, especially the sulphur dun which appears in early May through the end of May. I have seen the sulphur hatch so thick that it almost appears to be snowing. During April and May this river is very crowded, and, if possible, mid-week fishing offers the most solitude.
From Blairstown its just a short ride down Route 94 South to Route 80 West where the exit at Worthington State Park leads to more mountain stream fishing at Dunnfield Creek. Park in the lot and put on a good pair of hiking shoes. Dunnfield Creek runs for approximately 2 1/2 miles down the Kittatinny Ridge, and you can sample the entire stream from a path which eventually links up to the Appalachian Trail in the Delaware Water Gap National Recreation Area. The fishing is challenging and the scenery is out of this world. Flies of choice are small gold ribbed hares ear in sizes 14 and 16, prince nymphs size 14, and soft hackles in size 18. Now designated a wild trout stream, Dunnfield Creek will enjoy reduced fishing pressure.
Further south, east on Route 46, you can hit the Pequest River in Great Meadows. The river runs from Andover to the Delaware in Belvidere and is a classic spring fed stream offering an abundance of insect life with all the major hatches.There are many access points from Route 46, and you should be able to wade it for miles during normal water conditions. The river is unique in that it also fishes well during the winter. Like the Flatbrook, the Pequest is stocked on Fridays during April and May.
Henry Bell is an Instructor for the Wildlife Conservation Corps
This story was first published: