Visitors enjoy the tremendous agricultural exhibits for which the Fair is famous. Animals are everywhere you look - from a bee and honey display to the barns at the livestock exhibitions, in the horticultural exhibits and contests, and in the Horse Show Ring.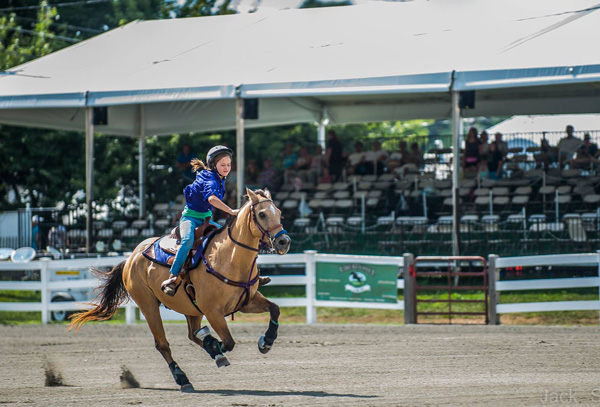 The Show is the largest livestock event and AHSA sanctioned festivity in New Jersey, with horses of all kinds; from workhorses to the sleekest thoroughbreds. In addition to the Horse Show all week you can see racing pigs, racing turtles, a llama show, woodchopping contests, arts & crafts shows, a performing arts tent, a queen pageant, and more, more, more!
You'll taste food whose recipes hail from the heart of rural New Jersey or from just about anywhere in the world. All of the various waves of immigrations that have built the state of New Jersey bring good things to these tables!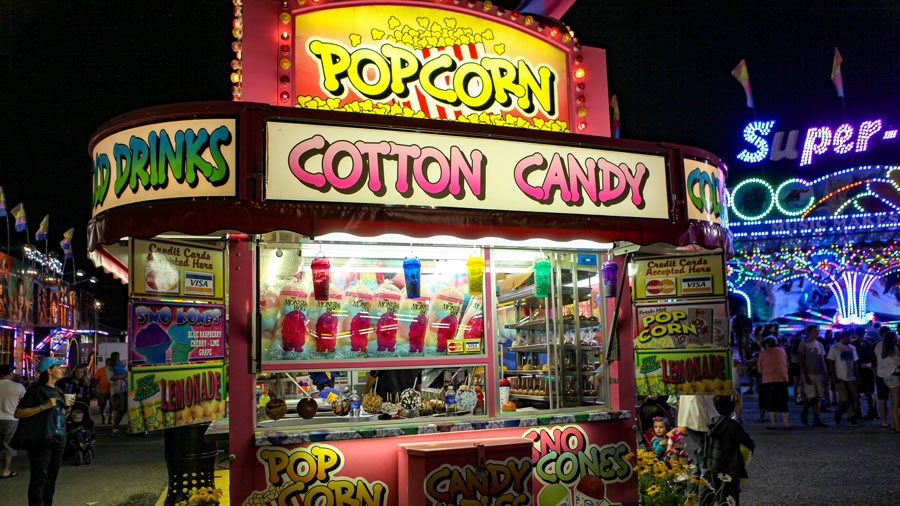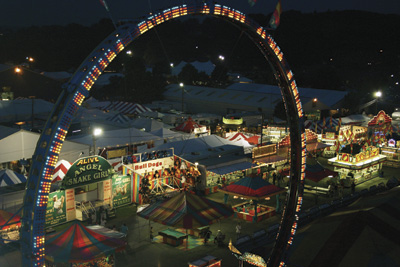 Demo derbies, rodeo, motocross, mudbog, monster truck rides, equestrian events, tractor pulls and concerts occur on varying days. And don't forget head over to our Carnival for some thrilling rides.
Every member of the family will love this remarkable event. Groups and motor coaches are welcome. Parking is free. Adults $14, Seniors, $10, Children $6, Under 5 free. Reduced advance tickets are available. Rt. 206 & Plains Rd.. There are specials all week long. Check their website.
More about this and other summer fairs....
---
The New Jersey State Fair is not featuring any elephants now or in the future.
The Sussex County Fairgrounds are located on Plains Road in Augusta, between Newton and Branchville. Information: 973-948-5500, or website.
---
Upcoming Events at Sussex County Fairgrounds
August 27-August 29 • CRAWFISH FESTIVAL.
September 25-September 26 • PETERS VALLEY CRAFT FAIR. Shop beautiful American Craft made by 150+ exhibiting artists from across the country. There are always ongoing artist demonstrations, live music, great food and kid's art activities. 10am - 5pm. $10.
October 2-October 3 • MILITARY VEHICLE SHOW AND SWAP MEET. Historic military vehicles from World War 2, Korea, Vietnam, and the Gulf Wars are on display. Over 200 vendors and reenactors. $7.
October 9 • SUSSEX COUNTY HARVEST, HONEY AND GARLIC FESTIVAL. The tenth annual countywide autumn celebration includes farmers market, family activities, craft demonstrations, agricultural exhibits and vendors. We'll have a farmers market with Sussex County and Jersey Fresh products like fruit, veggies, flowers and wine. The Sussex County Beekeepers Assoc. will have educational displays, materials and an array of honey products. For those who love all things garlic, we'll have the Garden State Garlic Growers. 10am - 4pm. Free.
December 3-December 5 • WEIHNACHTSMARKT GERMAN CHRISTMAS MARKET.
Nearby accommodations and attractions
August 20 - October 31: Pick your own apples, pears, plums, pumpkins (8am-4pm). Enjoy pies, donuts and breads from our bakery and local honey. Our gift shop carries metal decor, local handmade crafts, wood-working, and candles. Book your class trips!

962 Route 517, Glenwood 07418, 973/764-4732

Join us in creating a safe haven for future generations at this 336-acre rustic oasis on historic preserved farmland. Meet and interact with over 200 rescued animal residents every Saturday and Sunday. Or call to schedule a group or school trip. Coming spring 2020 - interactive goat playground!

141 Clove Road, Montague 07827, 973/293-1064
This story was first published: Summer, 1998