Area 57 will be held in conjunction with Droning On, a regional Drone Education event organized and staffed by the FAA (Federal Aviation Administration) which will coincide with the FAA annual Drone Safety Day. Droning On is a free, three-day UAS community engagement event. The first day focuses on education, the second day is for public safety and local government, and the third day is open to the general public. More information may be found at www.faa.gov/uas/events/droning-on.
Area 57 will showcase the College's nationally acclaimed Uncrewed Systems Program, which teaches piloting, design and development, and the maintenance and repair of drones, as well as AI and Robotics. Area 57 focuses on careers, education and fun – an important combination in life. The event will include other aviation and types of tech, like hot air balloons and robots, showcased at both the College and neighboring Warren County Technical School. Area 57 is looking for other groups focused on technology, aviation, education, and fun, to join up. Contact the college president's office about setting up a booth to share your club information and knowledge, or demonstrate your business or hobby.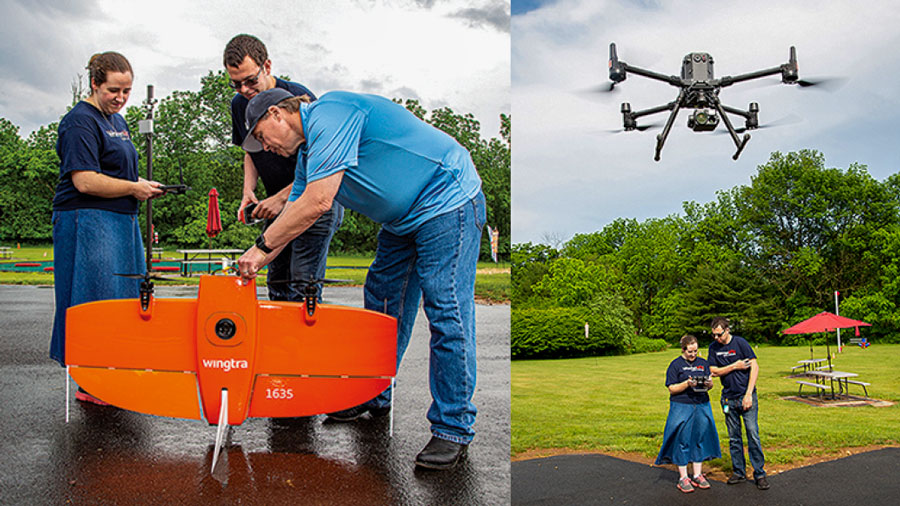 Drones were first used as military devices. One of the first aerial systems used by the military was combination hot air balloon and torpedo, in the late 19th century. Hot air balloons were also used for reconnaissance, observation, and communication. As technology advanced balloons were equipped with cameras, telegraphs, and other instruments that allowed for even better reconnaissance and observation. Other types of uncrewed aerial vehicles were pilotless torpedoes, used in World War I. Fast forward to 1990's when the US military ramped up the development and use of drones, like the well-known Predator drones. Around 2006, the use of drones for non-military applications began.
In 2017, Warren began to build what is now a nationally acclaimed Uncrewed Systems Program, known as WarrenUAS that has been recognized by industry leaders and the FAA as one of the best in the country. Uncrewed Systems technology is one of the fastest-growing sectors in today's career market. It is the future of aviation and all transportation. Uncrewed vehicles are used today in an ever-increasing number of industries such as surveying, construction, mining, environmental sciences, agriculture, commercial package delivery, public utilities/energy, cinematography and photography, search and rescue, and public safety/law enforcement. And all these industries are currently understaffed in qualified professionals. Warren offers the following programs, to help you get started in one of these industries.
Associate of Applied Science in Uncrewed Systems – Learn to pilot drones and robots, and repair them.
Option available for Precision Agriculture studies.
Option available for Commercial Space Operations.
Drone Pilot Certificate – Become an FAA-licensed Drone Pilot.
Drone Repair & Maintenance Certificate – Learn how drones and robots work and how to repair them.
Activities Galore Planned For April 29
Warren Community College is also home to two popular Hot Air Balloon Festivals. Planned balloon activities for Area 57 include a presentation on How A Balloon Works. Get hands-on experience handling a balloon, with RE/MAX of NJ. Walk inside an actual hot air balloon, that will be cold inflated with fans. Special shape hot air balloon, Fred G Monster, will also invade the event. The Thank You Balloon will also be making a stop, on it's USA tour. The Thank You Balloon is a project designed to perpetuate and inspire gratitude by flying a balloon inscribed with hundreds of handwritten thank you notes over towns and cities all across the globe. Learn more about this project at www.thankyouballoon.org.
Combat robots will face off in April Annihilation, featuring the Beetleweights, Plastic Ants, and Antweights. To register visit www.robotcombatevents.com/events/918. The new arena - dubbed Arena 57 and built with the support of the Warren Community College and Explore Warren County Tourism Partnership, will be set up next door - along with other activities, at Warren County Technical School.
The event is free for students, Veterans and seniors. For other visitors, a suggested $5 donation is appreciated, but not required to attend. Donations will be applied to any event expenses and to help establish the newly formed Garden State Combat Robot League (GSCRL.org). Food will be available for purchase.
Start your morning off at 8am at Area 57, with Yoga for Veterans and Mary Walker Golden, certified yoga instructor and wife of USMC Veteran. Mary will start with an intro at 8:00 am, followed by a walk on the Warren County Community College Trail, followed by yoga and then some rest and meditation.
Mary and her husband Wayne were instrumental in launching the Fred T. Grotenhuis Veterans Community Center. Mary will share restorative yoga techniques and also provide information for our bimonthly Yoga For Veterans. This is always free for veterans but the practice is open to civilians as well for a small donation of $10.
Area 57 is organized by Flying Festivals of Warren County, in cooperation with the Warren Community College Foundation, and proceeds from the events benefit the Foundation, in addition to Fred Grotenhuis Scholarships and Fred T Grotenhuis Veterans Community Center project. Supported in part by a grant from the NJ Department of State, Division of Travel and Tourism (VisitNJ.org).
Nearby accommodations and attractions
Warren County's Montana Mountain, Merrill Creek Reservoir, and the Pohatcong Valley is equally rewarding for students of history and devotees of the outdoors.

, ,

Local roots!

56 Mine Hill Rd, Washington

The UACNJ facilities in Jenny Jump State Forest, near Hope in Warren County, are 1,100 feet above sea level, one of the few dark sky locations left in the state.

, ,

, Bloomsbury
This story was first published: Spring, 2023