The Warren County Farmers' Fair featuring the Hot Air Balloon Festival, is True Americana!
The Warren County Farmers' Fair is more than an agricultural fair. It boasts a hot air balloon festival, and a variety of shows and competitions you don't often find in today's world of digital entertainment. From demolition derbies to hay bale rolling in the Agricultural Olympics, the Fair is True Americana! Located in Harmony Township, NJ – just a few minutes north of Phillipsburg and minutes off Rt. 78 – the Fair will run from Saturday, July 29 to Saturday, August 5.
You don't have to just be a spectator. To participate, check out the Contest Rules & Regs page online. Sign your team up for the Agricultural Olympics, hop in your hot rod and enter your car in the Belvidere FFA Alumni & Supporters Car & Truck show, on opening day Saturday. Do you sew, craft, knit, crochet, bake, take awesome photos, paint, preserve foods, grow flowers, herbs, fruits or vegetables? Then check out the Home & Garden building contests and plan your entries today.
Maybe that's not your speed? If speed, skill and power are your thing, check out our Main Arena power events. The events featured include demolition derbies, truck and tractor pulls, and rodeos. (Some additional fees apply.) Advance tickets are available via mail order for the Demolition Derbies on Sunday and Friday, and the Raftor Z Rodeo on the last Saturday. Tickets for these events and the Truck show may also be purchased at the Fairgrounds during regular Fair hours, in addition to Friday, July 28 from 9am to 6pm.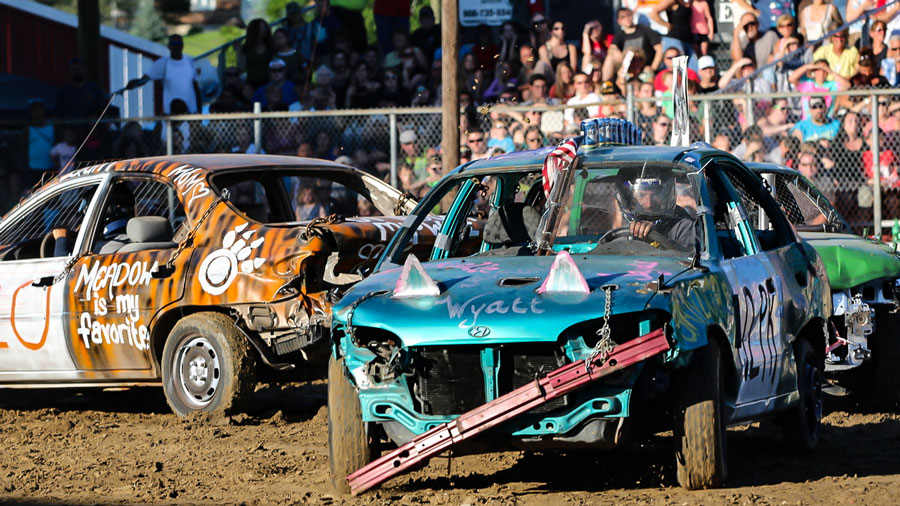 If you don't want your adrenaline pumping you can always grab a beer in the beer garden, with three local breweries - Czig Meister, Invertase and Buttzville Brewing. Listen to some of our great local entertainers. School of Rock open the week of night-time entertainment on Saturday, July 29, from 6-9 pm. All included in your admission to the Fair. If you like to perform yourself, you can participate in the talent show.
Got kids? Be sure to check out the Kids' Corral, where you will find crafts, contests, entertainment, activities and more - all free of charge for fairgoers and their children.
Sunday, July 30 is Veteran's Day with free admission for Veterans and active duty military. There will be a Food Warriors Food Drive with a Red Cross white panel truck in the main parking lot off of Route 519 from 12-5pm. The first 100 supporters bringing a box of 10 items or more from below food list will receive a Post 528 cloth shopping tote bag. Food may be dropped off to the truck even if you are not entering the Fair. You may also make a cash donation at various places during the Fair. Let's fill the truck with food and show our troops that Warren County Cares!!
Monday, July 31 is Seniors Day, with free admission when you show your Medicare card. Stop by a little early and enjoy the free Senior Expo, from 12-4 pm, on the dance floor.
Of course it wouldn't be a county fair without the traditional horse shows, 4-H and FFA exhibits and contests, an antique tractor show, carnival rides and some good old funnel cake, roasted corn on the cob, fresh squeezed lemonade and homemade pies - about 12 varieties to pick from and an a la mode option! Support some great, local non-profits.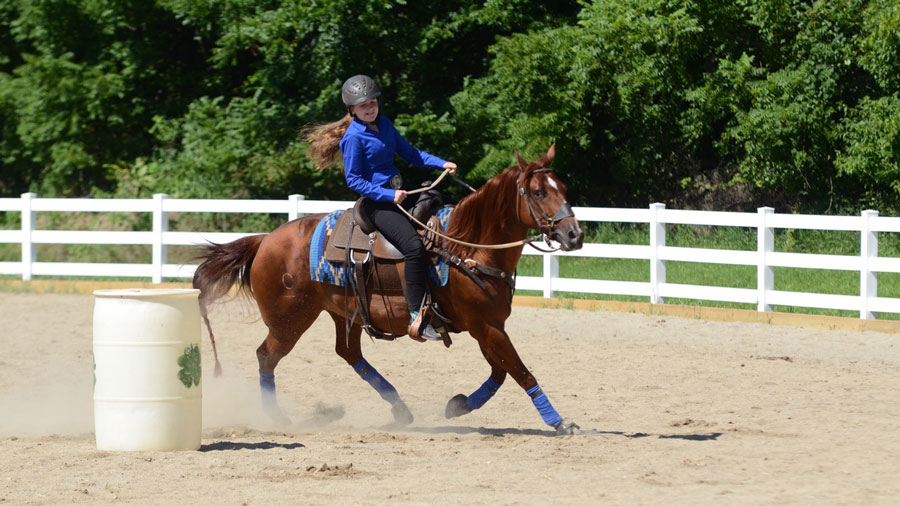 The Traditional Arts Expo showcases some fabulous quilting, weaving, amigurumi and other fiber arts. Be sure to check out the Traditional Arts building and their wonderland of quilts on display on the south end of the Fairgrounds.
The Hot Air Balloon Festival is a crowd favorite. If you've never been to a balloon festival, the balloons come out in the evening, with a 6:30 pm launch time. Full flights are available and may be scheduled in advance to ensure your spot. Text or call 908-283-0721 or email fly@balloonfestnj.com to inquire about pricing and to reserve. There will be tethered rides each evening, first come first served, ranging from $15-$20 per person. Tentative start time is around 5 pm, if wind conditions allow. We appreciate your patience for these popular rides - especially for little ones - as we put passenger safety first. On select evenings, special shape balloon Fred G. Monster will make an appearance.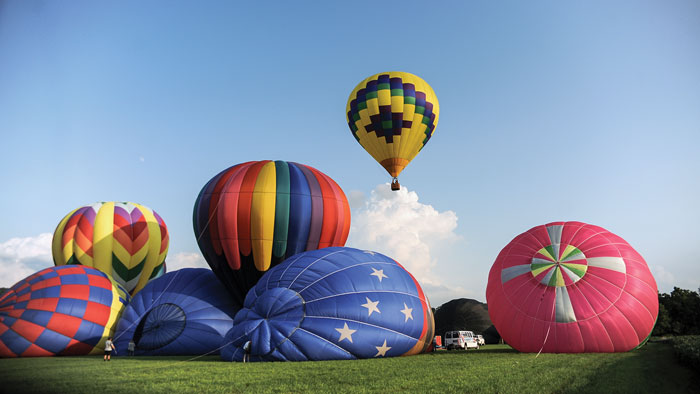 Warren County's breathtaking rural countryside makes for a perfect escape from the hustle and bustle of life. So hop in your car and make a trip out to our beautiful backyard in Warren County, NJ, and experience True Americana for yourself. Situated less than 1.5 hours from both NYC and Philadelphia. Consult sponsor ExploreWarren.org for other things to see and do in the area and make it a mini vacation.
For a full schedule of events, directions, contests rules and more, visit www.warrencountyfarmersfair.org and plan your getaway today.
If you can't make it to this balloon festival, no worries! Warren County is home to three balloon festivals. Mark your calendar for the next one from September 23-24, down the country road a bit at the Warren Community College. For more information on all three festivals visit balloonfestnj.com.
The Fair Directors look forward to providing you with another year of old fashioned fun at old fashioned prices. The Warren County Farmers' Fair and Hot Air Balloon Festival runs from Saturday, July 29 to Saturday, August 5, 2023. For a list of hours and other activities, and to sign up for enews, consult theWarren County Farmers' Fair website. To book a hot air balloon ride, click here.
Nearby accommodations and attractions
Restored c.1754 stone ironmaster's home associated with c.1741 Oxford Furnace.is open first and second Sundays, 1-4pm, for tours through Colonial and Victorian rooms with costumed docents. There are special events throughout the year as well as programs for schools. Sunday concerts on the manor lawn are a favorite during the summer.

8 Belvidere Ave, Oxford 07863, 908/453-4381

Consider Rutherfurd Hall as refuge and sanctuary in similar ways now, as it served a distinguished family a hundred years ago.

1686 Route 517, Allamuchy 07820, 908/852-1894

Warren County's Montana Mountain, Merrill Creek Reservoir, and the Pohatcong Valley is equally rewarding for students of history and devotees of the outdoors.

, ,

Local roots!

56 Mine Hill Rd, Washington

In 2019, the Historic Moravian Village of Hope celebrated 250 years since the Moravians first settled the hills along the Beaver Brook.
This story was first published: Summer, 2011