A house concert is different than other music venues. Put simply, it's a private party—a small gathering of music lovers who sit up close and personal in front of the artist. The hosts invite musicians and friends to perform in their home living room or on the deck. Guests bring a dish for potluck pleasure, a chair and BYOB. All donations collected by the host go to the musicians. During the break, attendees and musicians mingle. Some hosts have four or five concerts a season; others have two a month. "It's a casual day but the preparations are not casual," says Barbara. "We make the place really shine—mow the grass, make sure there's water, clean the barn…"
Getting an audience is step one, by putting information on social media, on Facebook Events, by email lists and word-of-mouth, because house concerts can't be advertised publicly. "We all have 'parties' and listen to music. We don't sell tickets; it's all donation-based. It's not a business. Issues such as zoning ordinances, parking, traffic and outdoors noise play a role in keeping it quiet," says Linda Bolton of Cozy Cabin Concerts in Green Brook. She and husband Ken have done up to twenty-five concerts in one year. Twice a month, Ken lifts and carries all the furniture out of their 11 x 20-foot living room and sets up folding chairs in front of the stone fireplace. "My husband is very handy," she says. Not only that. Ken is the parking attendant, and when their immediate lot, driveway and county road get full, he sends them to an empty lot on Route 22.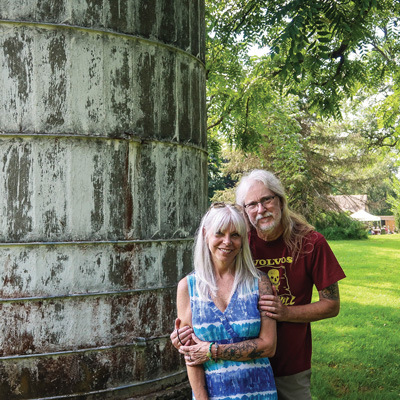 Preparations were a bit much for Jeff Rusch, former WNTI radio host. After a few house concerts in his kitchen, he put them on hold due to overwhelming prep duties. In 2015, prompted by a musician, he and wife Sandi began hosting their Silo Series house concerts in Mountain Lake until Covid took the stage. This year they'll host at least one concert, including potluck, on the deck. So, why do they do it? Jeff speaks the unanimous refrain: "I just love music, having the performers there and exposing the community to music they may have never heard otherwise," he says. "I love live music. There's nothing like it in a very intimate space. I've got this huge yard and a patio. I've got a huge outside space. I've had 150 to 250 people here. I have a mowed field. Park where you can. Put your blanket or lawn chair down."
House concerts at Cozy Cabin have always been indoors with potluck yummies, but Covid has changed all that. Now they are outside on an expansive deck, and guests bring their own snacks. Covid took another hit on Cozy's dedicated audience; many have moved out of the area. Life happens. The Boltons once loved music discovery, but that has changed, too. Almost all the musicians who performed there last year had played there before, leaving no dates for new artists. People don't want to see artists they haven't heard of, Linda says, though her core group comes no matter who performs. Says Jeff Rusch, "House concerts are an amazing way to see live music. There's probably more house concerts around than people know about and more musicians than you think that would do it. I've had artists here who I never dreamed would do them."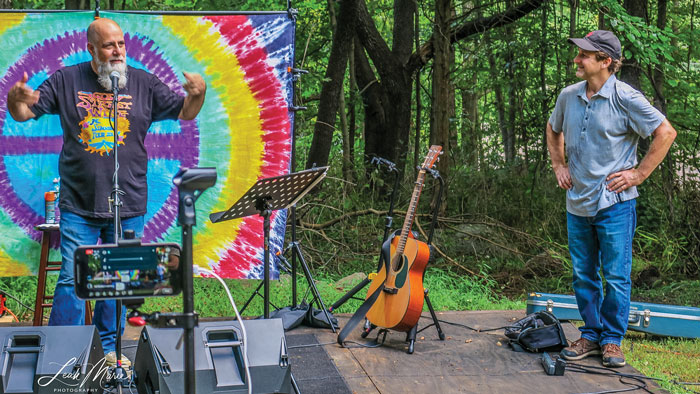 Fifty guests typically attend Gabe-Gate concerts in Gabe Sasso's spacious, walk-in studio in Vernon to enjoy the music and potluck (BYOB), meet people and make new friends. "There's an intimacy indoors that can't be replicated outside," he states. Concerts run from ninety minutes to over three hours with all sorts of music—rock, funk, jazz, punk, singer-songwriter, and Gabe's particular love, jam bands. "I only book people I truly love. I'm not about filling the calendar. The only people I invite here are people whose music I love." To get on Gabe's list, people must submit their emails on his website. He vets new people on the phone or email. Why does he do it? "I'm a psycho fan. I just love music. We went to 'Live at Drew's' in Ringwood and that gave me the buzz to start house concerts. I figure if I have a passion for it, I can motivate other people. It's always a good time and everybody here is friendly."
Linda Bolton does it for love and hugs and bragging rights. "I can say "Jeff"(Gaines) was in my house. The musicians are doing me the kindness of not having to drive to New York to see a show. I like my music up close and personal. If you're considering a house concert yourself, just do it. It's the best unpaid job you'll ever have."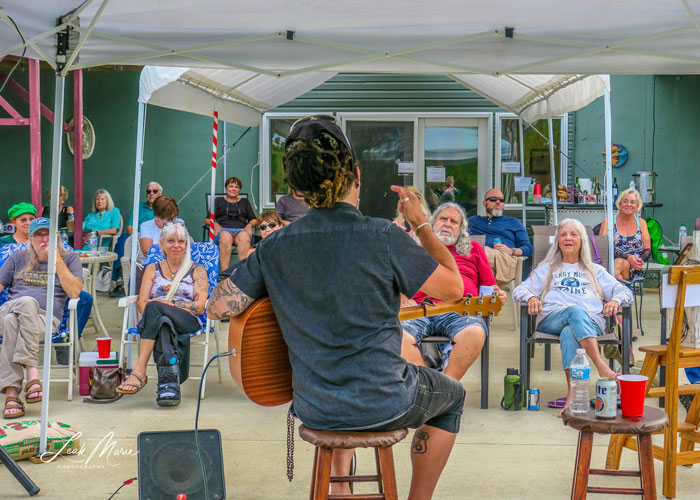 The hosts work hard but lovingly to make sure a concert benefits the musicians. The Donnellys want it to be a successful event for the musicians. "We want them to make money." They spend a lot of time promoting, reaching out to the general public. Most hosts would like attendees to RSVP. If there's too small an audience they might need to cancel or let someone in on their waiting list, especially for musicians coming from a distance. A few shortages based on early calculations are often supplemented by the host. "If you're new, let us know that you're coming." The Donnellys only do four concerts a year. They work hard for the performers, but they also want it to be fun and rewarding for the people who come. "House concerts will renew your spirit," Barbara says. "They just blossom in ways people never imagined. Don't be intimidated if you don't know anybody. Try it. It's a wonderful experience."
In Cindy Donaldson's Long Valley house, the living room and dining room open to the kitchen. People bring potluck and Cindy hires food servers. They play mingling games. "We mingled all over my living room and dining room," she says. When people arrived some ran to the front row; others stayed in the kitchen. They loved the food and the music was always amazing."
Musicians usually sleep at Cindy's house because many came from far away. As a fan, Cindy is heavily involved in the John Denver community. She sometimes brings them from Nashville, Charlotte and California. She has the room, and even some attendees stay the night. "They love getting up in the morning when a superstar is there. If I say Kevin Yeargin or Chris Nole, people sleep over. It's only people I know well. Aside from sleepovers, it's also fun because I can get singers from far away. People love it. I love having it. I love attending house concerts." Her last concert was March 2020. This season, Cindy will send an email to over two hundred people.
This story was first published: Spring, 2022