Bobby Caldwell
Bobby Caldwell loved Warren County so much he moved here from San Diego, California in 2004 when he married his wife Mary. According to Bobby, even sunny San Diego can't beat the scenery, the seasons and the people of Warren County! The Caldwell farm is home to eight horses, including a couple of adopted ex-racehorses, and the family's home contains a complete music studio for Bobby's recordings. Caldwell writes most of his songs on keyboard in the studio and enjoys playing the guitar as well.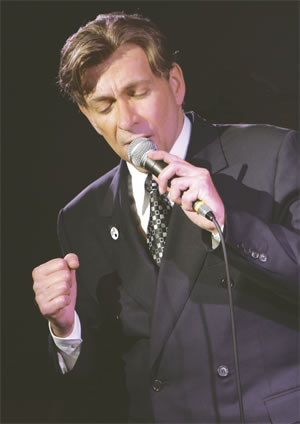 An acclaimed soul stylist and successful pop and R&B songwriter for twenty-five years, Bobby Caldwell remains a revered name in contemporary music. He has earned accolades far and wide as a singer, with several solo releases and numerous national and local network TV appearances. Caldwell's songwriting skills have produced hits not only for himself, but also for well-known artists like Chicago, Boz Scaggs, Peter Cetera and Amy Grant, Neil Diamond and Al Jarreau. Bobby's timeless classic, "What You Won't Do For Love" has been recorded and sampled by more than 100 artists, including rendition by Boys II Men. A sample of Bobby's song "Open Your Eyes" appeared in the Grammy nominated platinum rap hit "The Light" by Common.
All told, Bobby's songs and samples have contributed to over 40 million sales worldwide. Artists as diverse as Tupac Shakur, Michael Bolton, Roberta Flack, Go West, Vanessa Williams and Notorious B.I.G. have all paid tribute to the blue-eyed singer in the slouch hat. Born in Manhattan and raised in Miami, Bobby came from a show business family. His mother and father hosted of one of the first musical variety programs on television, "Suppertime." Bobby grew up listening to show tunes, the music of Frank Sinatra, Nat King Cole, Tony Bennett, as well as The Beatles. These early influences are prevalent in Bobby's singing and songwriting. Bobby has toured the USA and the globe for 40 years, bringing his music to fans of all ages and backgrounds.
Come out and see Bobby perform as part of Centenary College's Summer Jamfest series on August 9, 2014. Bobby sings with a Big Band beginning at 8pm in the Sitnik Theater of the Lackland Center, at 715 Grand Avenue in Hackettstown. Tickets are $35.00 adults, $25.00 under 18 (Day of add $5.00) Tickets can be purchased online or call the Centenary Stage Box Office at 908-979-0900. For more information on Bobby Caldwell and samples of his music, please visit his website.
This story was first published: