Gallery 24/7
The Somerset County Cultural and Heritage Commission has installed a countywide public art show, entitled "Gallery 24/7". The "art gallery" exists on street corners throughout the county, namely on those big, colorless traffic control boxes that house the wiring for traffic lights. Pat McGarry, Manager for the Commission, initiated the project with a grant from the New Jersey Council on the Arts, funded by the state hotel/motel room tax. "I thought those huge aluminum boxes were eye sores (not to mention targets for graffiti and posters), and I felt they could provide a perfect 'canvas' for original artworks and not only provide great exposure for our state's talented artists, but also a way to make art more accessible in our local communities for everyone to enjoy, at their convenience and admission-free!"

The project logo was designed by Steven Cipparulo of Piscataway, a graphic design student at duCret School of Art in Plainfield.
Approximately 93 artists from twelve New Jersey counties submitted a total of 201 original artworks, which were then selected through a competitive and professional juried selection process. The first twelve winning pieces were reproduced on a special vinyl adhesive film and professionally applied to the boxes last fall. Five more followed this summer (2011).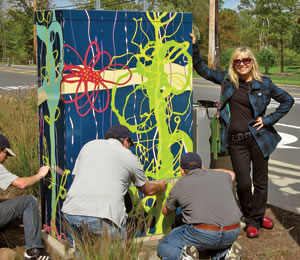 Serena Bocchino at installation of her piece, "Rhythm Rain". Photo: Pat McGarry
Basking Ridge artist, Serena Bocchino, saw the call for the project, and submitted three proposals. One idea adapted her existing painting, "Rhythm Rain", by cropping it relative to the required dimensions, taking into account how it would best translate from a two-dimensional concept to three-dimensional version, wrapped around a box. "I had a friend help with the digital size and brought the artwork to the County. They had a photographer re-shoot it to the specs of the installers, translating it into the medium that goes on the boxes." Bocchino, whose work most often springs from her interpretations of the rhythms and different improvisational qualities in jazz music, is thrilled to be a part of the project. "It works on an aesthetic level and also an educational level. Bringing a variety of imagery to the public enhances peoples lives and the culture around them. What a wonderful thing!"
Bocchino's was one of the more abstract pieces chosen for Gallery 24/7. Others are more realistic paintings and photographs that blend seamlessly into the background of Somerset County landscape and culture. Winning artists received an honorarium as well as promotion in a widely distributed companion brochure to encourage tourism in Somerset County.
Installations and their locations:
Horses by Maia Reim

So. Finely Ave & Cross Rd, Basking Ridge

Rhythm Rain by Serena Bocchino

Dewy Meadows Village & King George Rd. Basking Ridge

The Rumor Mill by Vivian Bedoya

Mountain Blvd & Warrenville & Mt. Bethel Rds, Warren Twp

Aquarium by Patt Tanner

Mountain Blvd & Bardy Rd & Penny Lane, Warren Twp.

Balloon Festival Launch at RVCC by Ron Eckert

Easton Turnpike (RT. 28) & RVCC Campus Drive, Branchburg

Floating World by Bill Hoo

Greenbrook Rd & West End Ave, North Plainfield

Seamus' Roses by Linda Brady Deutsch

Somerset St. & First Ave., Raritan Borough

Abstract of Downtown Somerville by Elisa Rodriguez

East Main St & Rehill Rd (Somerset Medical Ctr), Somerville

…and a Red Apple by Herrat Sommerhoff

East Main St. & Finderne Ave., Bridgewater

Early Spring by John Maddalone

East Main St & Foothill Rd., Bridgewater

Take me out to the Ballgame by Sabrina Dimino

East Main St & Promenade Blvd., Bridgewater

Hillsborough Collage by Walter Chorsozewski

Amwell Rd & Post Office Drive, Hillsborough

Raritan River Treescape with Geese by Bill Bonner

Amwell Rd & East Mountain Rd., Hillsborough

On Cider Mill Road by Joe Kazimierzczyk

Skillman & Blawenburg Rds. (by Skillman Post Office), Montgomery/Skillman

Peacock by Greg Backman

Somerset, 08873/Hamilton & Franklin Sts., Franklin

Untitled by Shaun Daley

Elizabeth Ave & Schoolhouse Rd., Franklin/Somerset

Flowers by Dario Scholis

Elizabeth Ave. & Old New Brunswick Rd., Franklin/ Somerset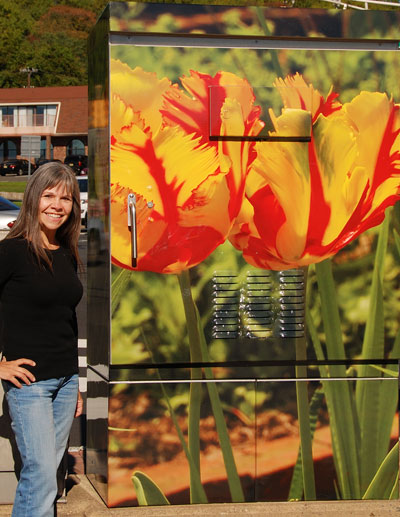 All of the work you see here was photographed by Vivian Bedoya (above), who also answered the call and won a spot in Warren, at the intersection of Warrenville and Mt. Bethel Roads. Vivian explains, "I named the colorful grouping of brightly-colored parrot tulips and bee, 'The Rumor Mill.' The tulips, grouped as they are, made me think of ladies gossiping and I imagined that the bee was responsible for spreading the scandalous news! Click to see more installations.
This story was first published: Autumn, 2011