Land of Make Believe
Since 1954, the Land of Make Believe has given families a place where the kids and parents can have fun together. More than an amusement park, it is known for having something for everyone in the family like a Roller Coaster, T-Rex, Black Hole, Middle Earth Theater, and Old McDonald's Farm. The park also includes traditional arcade games and rides like a hayride, roller coaster and carousel. Generations can share the thrill on the Tilt-A-Whirl. Or they can ride the Civil War train or Blackbeard's Action River together. There is a large Pirate's Cove waterpark, with lifesize pirate ship, wading pool and an infant water area. Key to the success of Land of Make Believe is family picknicking and interactive medieval theater where whole families get into the act as Kings, and Queens, Knights and Princesses.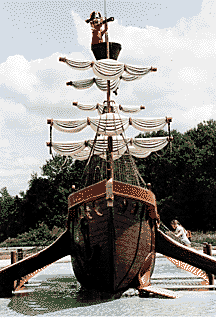 A turn-of-the-century Grand Carousel delights youngsters and parents alike. The carousel, exquisitely fashioned after similarly built ones that were hand-crafted during the turn-of-the-century, with original wooden horse designs, a chariot, a sea dragon and a spinning tub, will surely be a friendly trip back in time for adults and a fresh look at the past for youngsters.
Land of Make Believe, which has charmed children and parents for generations, is situated on 30 plus picturesque acres on a converted dairy farm just minutes away from Route 80. It is the largest children's amusement park in the state, offering visitors a combination of rides, shows, attractions, picnicking, a water park, and an educational experience.
The Frog Hopper, a fun ride designed to accommodate both children and adults, guarantees a smile from even the most discerning patron, joining other ageless favorites at the park, including the hugely popular Thriller, still the perennial favorite. Chris Maier, who operates the park now as his father did before him adds "When the kids and their parents ride together, sharing the thrills that only a roller coaster has, it creates a unique experience." The same can be said of many other attractions.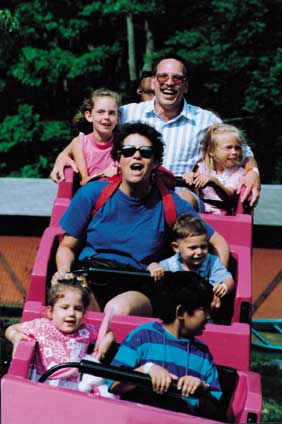 "Thriller" Family Roller Coaster, one of the many favorite fun rides at Land of Make Believe.
The talking scarecrow, Colonel Corn, is another Land of Make Believe innovation that seems to grow more popular over the years. The Colonel doesn't just talk, he carries on whole conversations. Parents, even grandparents, join in the fun, remembering their own childhood conversations with the amazing Colonel from years past. Meanwhile, Eddie Rickenbear, in his World War I ace aviator outfit, is also always on hand to wish with the children and pose for photographs.
The park is especially planned to appeal to children 12 and under and to their families. Conceived by an educator rather than an amusement park designer, it was among the first to incorporate child-participation and educational elements in its format. Thus, popular amusement rides such as Thriller, Tilt-A-Whirl, Red Baron, and Himalaya are complemented by fun learning attractions like Middle Earth Theater where children and parents dressed in costume are the stars, and Old McDonald's Farm with its pettable animals.
The Black Hole, designed specially for 8-year olds and older, will challenge the bravest in the family. Other recent additions include T-Rex, a spinning dinosaur ride, Windjammer, a hand gliding experience second to none, and the new castle at Middle Earth Theater.
Among the creative play favorites is an authentic cockpit of a 1941 DC-3 airplane, complete with controls and instruments that is powered entirely by young imaginations. An open maze is another favorite for kids of all ages. Games of skill and chance provide the opportunity for parents and children to win their favorite prizes.
Another ride, fun for the whole family, is the Alfalfa Express, an old fashioned Hay Ride that tours the rolling hills of the property. From the hay wagon the children can often spot grazing deer and other wildlife as they enjoy their view of the foot hills of historical Jenny Jump Mountain.
Food, of course, is temptingly available at the park, too, from burgers or hot dogs and cheese-drenched fries to Mama Santa's Pizza and Rudolph's handmade ice cream waffle sandwiches. Families are also invited to bring their own picnic lunches and feast in the spacious picnic grove where there are plenty of tables for a comfortable meal.
The park is open 7-days a week through Labor Day; then on selected weekends. For more information, please call (908) 459-9000 or visit their website.
Nearby accommodations and attractions
Choose and Cut from thousands of trees! Blue Spruce, Norway Spruce, White Pine, Scotch Pine Fraser Fir, Canaan fir, Douglas Fir. Family run on preserved farmland. Open Nov 27 - Dec 23, 9-4. Closed Mondays and Tuesdays. Easy Access from Routes 78 or 80.

77 Jackson Valley Road, Washington 07882, 908-835-0557

Formal Elizabethan herb garden, medicinal garden, herb plants, flowering perennials, dried flowers, gift shop.

205 Mt. Bethel Rd, Port Murray 07865, 908/852-5390

, Bloomsbury

In 2019, the Historic Moravian Village of Hope celebrated 250 years since the Moravians first settled the hills along the Beaver Brook.

The UACNJ facilities in Jenny Jump State Forest, near Hope in Warren County, are 1,100 feet above sea level, one of the few dark sky locations left in the state.

, ,
This story was first published: Summer, 1996