High on the list
Cava Winery
One of the appeals of operating a winery in New Jersey is scalability. Whether it's a small family business or a growing corporate enterprise, the ability to address scores of niches in a population of umpteen million potential wine lovers within an hour's drive is a natural energizer for a wealth of ideas. Some wines take a month, some take years. In Sussex County, three wineries have emerged that appeal to a broad range of people, all of whom appreciate good wine.
Anthony Riccio and Larry Ciccarelli have been friends since they met at Fort Dix over twenty years ago. Both went on to distinguished service in the Army—Anthony in Afghanistan, Larry mostly stateside—and they remained close when they returned to civilian life. In 2007, Anthony and his wife, Deneah, after tracing the family lineage back to Italy and finding their name on a wine bottle, decided bring a taste of the Old World to a piece of property across the road from where they lived at Crystal Springs in Hamburg. Their first call was to Larry.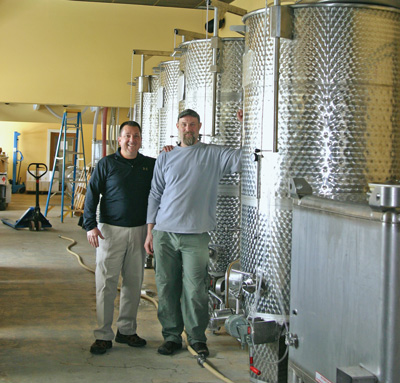 Larry Ciccarelli and Jeff Blake in production at Cava Winery.
"I thought it was joke," Larry remembers. "I've been his accountant for years, and I figured he was going to make a little wine for fun." But it was no joke, and seven years later Riccio and Ciccarelli find themselves partners in a multi-faceted business with a promising future. "You see all this beautiful stuff now, which is a credit to Anthony and Deneahs's ability to keep it going through tough times that were lean for everybody," adds Larry. "It started to get busy in 2011, and I started to get more involved. Now we employ forty-five people, full and part-time, including a highly skilled management staff that handles production, hospitality and distribution sales." Neither Anthony nor Larry counts himself among the paid employees. Concentrating solely on growth, they have taken nothing out of the business, both still busy with their other careers.
The winery, which they called Cava (Italian for "cave") in tribute to the mining heritage of the surrounding highlands, occupies acreage along Route 94 that has a long history as a restaurant and bar. In fact, Jeff Blake remembers spending some time there years ago, before he left his home in Franklin to attend the University of Colorado where he studied geology. He became fascinated with the fermentation process when creating a model for a solar distillation apparatus, and went on the graduate studies in malting and brewing science and oenology at the University of California at Davis. Having helped open beer breweries in California, Idaho and Utah, and, in the meantime, visiting over two-hundred wineries around the world, Jeff finds himself back home as winemaker (the "mad scientist") at Cava.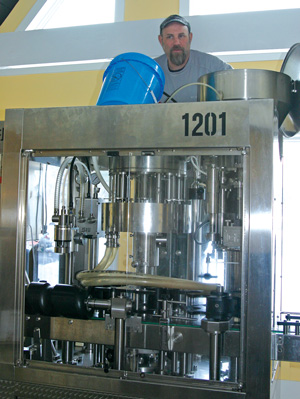 Jeff Blake readies the bottling machine at Cava, which can fill and label eight hundred bottles an hour. "It takes three hours to do what it would take three guys three days to do," says Blake. "Between hospitality and sales, we're never sitting on too much wine."
In addition to the robust European-style wines that inspired the Riccio's original vision, a portfolio that includes recognizable traditional barrel-aged wines (Sangiovese, Zinfandel, Cabernet Sauvignon, Merlot, Pinot Noir), Cava produces white, blended, and fruit-infused wines. The winery also makes fruit wines from peaches, blackberries blueberries, pears, and the very popular "Skylands Apple Pie"; from the highest quality cider apples infused with flavors "right down to the pie crust." Some wines take a month, some take years, but Blake is prolific, and his skills are gaining a dedicated following. A recent Pinot Noir gained particular notice. "Pinot Noirs can be difficult grapes to work with," says Jeff. "There's things at the very end of the aroma wheel, that smell like old leather and burnt rubber that can crop up really fast. I've never really liked Pinot Noir—burnt rubber doesn't appeal to me—so I was very careful to avoid those!" The vineyards at Cava, five acres planted at the winery's inception in 2007, gain character from the soil's high mineral content, and are used primarily in Cava's sparkling estate wines. "You can grow grapes anywhere," says the winemaker. "The trick is getting the right ones. We grow a lot of hybrids designed for cold weather."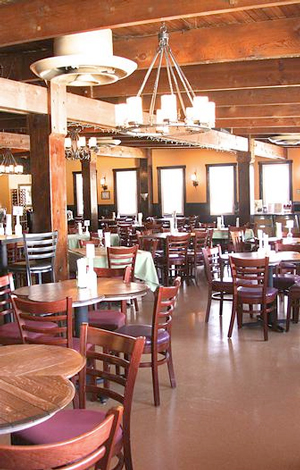 For the visitor, Cava Winery is unique in that it also contains a restaurant where a tour and tasting can culminate with dinner chosen from full bistro style menu. Tastings come in two flavors; either a quick visit to an indoor or outdoor bar or a more complete experience in the tasting room where parties are presented with menus of wine flights (sweet, dark red, white, etc.) with food. The tasting rooms and café are open 12-6pm on weekends, with hours extending until 9pm on Saturdays beginning late this spring.
Ciccarelli's guidance in Cava's business development is deliberate and steady, but always forward. This winter he developed an intensified marketing effort to distribute Cava wines to liquor stores, high end golf courses, a private aircraft company; any outlet that can help balance the seasonal nature of their local hospitality business. Other sales come through Retail Outlet Premises agreements, by which restaurants without a liquor license can sell under the Cava license. More revenue comes from direct sales to the consumer at various New Jersey wine festivals. Even if you don't make it to Hamburg, you're likely to enjoy a bottle of Cava wine soon!
Cava Winery and Vineyard
3619 Route 94, Hamburg, NJ 07419 • (973) 823-9463
Nearby accommodations and attractions
Family friendly campground that focuses on live music for entertainment. Cozy "Kinda Camping" Rentals, rustic cabins, RV sites and tent sites. Open from early May to mid Oct. Heated pool, fishing & boating lake, playground, recreation barn, weekend planned events and activities.

68 Phillips Road, Newton 07860, 973/383-4026

Step Into Earth Science! Mining museum with underground mine tour and over 30 acres of indoor & outdoor displays and historical buildings. Recent additions include expanded fluorescent display at Thomas S. Warren Museum and the Million Dollar display at the Oreck Family Mineral Gallery. Gift shop with a collection of world wide minerals.

30 Plant St., Ogdensburg 07439, 973/209-7212

Pick your own strawberries. In-season produce, local milk, honey and maple syrup, pottrery, flowers, outdoor furniture and more.

565 Rt 206 N, Andover 07821, 973/579-5055
This story was first published: Spring, 2014