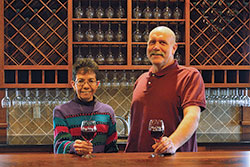 Brook Hollow Winery's location is new, but the name is not. Ritter developed his winemaking skills as a hobby while he and his wife, Debbie, raised three girls and 2,000 grape vines in their yard, Paul working for New Jersey Fish and Wildlife as senior biologist. His degree in natural resources and secondary education as a biology teacher helped; there's quite a bit of chemistry involved in making wine. Six years ago, Ritter approached his friend, farmer Dave Flitcroft, about leasing some land at near-by Brook Hollow Farm, a bountiful range of apple and peach orchards with a well-established clientele. Paul planted more grapevines there and set up a shop in a portion of Flitcroft's retail barn. Ritter's "guerilla marketing" savvy proved equal to his winemaking skills, and the business took off. The Ritters decided to go for it, researching, soil testing, then purchasing the lot along State Route 94 in Columbia. "The wines were selling themselves and we had to add something to that to make the package complete," says Paul. "We had hoped to open last fall, but something about a hurricane blew that out of the water."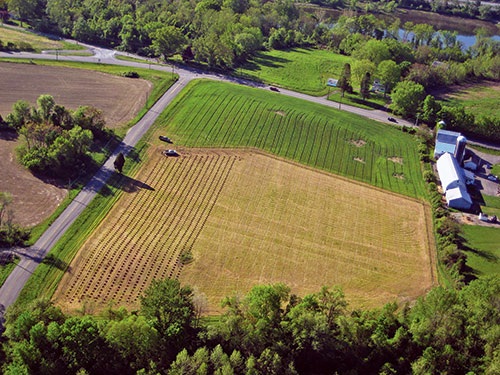 With their vines at home, another 4,000 grown at Dave's farm moved to a new location, and 4,000 more planted last year at the winery, Brook Hollow has an inventory that will eventually supply all of their grapes. "Northern New Jersey is a challenge, but pick the right grape and, if Mother Nature's good to you, you can make a nice wine," says Ritter who has selected the hybrids most likely to do well here. "Frontenac, a hybrid created at the University of Minnesota especially for colder weather, does very well. The grapes make incredible deep dark wine with lots of layers. It's almost too vegetative and demands lots of attention, pruning, etc., but it's worth it." Ritter uses another hybrid called GR7, a cross of Baco Noir and Buffalo created at Cornell. "You work with that grape and your hands are stained for weeks. That's why it's used a lot for blending wines that are deficient in color. We make it as a varietal, and bottle it as Proprietor's Red. It was the first grape vine I ever planted, so I kind of fell in love with it." Chambourcin, also grown at most other New Jersey wineries, finds use in more than drink. Brook Hollow's Triple Chocolate Chambourcin Cake tastes like chocolate covered cherries.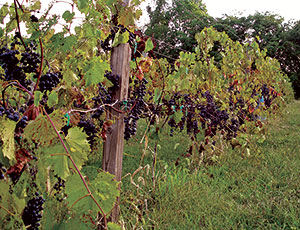 "I make dry wines," explains Ritter. "A customer will go to our rack and see Cabernet Sauvignon and bring it over probably with a preconceived thought about what it should taste like. We always ask 'Did you taste this specific wine?' If they say no, we won't sell it until they try it. Especially as a start up, I want to make sure that each customer will enjoy whatever he or she takes home. Our Cab Sauv, we age in American white oak barrels out of Pennsylvania, and it has an incredible vanilla taste from the interaction with the charred part of the barrel. Not everyone cares for that, although it's our number one selling Red. People have driven all the way up from Cape May to get it. That's better than any award." Another of Brook Hollow's most popular wines is not even made from grapes. One year, Ritter bought a bunch of cranberries down in South Jersey and made fifty gallons of dry cranberry wine. "It was out the door in two weeks. At first I was a bit offended; I wanted to be known for my dry reds. I would go home and complain to my wife that people were coming in for our non-grape wines."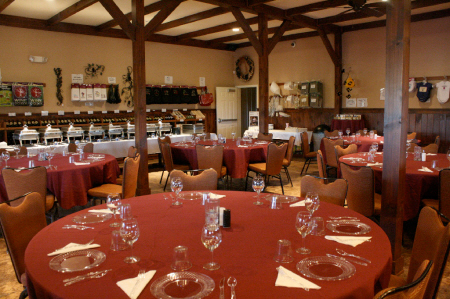 Whatever their preference, specially bred grapes or 100% fermented Jersey cranberries, Paul is proud of his customer base. "Anything you need—picking, pruning—send an email out and you immediately have an onslaught of volunteers. You need help bottling or need somebody to run a corker, they're there for you. Volunteers are a big help, especially for a start-up business." Now with a freshly-minted and expanded location, those customers will come for tastings and wine classes in a new solar-powered building, large events or weddings in the pavilion, or a lazy afternoon on the porch looking out over the vineyard, with a toast to the Water Gap.
Brook Hollow Winery
Click or call 908/496-8200
For information about upcoming events at this and other North Jersey wineries, visit Vintage North Jersey
Upcoming Evemts
Nearby accommodations and attractions
, Bloomsbury

Formal Elizabethan herb garden, medicinal garden, herb plants, flowering perennials, dried flowers, gift shop.

205 Mt. Bethel Rd, Port Murray 07865, 908/852-5390

The UACNJ facilities in Jenny Jump State Forest, near Hope in Warren County, are 1,100 feet above sea level, one of the few dark sky locations left in the state.

, ,

, Columbia

Located on 120 acres of preserved farm in Warren County, the rehabilitation center provides treatment to orphaned, sick or injured wildlife including fawns, raccoon, skunks, opossums, squirrels, rabbits, woodchucks and other small mammals. The state-licensed sanctuary is a 501(c)3 non-profit organization, supported entirely by volunteers and public donations.

52 County Road 661, Frelinghuysen 07860, 973/980-8531
This story was first published: Spring, 2013