Beneduce Vineyards
When you turn off Route 513, just south of Clinton, onto Sky Creek Road—looking for a winery—you may think you've misread your GPS as you file past long driveways and wide lawns graced with McMansions. But when this former farmland was rezoned for development, municipal planners required that that fifty acres remain in agricultural use. Continue as your GPS indicates to Jeremiah Lane, and it's there that you'll find those fifty acres, purchased in the year 2000 by the Beneduce family in order to supplement the nursery and landscape stock grown at their garden center, Great Swamp Greenhouses, in Gillette, NJ. In addition to the space required for the new greenhouses and equipment storage, the family leased the remainder of the acreage to other farmers, mostly for haying, until five years ago when they began to grow grapes.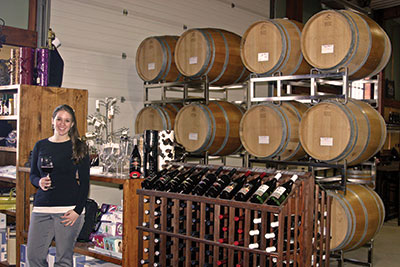 Justen Beneduce Hiles at the winery.
"It's a family tradition," explains Justen Beneduce Hiles, who with her brother Mike, Jr., are the active partners in the latest Beneduce enterprise. "We are the fifth generation in our family to pursue agriculture, going back to our great grandparents in Italy. My brother and I always helped make the family wine in the basement." When the Beneduces researched the climate and tested the soil on their new Hunterdon County tract, grapes came up as a good crop choice, and the plan was hatched. Mike went to Cornell to study viticulture and oenology, and ten acres of Pittstown dirt were turned over for grapevines. In 2011 the first round of Beneduce grapes reached harvest, and the winery opened in July of 2012.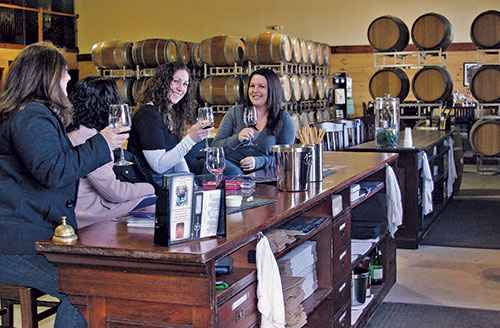 Celebrating a birthday at Beneduce with a taste of Shotgun Red.
Justen and Mike's combined ages just make it to fifty. They are very young but entirely disciplined in their approach. With their parents—the third partner in the business—they've converted a 7,000-foot pole barn, formerly used to store machinery and other supplies, into the winery's production, aging and tasting center. Massive beams, taken from family property in the Adirondacks, pegged and assembled by Amish carpenters, frame the building. Three towering arched windows reclaimed from a school in Westchester County greet visitors who enter through an antique door from an old English church. And the tasting bar has been fashioned from a counter top that came from a nineteenth century English storefront. Outside, one of the greenhouses now serves as a "Tropical Paradise" for year-round events and weddings, and where visitors can enjoy great wine in any weather on a lovely heated patio graced by palm, orange, and lemon trees.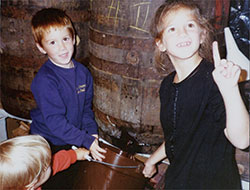 Above: Mike Jr. and Justen learning their craft in the early days.
Below: Mike with a load of Traminette.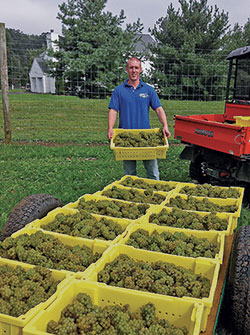 "We really did a lot of research into what vines would grow best here," explains Justen. "We didn't pick on the basis of what we thought the customers would recognize. We fit the vines to the land. Our soils and climate are similar to some of the top wine-growing regions of Austria, Germany, and northern France, and we've used centuries of knowledge they've acquired there to determine what grapes are best suited for our site." In addition to Chambourcin, Pinot Noir, Cabernet Franc, and two Cornell hybrids (Corot Noir and Noiret), the Beneduces included three acres of Blaufränkisch, an Austrian red known for its rich spicy flavor. White varieties include Chardonnay, Riesling, and the less locally frequent Gewürztraminer. Once the grapes are grown and harvested, it is left to the oenologist to bring the piquant aromas of ancient Germany to modern American palates.
Make your own barrel!
Under Mike Beneduce's expert guidance, you can perform your own oenological magic and handcraft your own barrel of wine. Start by picking the grapes of your choice at harvest, or, if they don't grow the grape you want in the vineyard, they'll get it for you. Then bring your berries to the crusher where the fruit is pierced—stomping is optional—and yeast is added to begin fermentation. You'll return in about ten days for pressing; the separation of the grapes' juice from their skins. Racking begins a few months later when you remove excess sediments and begin to evaluate the aromas that are developing in your wine. Nine months from harvest, your baby has arrived, ready for transfer from the barrel to bottles emblazoned with your personalized label. That's about 300 bottles, by the way, each of which will end up costing you about $12-13, and more than enough to satisfy a good-sized group of winemakers.
Beneduce Vineyards
Click or call 908/996-DUCE
For information about upcoming events at this and other North Jersey wineries, visit Vintage North Jersey
Nearby accommodations and attractions
Artisanal cheeses, wood fired breads, 100% grass-fed beef, whey fed pork, and suckled veal, 100% grass-fed ice cream, pasta made with Emmer wheat and our own free-range eggs, and pesto made with our own basil! Bread and cheesemaking workshops are held on the working farm as well as weekend tours and occasional concerts.

369 Stamets Road, Milford 08848, 908/86GRASS

New Jersey''s first brewpub where, in addition to14 British ales and hard cider on tap, you can enjoy selections brewed on-site. The menu is derived exclusively from cuisine from England, Ireland, Scotland and Wales. Lively weekend entertainment, on and off premise catering.

61 Bridge St., Milford 08848, 908/995-7007

, Lebanon

This wildlife art gallery contains the area?s largest selection of hand carved decoys, representing carvers across the US, as well as an extensive collection of original paintings by some of the nation's most renowned artists.

55 Bridge St., Frenchtown 08825, 908/996-6501
This story was first published: Spring, 2013