The staff members in the park office are informative and friendly. While you're gathering literature, check out the office/museum with a stuffed bear, skulls and preserved specimens of local fauna.
Take a quick walk to the beach through the esplanade, complete with red maple allee, picnic area on wide lawns and volley ball courts. Stroll through the beach house, a grand entrance to the lake. Across the sand trucked in from South Jersey, floats crystal-blue Swartswood Lake.
Swartswood is a treasured lake, maintained and restored continuously by the Swartswood Lakes and Watershed Association. It's predicted lifespan is 100,000 years, a long time for a lake, for there is little to accelerate its progression to bog status in the countryside of Sussex County.
Swimming is closed after Labor Day, but a walk on the beach feels like the shore--hot, with blasting sunshine. It even smells like a beach. There are benches and grass to sit on, under straight-boled trees of sycamore, willow, basswood and hickory. There are hemlock, maples, oaks, all with lichen-covered trunks in the picnic grove. A family could spend the day here on the beach, picnicking, playing on the swings, and later retiring to camp, spent from a day of healthful play at a lake scoured by ice, surrounded by mountains, away from the highways and smog.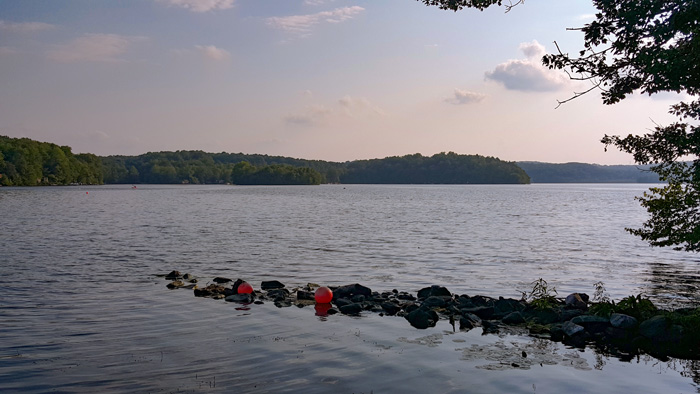 Take a drive around the lake. From the park office where you can get maps of the trails and area roads, take a right onto Rt. 619, then left onto Rt. 622. On the right is a dirt public access road to Little Swartswood Lake, a 200 acre glacial lake. Enjoy the water's edge and small remote picnic area.
Walk a few feet further down the road to the streamflow in culverts between the two lakes. It's a botanist's dream. Cattail, button bush, red-spiked cardinal flower, blue-spiked pickerel weed, ferns, and a little purple loosestrife. How long will it be before it's a monoculture of loosestrife? Or will the richness of native species hold it at bay?
The town of Swartswood surrounds the T intersection. Right before it, on the right, is the Swartswood Deli with one booth, where they also sell trout worms, crawlers and mealworms. The natives are friendly too.
On the right of the T-intersection is a church that lost religion. It's now a municipal court, where this author once experienced "Judgment Day."
Back on the road, turn left onto Rt. 521. A short way down on the left is the Mill Pond Keen's Grist Mill, circa 1838, built from native limestone and slate. Here at the bottom of the lake in solitude, a fisherman from Jersey City catches a bucket load of sunnies.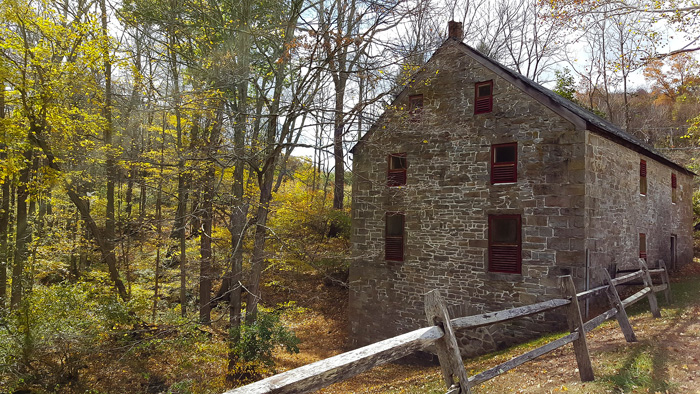 Continue down and make a sharp left onto Rt. 612 and see the hillside crop fields above zigzag streams, barns so old and added onto they're spilling over the barnyard.
At the T, turn left onto Rt. 619. The landscape is impossibly beautiful--idyllic country where an old man smiles as he rides his tractor in the sunshine. There are sweeping meadows with giant rolls of hay and a silver-grey barn. Looks like playland. If only.
Turn left into one of many public accesses. From some you can get a walleye's view of how the lake people live.
Only electric motors allowed on Swartswood Lake, so if you're seeking peace and serenity, you'll find it there. A canoe, kayak or rowboat is perfect. The lake is gorgeous, the ride is gorgeous. Explore the surrounding towns of Swartswood, Middleville and Stillwater for a further glimpse into country life.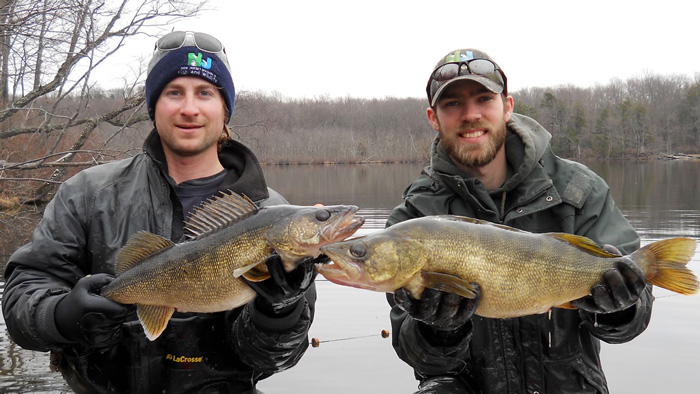 The Division of Fish and Game calls Swartswood Lake "one of the best walleye lakes in the State of New Jersey." There's a healthy lake trout population, channel catfish, large and small mouth bass, chain pickerel, and panfish. In winter there's great ice-fishing, but the Park doesn't check the ice. Ice safety is a personal responsibilty. Fish to catch through the ice are pickerel, perch and brown trout.
For more information about Swartswood State Park, call the park office for more information at 973-383-5230 or check the NJ State Parks website.
Nearby accommodations and attractions
, Sussex

Wilbur's is the perfect destination on a drive through the New Jersey countryside. British foods and candy, Yankee candles, wind chimes, pet-themed gifts, preserves, much more. Charming location in barn complex between Newton and Blairstown.

735 Route 94, Newton 07860, 908/362-8833

The Byram lake is a good kayaking destination.

One day you are likely to find yourself headed to New Jersey's northernmost corner in search of adventure.
This story was first published: