Although the South Branch of the Raritan approaches Bridgewater from the direction for which it is named, it actually begins 51 miles (as the water flows) north and west when it emerges humbly from Budd Lake, the state's largest natural lake, a few hundred feet from busy Route 46 in Mt. Olive in Morris County. From there the watercourse resembles an arm embracing northwest New Jersey as it runs southwest through communities it has nourished for hundreds of years, valleys dripping with serenity, and wooded vistas perfumed with the fragrance of a mountain stream. Below Califon, the South Branch attains its most notable expression of wild water at Ken Lockwood Gorge. Then, at the river's most famous depiction, flowing over the falls by the Red Mill in Clinton, the South Branch changes its tune. The Hunterdon County reservoirs at Spruce Run and Round Valley near Clinton mark the river's "elbow" as it turns to head southeast. Tracing the landscape's transition from the New Jersey Highlands to the Piedmont, the river is tranquilized, but no less beautiful. For those in search of the latest in nature's seasonal fashions, glances of living local heritage, or the tug of a Jersey trout, following the South Branch from Mt. Olive to Duke Farms in Hillsborough yields a memorable ramble. Check your Google Map, grab your GoPro, maybe hitch your Raleigh or Old Town to the car top, and get started.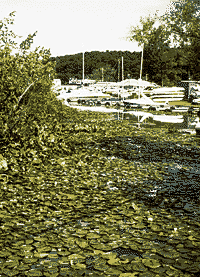 The fledgling river flows south from Budd Lake, under Route 46 where you can follow its general path by turning left on Wolff Rd, right on Flanders-Drakestown, and left again on River Road through heavily wooded residential areas marked here and there by occasional ancient homesteads and antique mills refurbished for family habitation. When River Road meets Flanders Bartley Road, turn right and follow the river as it makes its way, having picked up some steam, into Washington Valley.
You will pass through a section known since 1793 as Naughright, after the family whose homestead was long known as a hospitable half-way point between High Bridge and Dover. Turn right on Coleman's Road, cross the bridge and ride to Fairview Avenue. Turn left and you will soon pass Welsh Farms, now a principal dairy supplier throughout the state, whose founder began business as a farmer, harness dealer and mill feed operator in Long Valley at the turn of the century and eventually rose to significant stature in state politics.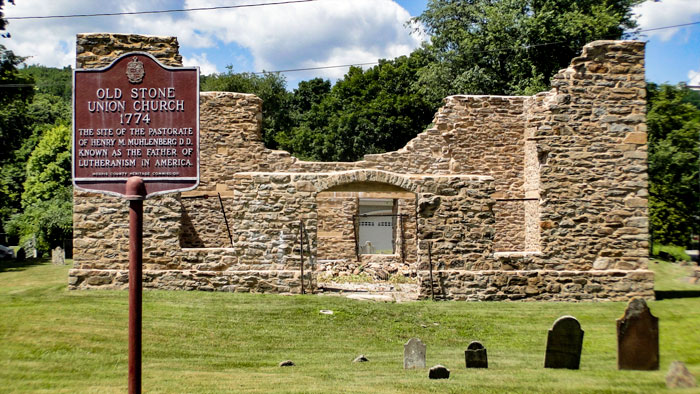 The road winds down into the center of the old village, marked prominently on the right by the remains of the Old Union Church. Although the church was not dedicated until 1774, the surrounding graveyard contains headstones dating to 1765. Next to this most proud historical site sits a two-story stone schoolhouse erected in 1830, now home to the Washington Township Historical Society.
One block further and you again greet the South Branch where it meets two well-seasoned and now, very busy, roads. Just east of this intersection stands the restored LaTourette Mill.
Following the South Branch takes you west through the historic district once known as German Valley, now home to good restaurants and quaint shops. Drive through Middle Valley into Hunterdon County and look for Route 512 on your left.
Less than a mile and you're in Califon, where the architecture is a continuum from the American Revolution through the Victorian era to the present day. Many contemporary businesses are housed in the older buildings. The borough was named "California" in 1850 to honor Jacob Neighbor who struck it rich in the gold rush. When the railroad arrived in 1870 the name was shortened; folklore claims it was to fit on the sign at the station.
Califon straddles the South Branch, and it is here that the river begins to widen and strut just a little, suggesting the beauty that lies ahead. If you've brought your bike or your walking shoes, you can access the Columbia Trail at the Califon Station and begin a delightful expedition into a most notable exponent of tranquillity in the Skylands, Ken Lockwood Gorge. The Gorge is also accessible by car from Route 513, across the river at Hoffmans Crossing and right on River Road. But, if you can, walk or bike in. Once you're in there, you'll want to shed all vestiges of tires and engines.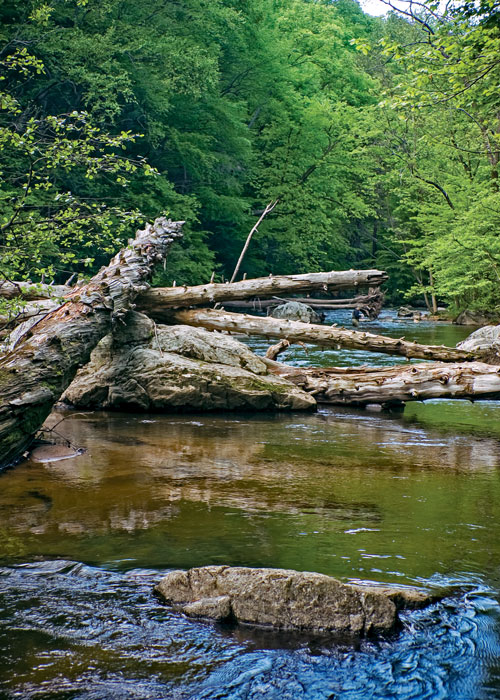 If you speak to fishermen who know the Gorge, you can almost feel the ache in their voices, like they're handing over a family treasure to a stranger. Its not an unwillingness to share, but sincere concern, that generates stewardship among fisherman and many others about this 1.2 mile stretch of river. As rough as it looks, the Gorge is very delicate. It's a rare piece of wild water.
The river is fine for fishing all the way from Long Valley through Califon, but the feeder streams that contribute through the gorge keep this portion of the water a little colder. And the gorge nurtures all kinds of insect life including mayflies, caddis, stone flies, crane flies as well as scud (freshwater shrimp). These factors, combined with bountiful big boulders and deep holes, make the gorge prime real estate for rainbows, browns and brookies. For fly fishermen, its paradise. To keep the gorge healthy, most frequent fishers at Ken Lockwood adhere strictly to a catch and release policy. Whether you visit this oasis to fish or to simply breathe it in, please carry out everything you carry in. Although Trout Unlimited has placed refuse barrels throughout the Wildlife Management Area, they fill quickly and piles of refuse can soon find their way to the ground.
Leaving Ken Lockwood Gorge you'll be a few minutes from Vorhees State Park, home to the Paul H. Robinson Observatory, facility for the NJ Astronomical Association. Call ahead (908-638-8500) to see if you'll be lucky enough to schedule a look through the telescope. Besides a vantage point for looking at the stars, the hill provides a panorama especially spectacular in the fall, and one which affords a view of Spruce Run Reservoir, our river's next destination on this leg of her trip through the Skylands.
The next stop on your trip along the South Branch might be in High Bridge, the scene of bustling businesses renovating the old buildings along its quaint Main Street, a new coat of paint on the railroad trestle and Victorian-style street lamps. Or at Clinton and the South Branch's most famous depiction as it flows over the falls by the Red Mill.
Nearby accommodations and attractions
, Millstone

The Theatre at Raritan Valley Community College, which offers a full season of professional music, theatre, dance, cultural events and children's programs is conveniently located near the border between Somerset and Hunterdon counties. Box Office Hours: 11am-4pm, Monday - Friday

Rt. 28 and Lamington Road, North Branch 08876, 908/725-3420

Farmstead Arts, in Basking Ridge, is a vibrant arts center and serves as a model for adaptive reuse of an historic treasure.

, ,

F.M. Kirby Shakespeare Theatre\n36 Madison Avenue, Madison 07940, 973/408-3807

A visit promises ample scenic vistas, woodland or urban hikes with water views and flashes of Revolutionary and Civil War history.

, Rockaway Twp.
This story was first published: Autumn, 1997