Sparta Mountain Wildlife Management Area
By Eric Hoyer
The Sparta Mountain Wildlife Management Area (WMA) lies in Sussex County off Route 517 and Glen Road near the Town of Sparta, and along the Highlands Trail. Part of a large tract of land purchased cooperatively by the New Jersey Audubon Society and the New Jersey Division of Fish, Game, and Wildlife, it is divided into two areas with significantly different management plans. The land owned by the Audubon Society, whose mission is "to conserve and restore natural ecosystems, focusing on birds and other wildlife for the benefit of humanity and the earth's biological diversity" is closed to hunting and fishing and is laced with trails affording plenty of opportunity to hike and enjoy the scenery and watch for wildlife. The New Jersey Division of Fish, Game and Wildlife's mission is "to protect and manage the state's fish and wildlife to maximize their long term biological, recreational, and economic values for all New Jerseyans." The state-owned portion is a Wildlife Management Area, where there is also a focus on the outdoor sportsman or woman.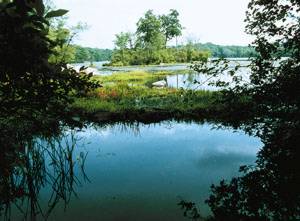 Ryker Lake. Photo by Wilma Frey
The 1394 acres that make up Sparta Mountain WMA are open for deer, small game, turkey, and waterfowl hunting. There is also an established warm water fishery on the WMA. Ryker Lake, one of several bodies of water on the WMA, has been declared a "Lunker Bass Lake". Special regulations maintain the high quality of the fishery in the lake, which includes panfish as well as a healthy largemouth bass population. There are also other lakes in the area worth exploring for trophy fish.
Sparta Mountain WMA contains many different habitat types. In addition to Ryker Lake and other smaller bodies of water, there is a significant area of wetlands know as Edison Bog. Wetland habitats are some of the most important ecosystems found in the environment due to their amazing diversity and productivity. They are also quite fragile. Many species of wading birds and songbirds can be found there along with a large number of insect, mammal, reptile, and amphibian species. Wetland plant life includes heath shrubs, sedges and sphagnum moss. Apart from the wetland areas there are some hills to climb offering a moderate workout and beautiful view. There are also acres of forests to stroll through which are home to white-tailed deer, black bear and wild turkey. If you are very lucky you may even catch a glimpse of a bobcat.
The area is prime birding territory. The different habitats offer chances to see many different types of birds, from wading birds and ducks to migratory hawks and warblers. This is one of the few places in the state where the Golden-winged warbler can be seen. This bird visits New Jersey only during its breeding season and would make a nice addition to anyone's life list.
When looking at a map of Sparta Mountain one can't help but notice the name Edison associated with some of the area's features and landmarks such as Edison Bog and Edison Pond. Near the turn of the century Thomas Edison owned iron mines here that yielded ore to be crushed and made into briquettes. Edison also built a railroad system to ship the briquettes to Pittsburgh. The processing mill, factory and homes here were among the first in the world to have the benefit of electricity. Unfortunately for Edison, he began his operation just when the Messabi Iron Range in Minnesota opened up for business. Their location near major transportation routes by water gave the Minnesota mines a decisive competitive edge, and it is estimated that Edison lost close to $10 million on the venture
Edison was down but not out. He recovered all of his losses by converting the operation to a limestone processing plant for cement, much of which became foundations for skyscrapers and large buildings then being built in New York City. There are remnants of two large strip mines used for extracting limestone, and some of the smaller mine shafts used by Edison are still open, although unsafe to enter. There is still plenty of interesting stone work to be explored in the woods of Sparta Mountain WMA left from the pillow blocks that supported Edison's mining equipment and the foundations of the now dismantled mining town.
For more information on the Sparta Mountain Wildlife Management Area, please contact the New Jersey Audubon Society at 908-204-8998, or New Jersey Division of Fish, Game and Wildlife at 908-637-4125. And be sure to get a copy of the New Jersey's Wild Places & Open Spaces map which highlights all the Wildlife Management Areas in New Jersey. This map can be purchased for $4 by sending a check or money order, payable to the New Jersey Division of Fish, Game and Wildlife, to: Wild Places Map, P.O. Box 400, Trenton, NJ 08625-0400, ATTN: Carol Nash
Nearby accommodations and attractions
A mix of historic buildings of varying architectural styles, a walkable downtown, and plentiful eateries surrounded by rural tranquility make Newton a fusion of the then and the now, with great expectations for the to be.

Located in Sussex County near the Kittatinny Mountains the camping resort offers park model, cabin and luxury tent rentals as well as trailer or tent campsites with water, electric and cable TV hookups on 200 scenic acres.

69 Kymer Rd., Branchville 07826, 800/526-2267

, Sussex
This story was first published: Spring, 2000