Saving Ramsaysburg required generous state, county and local funding to stabilize the buildings, as well as extensive research to support listing the site on the New Jersey and the National Register of Historic Places. Under the guidance of the Knowlton Township Historic Commission, the remaining buildings have undergone major structural stabilization, all in proper historical context, as well as restored roofing, windows, doors and siding. The riverbank has been enhanced with native plantings and removal of invasive species in order to minimize erosion and provide better food supplies for river aquatic life. An interpretive nature trail through the wooded portions of the property has been completed along with a stone border wall behind the tavern. A spacious wooded area between the barn and the Delaware River has been converted to a natural amphitheater, providing ample lawn seating with stunning views of both of the barn and the river.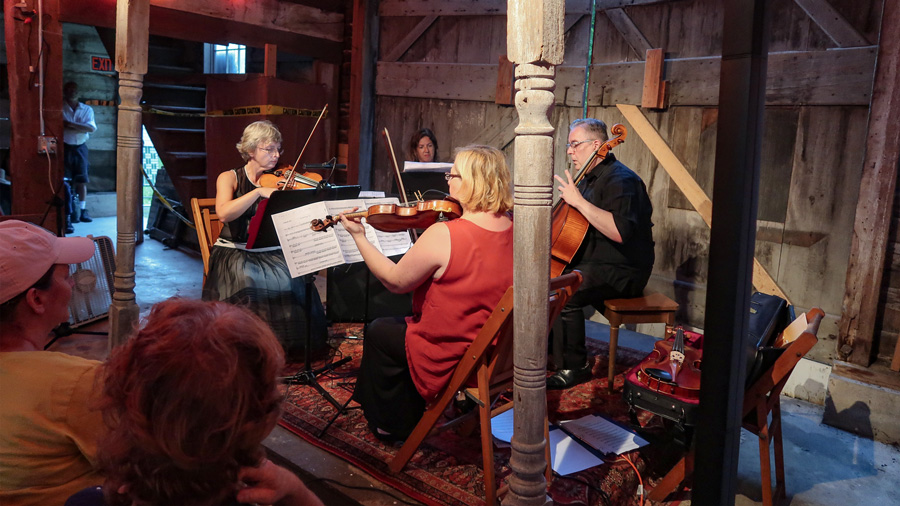 Ramsaysburg has been host for a series of annual events including the Memorial Day picnic, the Riverside Fall Festival and Christmas in the Country. Organized Plein Air painting sessions at Ramsaysburg are also popular with area artists. For the past six years, Ramsaysburg has presented a seasonal series of Concerts at the Barn, host to world-class classical and jazz artists as well as popular music talent.
Funding is in place and planning has begun for the final phases of renovation that will make Ramsaysburg a fully functional site for a wide range of public activities. The next chapters in the Ramsaysburg story will be created mainly through the efforts of The Friends of Ramsaysburg, a non-profit organization responsible for implementing the organization's exhaustive, long-range Interpretive Plan, which presents broad visions for Ramsaysburg's future pertaining to heritage tourism, education, recreation, arts and culture.
Without the tavern, barn, tenant house, smokehouse and other structures, the property at Ramsaysburg would be just another bucolic greenway along the banks of the Delaware River. With the structures stabilized, preserved and recycled with adaptive new arts and culture uses, these structures will bring life and meaning to both the site and its river-trade history. Visitors exploring the site can experience the cultural changes wrought by the extraordinary confluence of river, railroad and highway innovations. The site also provides links to the area's abundant cultural resources to be found in historic villages and along scenic byways.
Ramsaysburg is located at the intersection of Ramseyburg Road and Route 46, east of the village of Delaware. Find out more or check upcoming schedules at the website or follow on Facebook and Instagram. Or call 908/496-4816.
Upcoming Events
Nearby accommodations and attractions
, Columbia

Hand-crafted wines fermented, aged, and bottled at our family farm in the heart of the scenic Delaware Water Gap. In addition to wine tasting and sales, we offer indoor and outdoor rentals as well a full catering services for up to 250 guests.

594 State Highway 94, Columbia 07832, 908/496-8200

A luxurious Bed & Breakfast with one-of-a-kind accommodations, picturesque scenery, 3 course European Style breakfasts, all while blending old world charm with modern conveniences. Minutes away from a variety of naturalist activities including hiking, biking, canoeing, riding, skiing and bird watching.

88 Hainesburg River Rd., Columbia 07832, 908/496-8855

A cooperative gallery featuring fine art, paintings, photography, pottery, stained glass, jewelry, fiber art, wood turned bowls, quilting, painted tiles, dioramas, and more by 35 talented local artists. Gifts and note cards for every occasion. Hours: Monday - Saturday, 10am-5pm; Closed Sundays.

23 Main Street, Blairstown 07825, 908/362-6865

540 Warren Street, Phillipsburg 08865
This story was first published: Spring, 2021