Sunlight into Wine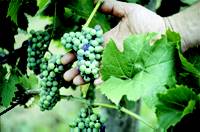 "No time for a trip to California to taste boutique, custom wines? Then how about a weekend trip to one of the thirty wineries here at home in New Jersey? "In recent years New Jersey wines have begun winning competitions nationally and internationally," says Garden State Wine Grower Association President and Bellview Winery owner, Jim Quarella. "You no longer have to go out of state for the unique experience of wine tasting at the vineyard."
Like California, our state's wineries are located in some of the most picturesque areas of the state. Nestled among rolling hills, overlooking valleys and streams, surrounded by tiny hamlets and historic towns, a visit to any one of them is a delight to the senses. The state's growing wine industry is gaining recognition on many fronts. It now hosts three wine appellations - regions with specific characteristics like those in California and France that promote wine grapes - called AVAs or American Viticultural Areas."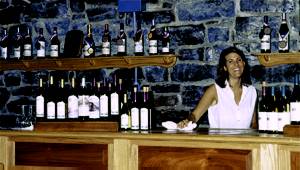 Finished product at Alba Vineyards in Finesville
One of those AVAs sits in the middle of the Skylands. The Warren Hills AVA, covering about 226 square miles, begins at the convergence of the Delaware and Musconetcong Rivers, travels northeast along the Musconetcong crossing into Sussex as far as Paulins Kill then travels west to rejoin the Delaware. Within its borders are Four Sisters and Brook Hollow Wineries located near Belvidere; and Alba Vineyards and Villa Milagro Vineyards, both near Finesville.
In addition to the AVA wineries, the Skylands hosts a total of five other wineries and a number of large vineyards, truly making the Skylands a wine tour destination. Sussex County is home to Westfall and Ventimiglia wineries; Hunterdon hosts Amwell Valley, Unionville and Hopewell wineries, while Mountain Road Vineyards in Warren County and Amerman Vineyards in Hunterdon County each supply grapes to local wineries.
What is most exciting about visiting these vineyards is the opportunity to meet the vintners who often live on the property. "Because we live as well as work here, you never know what you might discover us doing, "says Villa Milagro Vineyards owner Steve Gambino. "We had guests arrive just in time to help me unload new oak barrels, while another pitched in to help us punch down fermenting wines. Visiting a winery can be a reality test for those of you who have ever dreamed of owning one."
It can also be an opportunity to explore and learn about growing grapes as well as making wine. Most owners are more than happy to share their stories with you - from planting to tilling to harvest to crush to fermentation, racking, bottling and beyond. Be prepared to spend awhile, sipping, learning and listening to tales!
If you are interested in an immersion course in Italian wine making, visit Sergio Neri at Hopewell Vineyards in southern Hunterdon County. A native of the Brunello di Montalcino region of Italy, Neri brings generations of wine experience to New Jersey. Drive further north to Amwell Valley Vineyards in the heart of Hunterdon's horse country where Scott Gares oversees winemaking for the Fisher Family. As some of Amwell's vines reach their thirty year mark, you may find that the wines they are yielding fit the old adage "better with age."
If you move fast enough, you can catch winemaker Cameron Stark at Unionville Winery in the northeast sector of Hunterdon. A competitive runner, Cameron also wins awards for his wines which have been served in the Governor's mansion. Crossing the border into Warren County and moving toward the Delaware River, you will encounter Alba Vineyards, one of the state's largest. A pioneer in raspberry wines, Alba has been winning awards for this mouthwatering specialty year after year.
Down the road less than a mile is one of the state's newest wineries, Villa Milagro Vineyards. Meaning "place of miracles" in Spanish, Villa Milagro is the state's only organic vineyard, producing blended wines made in the European tradition.
Next north is Four Sisters Winery. If you are particularly interested in our state's wine history, be sure to track down owner "Matty" Matarazzo. One of the founders of the Garden State Wine Growers Association, Matty is a wealth of legends. Further north and near the Delaware is one of the state's newest wineries, Brook Hollow which, like Matarazzo Farms, offers pick-your-own fruits.
Slightly east brings you to Ventimiglia Winery, another of the state's newbies. (Are you wondering whether Italians dominate winemaking in our state? Maybe!)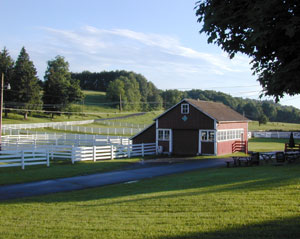 Westfall Winery in Montague
In addition to the scenery and views, you will be delighted with the range of new wine varieties that you will encounter in your travels. Many of the wineries make wines from varieties of grapes that grow well in our colder winters, damp summers and shorter growing season. These include varieties such as Cabernet Franc, Foch, Seyval Blanc, Vidal Blanc, Chambourcin, and Cayuga. Not only do these grapes produce traditional table wines, but they are also blended as each winery attempts to establish its own wine character. Rather than another bottle of over-oaked Californians, take a bottle of one of New Jersey's wineries to your next gathering. And be prepared to say, "Yes, there ARE wineries in New Jersey - and Quite Good Ones at That!"
Wineries and Winemaking
Four Sisters Winery: Wine tasting and sales, cellar tours, gift baskets, personalized wine labels, private wine tasting, barefoot grape stomping parties and corporate picnics. Host of numerous festivals. Rt 519, Belvidere 07823 908/475-3671
Villa Milagro Vineyards: Located along the Delaware River, in the Warren Hills Appellation, "The Place of Miracles" is the state's only organic vineyard and one of only two on the East Coast.
Dr. Audrey Cross, a well known nutritionist, is also a winemaker.
This story was first published: Spring, 2002