Hyde runs the Well-Sweep Herb Farm with his wife Louise and his son David. The farm has been in business for fifty years, and Hyde's family can trace part of its history back to George Washington. "I grew up in Totowa and my great-great-great grandmother brought herbs, food and milk to Washington and his hungry troops who were camping near Dey mansion," he explains, pointing to a pewter kneebuckle presented to his relatives by the great general.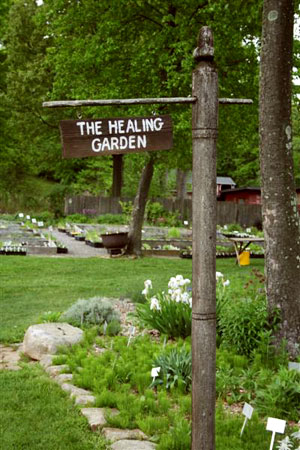 Standing near show chickens with eight foot tail feathers-- onagadoris from Japan-- Hyde begins a remarkable lesson in herbs and their history. He's such an expert that he's in demand as a speaker at garden clubs and college horticulture classes. Dedicated to offering his customers the widest variety of quality herbs, flowering perennials, dried flower arrangements and other related herbalware (including many books on herbal remedies and cooking recipes), Well-Sweep is a stop herb lovers can't miss.
"We have a way of life here," Hyde notes, explaining the entire system at Well-Sweep. Cold frames, hot-beds, one of the largest collections of herbs in the country; any visitor will, indeed, marvel. And, they'll marvel at the expanse of Hyde's knowledge. "Here's something interesting and very rare," Hyde says, pointing to an herb. "It's double bloodroot. It's used medicinally. This is unusual to have the double. I see a resurgence in the use of herbal remedies. People are trying to get away from a lot of the different medicines that have side effects, they want to go back to nature. I'm no doctor and I'm not telling you to do it, I'm just telling you what I'm doing."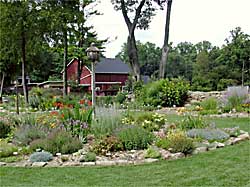 For inspiration and ideas, Well-Sweep remains unmatched. Nestled in the scenic hills of Warren County, the farm's pride and joy is its breathtaking formal half-acre display garden. The the brick-pathed garden boasts a wide array of herbs and perennials. And, admidst the scenic gardens you'll find 36 types of basils, 60 different lavenders, 80 varieties of thyme and over 100 scented-leaved geraniums.
"Herbs come under four categories," Cyrus says, walking and pointing. "Medicinal, culinary, dying, and fragrance. "Here we have poppy flowering celendyne. This is one of the first things to bloom. It likes semi-shade so it does very well under this rose bush. Celendyne had many uses medicinally, but this was one use-- it would be painted on warts. When you break the stem an orange sap comes out and that would be painted on to dry up warts and corns."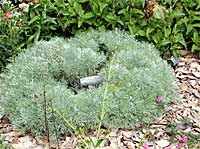 Among the many herbs at Well-Sweep are silver corkscrew chives, angelica, blackberry lily, borage, savory, cinnamon, stawbery blite, cilentro, sweet woodruff, fragrant heliotrope, lippia dulcis, dianthus, sweet cicely, catnip, cuban basil, allspice, milk thistle and on and on. The Hydes know about them all.
They'll teach you, if you're interested; Hyde consults those who want to grow their own herbs, and Well-Sweep offers classes, lectures, open houses, herb festivals and garden tours. And you can bring the children--Cyrus , his wife Louise, and their son David, always welcome families who care to bring a picnic lunch, play with their kids in the farm's sandbox, stroll the gardens and visit the exotic animals.
Call Well Sweep Herb Farm at 908/852-5390 or visit their website for hours, a mail order catalog and more information.
Upcoming Events
This story was first published: Summer, 1996