Field Trips
Agritourism in Warren County
The county's agricultural heritage is on display every summer at the Warren County Farmers' Fair in Harmony. What started as a gathering of farmers, mechanics and manufacturers in 1859 evolved into the incorporation of the Warren County Farmers' Fair in 1937, and more recently into an annual agricultural exposition and full-fledged country fair event that offers something for everyone.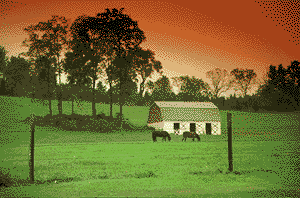 But Warren County farms can provide your family with year-round pleasure, and the familiar farm market is only the beginning of what you'll find. The same extended families that have run them for generations operate many of the surviving farms, in some cases thanks to the New Jersey Farmland Preservation Program. But it's new uses for old fields that's responsible for many of those that have endured. You can visit organic food and herb producers, big old dairies, barnyards full of poultry and sheep, equine and buffalo herds, special flower farms, a llama or ostrich farm, pumpkin fields in autumn, and Christmas tree growers.
Great Meadows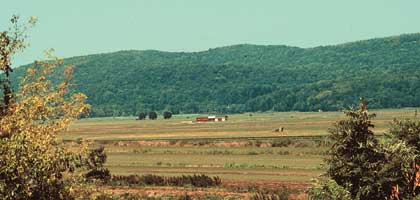 The glacial accidents of 600 million years ago produced the deep valleys and veins of decomposed organic matter that accumulated on the prehistoric lake bottom in what is now Great Meadows and Alphano. The eventual swamp was drained in the mid 1800s, converting 5,000 acres into farmland known for its rich muck soil (black dirt). Today, several farms and greenhouses there are a gardener's Nirvana. Besides producing hundreds of acres of sod, row upon row of greenhouses are filled with annuals, perennials, mulch, herbs and farm fresh seasonal produce grown in the fertile meadows.
Wineries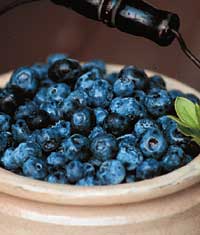 One of the county's attributes is the federally designated Warren Hills Viticultural Area, consisting of more than 226 picturesque square miles, unique in its soil, topography and climactic conditions, bordered by the Musconetcong, Paulinskill and Delaware Rivers. Now in its 18th year of actual production, Four Sisters Winery (908-475-3671) between Hope and Belvidere offers up to 22 varieties, tours, and tastings. The 40-acre Alba Vineyard is located near the Musconetcong River in Finesville on Route 627.
Organic & Natural
Organic and natural farms are well rooted in Warren County. Genesis Farm on Silver Lake Road in Blairstown (908/362-6735) sits on 140 acres of woodlands, marshes, fields, and gardens, providing beauty, inspiration, and nourishment. Sponsored by the Dominican Sisters of Caldwell as a community garden and ecological learning center, Genesis Farm focuses on the connections between the health and sustainability of the Earth itself and the health of human communities. There are over 12 acres devoted to the garden which is supported by nearly 200 families who purchase a "share." Genesis Farm offers a year round educational program that includes a 12-week accredited graduate certified program, extensive natural and wholesome cooking classes, weekend seminars, and children's programs. The farm is open to the public and welcomes people to search for alternative ways to achieve true human and earth security.
Herbs
Recognized as one of the premier herb farms in the United States, the 120 acres at Well-Sweep Herb Farm at 317 Mount Bethel Road in Port Murray (908/852-5390) dazzle both herbal experts and newcomers. Visitors to the farm are free to wander and self-guided tours begin at the house. It's an easy tour because everything is well-marked. There are herbs to cook with, herbs for medicinal purposes, herbs for the shear smell of them. In fact there is an herb for almost everything. There is also a well-supplied gift shop.
Farm & Garden Markets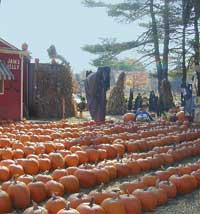 Dozens of farm markets dot the roads of Warren County. Large full-service markets like sell everything from apples, meat, canned foods, to bakery products. Smaller stands sell specialty products like beef, eggs and vegetables in season. Then there are countless neighborhood stands offering vegetables (some of the most delicious tomatoes and zucchini, by the way) from the garden.
Pick Your Own
Pick your own is a family fun adventure. As in any adventure, you must be prepared to enjoy the fun. Take a few precautions, remember you will be out in the fields in the sun. Bring some repellent, don't wear perfume (the bugs love the smell). Dress smartly. Loose comfortable clothing is best, jeans, big shirt, wide brim hat to protect you from the sun, gloves to protect your hands and really smart shoes. Bring extra clothes for the kids. It's always best to call ahead to make sure the crop is ready. Sometimes, 'Mother Nature' isn't punctual and crops are late or early. Also, not all farms have pick your own. The following is a 'rule of thumb' schedule:
Guide to Picking Your Own
WHAT TO PICK/ WHEN TO PICK
Apples/ September-October
Beans/ June-September
Broccoli/ September-November
Cabbage/ September-November
Caulibroccoli/ September-October
Cucumbers/ July-October
Eggplant/ July-October
Peaches/ July-August
Peas/ June 10-July 5
Peppers/ July-October
Pickles/ July-October
Pumpkins/ Sept. 15-October 31
Raspberries/ July-September
Strawberries/ June
Squash/ July-October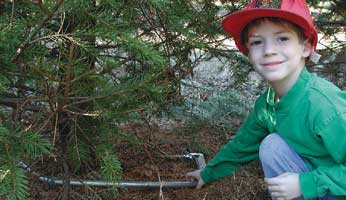 Warren County is home to many Christmas tree farms.
This story was first published: