Summer Tastings
Dirty Little Secret
by Vincent Clyne
Want in on a dirty little secret? "Holy cow, it's in the dirt." Yep, good old Garden State dirt. No, not our usual tabloid kind rife with political scandals, but the stuff beneath your feet. As any farmer and every gardener will attest, it's the stuff dreams are made of. And even if you don't have a green thumb, you'll know its hue, color and timbre, how it compacts and crumbles between your fingers, how its savory aroma wafts up as you bend forward for a whiff, and how nearly you can taste it.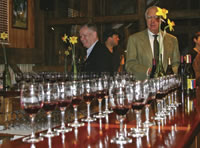 There, you did a sensory analysis of dirt just as professional wine tasters do in their approach to rating a wine. First and foremost comes terroir, the way soil and sun, water and wind, altitude and angle interact to influence the growing cycle. Given New Jersey's topography you could be 3000 miles away, east or west, in vineyards that have produced the world's greatest wines. It's easy to think this simply because all the clues, all the visuals, both naturally occurring and man made, lead you to conclude that you are in primo wine country. And you are. It's just that you are here in New Jersey. The Garden State has been farmland since colonial days with plenty of pasture and greenery, farms and dairies. And vineyards.
Along with good dirt, other key elements found in every wine-growing region are shallow valleys and gently rolling hills with sunny slopes and rivers or lakes. It's an apt description of northwestern New Jersey where the wine trail wends its way, curling through the counties of Warren, Sussex, and Hunterdon into something real and rewarding. What I have found lately, as I become more and more of a locavore, paying attention to the wheres, whys, and hows of local food production, is the wealth of wine to be had in the Garden State. And if you like to think locally, then you should get out to a vineyard and check things out for yourself. I know. I know. Where's the cachet? Where's the glitz and glamour of telling your friends and family that you've been to wine country without ever having left your state? Well that's the secret. It's in the dirt, and it's local.
When in Warren County be sure to take in the tiny village of Finesville, nestled between the Delaware and the Musconetcong Rivers where south facing slopes are covered with vines. The grapes grown here are transformed into some of the best wines produced in New Jersey. Home to several vineyards including Alba and Villa Milagro, Four Sisters and Brook Hollow, the Warren Hills AVA (American Viticultural Area) covers about 226 square miles and enjoys a microclimate that ensures grapes a long hang time in full sun, with cooling breezes at night.
Villa Milagro Vineyards, house of miracles, is inarguably the most beautifully situated vineyard in the area, overlooking the confluence of both rivers. Only organic and sustainable methods are employed to bring the fruit to ripeness here as the owners, Steve and Audrey Gambino, share a vision of stewardship over the land, and, being surrounded by preserved farmland, wildlife and grassland sanctuaries and the two rivers, they are committed to ensuring the purity of their land. Steve, an engineer by trade and an inveterate inventor, has fashioned his own equipment in order to till the land without chemical additives, and when you stop by, you'll find him spraying the vines with ozonated water to curtail mold, which leaves no residual toxins in the soil, on the plants, or in the air. He has also fashioned a fire-breathing dragon of sorts cobbled together from tractors, mowers, and propane tanks. He uses it to burn up any weeds that might grow beneath his prized vines, the charred ash acting as fertilizer.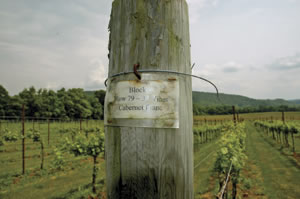 Organically French at Villa Milagro.
This 104-acre organic farm produces soybeans and corn as well as 10 varietals from the 11 acres under vine. In the seven short years that they have owned it, Steve and Audrey have produced European style blends representing the very best of this area. While Steve acts as vineyard manager, Audrey is the actual winemaker who extols the merits of hand harvest as "an awful lot of work but well worth the effort." She proudly poured samples in the tasting room, though she wouldn't confide the exact ratios of varietals in each wine, "that's proprietary information and if I tell you, you can't ever leave here," she joked. "That I wouldn't mind," I replied as she lined up four glasses for me.
First came Dos Luz, a slightly sweet yet crisp blend of Chardonnay and Villard Blanc, without any cloying oakiness. Very nice. Next up was Suave which presents as a Cabernet Sauvignon, rich but more mellow. Smooth. Then onto Sombra, a syrah-like blend with just a hint of oak. Lovely. And topping it off Roja Dulce, a Cab Franc blend that is sherry-like, but not too sweet. Fantastico. I was pretty much stunned by the quality and flavor profiles of these wines and the seamlessness with which they had been blended. Kudos to the winemaker. Needless to say, I carried a mixed case with me when I finally pulled away from this house of miracles.
Thinking it miraculous that I tore myself away at all, I coasted down the road to Alba Vineyards, a powerhouse in production of award winning wines. Year after year, gold medal atop gold medal, winemaker John Altmaier coaxes every varietal to finesse fine wine with focus, not fuss. As a tribute to terroir he allows a grape's character to shine through while maintaining a sense of place. The Dry Riesling with a purity of flavor is as delicate and complex as anything from Alsace. For a sweet and decadent dessert, Forbidden captures the sinful opulence of locally grown apples while Dulcina offers an ice wine's rendition of honey and pears and apricots.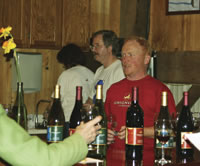 Unionville winemaker Cameron Stark, back east from Napa Valley, shows his Jersey wares..
New Jersey farmland has great soil, fertile when required, then sandy and loamy and well drained and stressed and perfect for grapes. It's what brought Cameron Stark back east from Napa Valley to Unionville Vineyard and Winery in Hunterdon County. He studied wine production from bud to bottle at illustrious Napa producers like Merryvale, Robert Sinskey, Bourassa, and Napa Redwoods. Yes, he left Napa and came east to make wine. "I'm truly lucky," he says about being retained as winemaker for the newly reopened Unionville winery. We had just sampled his '06 Pinot Noir sourced from a small vineyard in Finesville. I commented that it was a killer Pinot. His smile got brighter. "I'll show you killer," he crooned, leading down to the barrel room. As his wine thief, a long glass pipette used for barrel sampling, drew deeply into the '07 Pinot Noir, he beamed, "It's only been in the barrel a few months." I swirled and swished and swallowed. He was right, of course. It was there; you could taste it, smell it, and feel it. What potential. With a bit more barrel time, this could indeed be a world class Pinot Noir. From New Jersey. Grown here, vinified here. The heartbreak grape, difficult to get right, may be a surprisingly good match for this vintner in this terroir.
---
Wine production in New Jersey stretches back nearly three hundred years and, though interrupted by Prohibition and urban sprawl, it is now coming into its own and gaining recognition by winning national and international competitions. Pretty cool. Even cooler, further north in Sussex County, vintners at family owned and operated vineyards and wineries have shown remarkable ability to manage the vagaries of nature and produce wine despite the disadvantage of a cooler climate and shorter season. Cava Winery and Vineyard in Hamburg and Ventimiglia Vineyard in Wantage vinify in the style of their Italian heritage by identifying key aspects of the terroir like minerality, drainage and sun and planting varietals accordingly. Many of these blends are recent competition winners.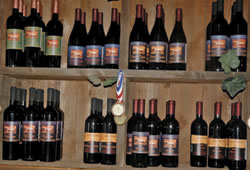 On the shelf at Westfall
At Westfall Winery in Montague, Loren and Georgene Mortimer are maintaining another generation of family traditions, merging the foundations of farming and husbandry, sustainability and stewardship into their everyday business model. And it works. With a heritage steeped in the familial, each aspect of life here has been demonstrated over and again by previous generations since 1940, from thriving Holstein dairy farm to Morgan Horse blue-ribbon breeding center, from Dramatic Arts Workshop to winery and vineyards. With ground broken for the vines in 2000, they have repurposed a barn for full-scale wine production, and, with an eye on quality, they continue to offer premium wines in their tasting room and shop. Deeply passionate about their land and committed to its preservation, Loren and Georgene have surpassed the business adage that states "do one thing and do it right." With their multi-faceted businesses and multi-tasking daily existence, they're getting everything right.
Garden State wineries offer an impressive array with something to please every palate. You owe it to yourself to check them out before you, like I once did, automatically say "New Jersey wine, I don't think so." And remember, "if it grows together, it goes together," so, next time you're bragging about Jersey corn or tomatoes or strawberries, add a local wine to the list. Happy trails.
This story was first published: Summer, 2009