A Taste of Summer
Windy Brow Farms
Profile and photos by Alison Hein
Stand at the edge of the upper orchard at Windy Brow Farms, feel the gentle breeze, and you will know how this quaint and lovely farm arrived at its name. Windy Brow began as a dairy farm in the late 1800s, and the first fruit trees were planted by the Inslee family in 1920. The current proprietors, Jim and Linda Hunt, who have long-standing roots in the local agricultural community, purchased the farm in 2000. They have enhanced their orchards over the years to include peaches, nectarines, plums, cherries, and apples.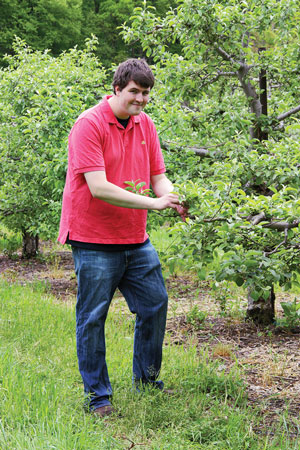 Jake Hunt
When son Jake returned home to Windy Brow in 2013 after earning his degree and gaining hands-on dairy experience in Delaware, he brought his business plan with him. "We are slowly but surely creeping back into our dairy past. Last August we started making homemade ice cream incorporating our own fruits grown on the farm." In addition to traditional flavors, the Cow's Brow Creamery offers seasonal choices – peach, caramel apple crunch, pumpkin, and maple walnut. "We're planning to bring our ice cream to local farmer's markets," adds Jake. "And we want to experiment with ice cream sandwiches and pies. But we don't want our ice cream to become so distributed that no one wants to visit Windy Brow. We want them to experience our farm and see everything we do on site."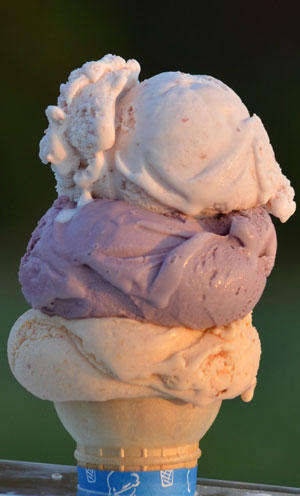 Cow's Brow cone
Inside the original packing house you'll find a broad array of homey cider doughnuts, pastries, pies, tarts and turnovers. Also available in the Windy Brow store are (of course) ice cream, as well as honey, jams, fruit and vegetables in season. Also not-to-miss are the jars of homemade bread-and-butter pickles, made with cucumbers, onions, sugar, vinegar, salt, mustard seed, celery seed and black pepper.
In August, Windy Brow Farms heads to the New Jersey State Fair with ripe peaches, plums, nectarines, and, if ready, some early apple varieties like Gravensteins and Jersey Macs. The Hunts recommend picking up some of their yellow peaches trying one of their favorite seasonal recipes, Grilled Peach Summer Salad. "It's a pretty simple recipe," says Jake, "and one we enjoy throughout the summer when fresh peaches and nectarines are in season and perfectly ripe."
Grilled Peach Summer Salad
with a Tart Cherry Vinaigrette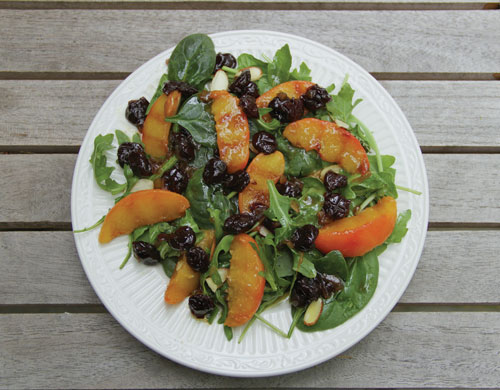 Ingredients
For the vinaigrette:
½ cup olive oil
¼ cup diced shallot
½ cup water
1 cup dried tart cherries
¼ cup sugar
½ cup + 2 tablespoons red wine vinegar
For the salad:
4 to 5 ripe yellow peaches
2 tablespoons honey
¼ pound arugula
½ pound fresh spinach leaves
½ cup sliced almonds
Preparation
To make the vinaigrette, heat ¼ cup of olive oil over medium heat in a heavy saucepan. Once hot, but not smoking, add diced shallot, and cook until golden in color. Slowly stir in water, tart cherries, sugar, and vinegar. Reduce by half, stirring occasionally, for about ten minutes. Reduce heat to low and slowly whisk in remaining ¼ cup olive oil, until emulsified. Remove from heat & allow vinaigrette to completely cool.
Peel and slice peaches. Toss in honey to cover. Assemble peach slices on skewers and grill on medium-hot gas grill or griddle pan until they have a slightly firm interior with a caramelized exterior, about four minutes per side.
Assemble salad by tossing arugula and spinach with cooled cherry vinaigrette. Add in sliced almonds and grilled peaches and enjoy on a warm summer evening!
Serves 8 as a first course.
Windy Brow Farms • 359 Ridge Road, Newton • 973/579-9657
This story was first published: Summer, 2014