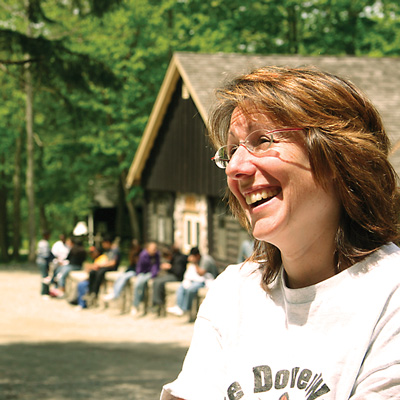 "Respect, responsibility and resourcefulness", according to Dawn Sperry, are the three Rs that are instilled into each and every student attending the New Jersey School of Conservation. For many years, Dawn coordinated trips for seventh graders from Dover Middle School who come every year to SOC, as it is referred to by students and teachers alike. Prior to her supervisory role at NJSOC, Dawn had attended as a student.
Each academic year the NJSOC provides environmental education programs for nearly 7,000 elementary and secondary school students; and nearly 1,000 teachers from 100 schools in 21 counties in New Jersey. Many of the teachers return each year. Although some districts have stopped their participation due to budgetary restraints, others still send students whose grandparents attended 40 or more years ago.
The New Jersey School of Conservation is the Environmental Education Field Campus of Montclair State University. Located 57 miles from the Essex County campus, on a 240-acre tract within the boundaries of Stokes State Forest in Sussex County, it is the oldest university-operated environmental education center in the nation. The educational component is actually geared to training educators and teachers who realize the benefits of using the outdoors as a classroom. The SOC staff teaches the teachers that accompany each group of students; then monitor the teachers as they go about conducting the exercises associated with each unit. All of the lesson plans for each teaching unit are on the NJSOC web site to encourage teachers to prepare ahead of their trip. Educators can actually gain Professional Development Units required by the State of New Jersey by using this program.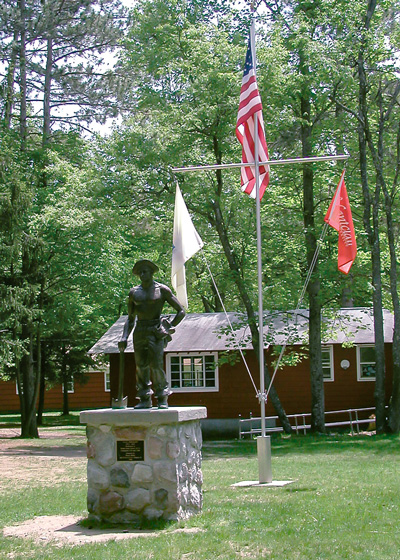 The original buildings were part of the Skellinger Family properties that eventually became headquarters for the Civilian Conservation Corp (CCC) responsible for constructing cabins, privies, roads, bridges and impoundments for holding water to fight forest fires. As you drive through the forest today, you cannot help but take notice of their artesian handiworks, especially the fine stonework on the bridges crossing the Flatbrook and its tributaries. A commemorative statue of a CCC Enrollee dedicated in 1996 greets visitors arriving on the SOC grounds. The CCC was part of Roosevelt's New Deal in 1933 by which millions of out-of-work young men were employed on public projects to repair and enhance our nation's natural resources.
The New Jersey School of Conservation officially opened on Memorial Day in 1949 with Dr. E. De Alton Partridge as its first Director. Partridge believed that outdoor education could serve as a critical approach to help teachers with subjects in which they lacked first hand experience or knowledge; like weather, natural history and geology. Dr. Partridge had cultivated his skills in outdoors education at the Mashipacong Pond Life Camp where my college professor counciled. Dr. John Kirk then served a long tenure as Director until his retirement in 1999, when Dr. William (Bill) Thomas, an anthropologist from Arizona State University, took over the reins. His ongoing ethno-ecological research in the conservation and traditional ecological wisdom of indigenous people in Papua New Guinea lends unique perspective for his work here in New Jersey.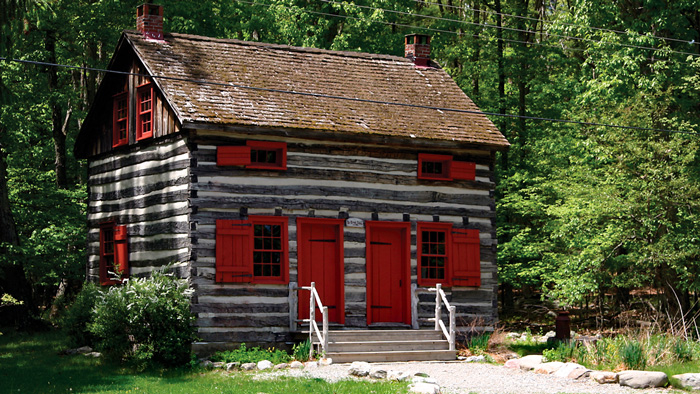 As you would expect, much of the overall education program at NJSOC is oriented to natural history, outdoor activities and learning situations ranging from astronomy, beaver ecology, and bird watching to wetland ecology. Equally important are the social science and the humanities components, with sessions on Art in Nature, Creative Writing and Sensory Awareness in a Natural Setting. In the past, summer programs at NJSOC have included a Student Music Camp with noted musicians conducting workshops on jazz and other musical genre. This summer, the Preparatory Center for the Arts of Montclair State will provide curriculum and faculty for the Stokes Music Camp. Working together with the New Jersey School of Conservation, the program offer students aged 10-18 a camping experience that fuses the better of two worlds: music and nature. NJSOC provides the setting and staff to run the ecology classes and hikes. A day program is available for qualified younger students and residents of Sussex County and nearby locations. Registration and more information is available on line .
Some of the students from Dover during my most recent visit to NJSOC told me that one of their favorite sessions is the Action Socialization Experience where small groups of students cooperatively decide on a solution to a carefully designed problem and then carry out their plan of action as quickly and efficiently as possible. Students have approximately 15 minutes at each station. As a result, the students realize that through communication and cooperation they are able to solve numerous challenges. Visiting teachers and adults are the facilitators for the actual activities but intervene only when the group needs refocusing. The students are assigned randomly, most of the time they do not know each other well and certainly have not worked together to solve a common problem before. The students incorporate this experience in team building back in the classroom in their regular school curriculum.
NJSOC has not been without its fiscal crises as priorities change within the academic world each year as. In 1980 Montclair State declared that an annual subsidy of $100,000 was needed to ensure the survival for NJSOC. The New Jersey Department of Higher Education refused the request and later that year SOC was notified that the annual $50,000 funding would cease as well. Assemblyman Robert Littell (later State Senator) introduced a financial aid bill for $144,000 which was unanimously approved. Although then Governor Brendon Byrne signed the bill, funding was not available because it was passed too late in the fiscal year. SOC's closure was imminent. Only after an onslaught of 20,000 and hundreds of phone calls to legislators were the funds found to keep SOC going. Ever since, SOC is funded in part by a separate line item in the state's budget which comes under scrutiny each year. The tuition and fees charged to the districts are not enough to operate NJSOC, so money must be provided by Montclair University and the State of New Jersey for its continued operation. As aged buildings deteriorate and need repair and as operating costs go up; "Each year is a struggle and a challenge" according to Dr. Thomas.
NJSOC is a very special place with solitude and serenity completely devoid of the noises and distractions of the outside world.
The President of Montclair State notified NJ DEP of the University's intent to close the school, effective July 1st 2020, due to the financial challenges presented by the coronavirus pandemic. This will potentially mean permanent closure for this facility. The Friends of NJ School of Conservation are campaigning hard to gather support and find ways to keep this fantastic learning center open. Learn More!
Nearby accommodations and attractions
Wilbur's is the perfect destination on a drive through the New Jersey countryside. British foods and candy, Yankee candles, wind chimes, pet-themed gifts, preserves, much more. Charming location in barn complex between Newton and Blairstown.

735 Route 94, Newton 07860, 908/362-8833

One day you are likely to find yourself headed to New Jersey's northernmost corner in search of adventure.

The Byram lake is a good kayaking destination.

This early 19th-century restored village, once bustling port along the Morris Canal, contains a working mill complex with gristmills and sawmills, a general store, blacksmith shop and several historic houses, and a re-created seventeenth century Lenape Indian settlement. On Saturdays, June through September, the canal store, gristmill, visitor's center, Canal Museum, and Highlands Boat Exhibit are open, 10am - 4pm. Summer at Waterloo is a partnership between the Canal Society of New Jersey and the NJ Park Service.

525 Waterloo Rd, Stanhope 07874, 973/347-1835
This story was first published: Summer, 2007