Of Franchising, Fun and Love!
Branded!

Drive down any divided highway in New Jersey and you're in the land of chains and franchises, where brand is king and individuality is dead. Right?
Not entirely. Under those corporate logos labor dreamers, not drones. And their lives, even within the context of corporate logos, are as rich, varied and satisfying (or not) as any life spent creating the most original independent restaurant.
Defining Terms
A franchise is a business bearing a well-known brand and marketing a well-known set of goods or services under an agreement with the corporation that owns that brand and developed those goods or services. Franchise agreements vary widely, but in general, they require the franchisee to pay a franchise fee up front, and then a fixed percentage of his gross sales. In return, he receives the right to use the brand (with certain limits on how he may use it), to sell the goods and services (again, within certain limits), and to receive training and support from the franchisor.
Among restaurants that offer franchises, there is considerable variety. There are fast-food restaurants (the industry seems to prefer the term "quick service"), adult fast-food restaurants, casual dining restaurants, casual dining restaurants with an ethnic theme, and restaurants focused on games or a particular food item, like ice cream or donuts. There are endless combinations of these possibilities, and considerable movement between them. Friendlys, for example, started 70 years ago as an ice cream parlor, but now offers full meals while working hard to keep its ice cream parlor image.
Benefits
In business terms, the franchisee benefits because much of the heavy lifting of starting a business is done by the corporation that owns the brand and has marketed it successfully, all over the place, again and again. The franchisor may help the franchisee find the site, and provides expert advice about getting permits and dealing with contractors, hiring and training the staff. The franchisor takes a considerable load off the franchisee's mind so the franchisee can concentrate on making the business a success.
In personal terms, the benefits can go considerably deeper than that.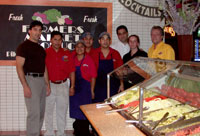 Gary Vega and crew at Fuddrucker's
More than a decade ago, Gary Vega and Bill Cook were doing well. Cook was a stockbroker on the cusp of a bull market; Vega was the chief financial officer of a subsidiary of Hoffman LaRoche, the giant pharmaceutical firm. But, Vega says, something was missing. Aside from the fact that, like most would-be entrepreneurs, they both wanted to run their own businesses, they were missing fun. Noticing that people were eating out more, Vega says, they began to research restaurant franchises.
"We were looking at hundreds of different franchises, looking at Roy Rogers, Burger King, McDonalds, and so on," Vega says. "I said, 'Look, these concepts already have all their good sites, and they just copy each other.' I wanted something unique."
While Vega and Cook were hunting for the perfect franchise, love was blossoming under the Golden Arches in New Jersey. Phil and Diane Koury were already McDonalds' people: He was the son of a McDonalds franchisee, and had worked in his father's stores in Brooklyn, North Plainfield and Flemington. She was a supervisor for McDonalds, working with franchisees after having worked for a franchisee on Long Island. They married in 1990. That same year, McDonalds asked them to manage a company-owned store in Clinton.
At about this time, Ed Doherty, now president and owner of Doherty Enterprises, was failing in the franchise business. Doherty, a long-time executive for the Marriott Corp., had franchised 19 Roy Rogers restaurants in Connecticut, and he was drowning in debt. Marriott had sold the Roy Rogers brand to another company, and that company "basically destroyed the brand," Doherty recalls. "The franchisee can be out there doing everything right, but if the brand loses its cachet, your business will decline," he says. "I had to sell my 28 RR to my competitors to pay off my debt."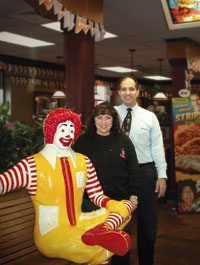 Ronald and the Kourys
With their marriage, the Kourys launched a small empire of burgers, fries, shakes, salads and McNuggets. They now own stores (on the fast-food end of the franchising business, restaurants are usually called "stores") in Clinton, Flemington and Franklin Township in Hunterdon County, and Washington Township in Warren County. They have no doubt at all that they, McDonalds and northwestern New Jersey are perfect together.
"It's like being in business for yourself, but not by yourself," Phil Koury says.
"I love the people," Diane Koury says, referring here to the people who work in her stores. "Carlos Zacarias came here five years ago, spoke no English, now he's married and has a family. Most have been here at least five years, and some have been here 10 years. Tracy Ulianna started out when she was very young, and now she's a manager, married, owns a home. Rich Coulombe, was 14 when he started with us, and he manages the Clinton (Franklin Township) Wal Mart (McDonalds). He met his wife there."
Meanwhile, Vega and Cook found the franchise with the missing ingredient: Fuddruckers. They stopped counting beans and selling stocks, and began a decade-long adventure marketing...well, what Vega calls "a unique concept".
"You see, Fuddruckers is not fast food," Vega says. "We have fresh food ­ beef, buns, everything is fresh. We also have beer, wine and liquor. We're also not 'sit-down' restaurant.. "We have game rooms for the kids. We're in a niche that, for some reason, nobody has gotten into yet. We have indoor playgrounds and video games. We have specialty burgers, ostrich, turkey, veggie. We serve an upscale gourmet burger, but we also have tons of salads, steaks and chicken."
Doherty rebounded, to put it mildly, and now his company, based in Annandale in Bergen County, owns 48 franchise restaurants in three states, including 38 Applebees, of which five are in northwestern New Jersey.
"Two things give me pleasure," Doherty says. "If you have the right franchise, and you're in the restaurant, and you're talking to the guests, and they like the experience, it really makes you feel good. If you can provide the food, the ambience, and they enjoy it, it really makes you feel good. Then there are the people who work with you. Providing people with not just a job but a career...The other part of it is that most of the crew people, not most but many, are young people in their first or second job. If you can help teach them responsibility it helps in their maturation process. It's all about the people whether it's the guests or the people that work for you."
How It's Done, and Who Does It
On the surface, the experience of Vega and Cook is the franchise world's recruiting-poster experience: two entrepreneurs trapped in suits escape from the cube farm and, with a boost from their franchisor, begin selling fun and food for fun and profit. In fact, however, the two partners were experienced businessmen who knew how to calculate risk, and who researched the market for a long time before they finally took the plunge. In the end, Fuddruckers, Vega and Cook all calculated the risks they were being asked to take on each other, and decided their partners were worth it.
The uniqueness of the Kourys' experience makes an even better recruiting poster, because it counters the popular image of fast-food restaurant people as brainless, soulless drudges who spend their days flipping burgers. These are smart people who, building their own lives, have added some bricks and mortars to other people along the way and made a ton of money for McDonalds in the process.
However, Phil and Diane Koury were restaurant people (and Phil Koury, with an accounting degree from New York University, worked for Ernst & Young for a few years before joining his father full-time in the burger biz) long before they got a chance to buy a franchise. They had managed a company-owned store successfully, as well. They knew a lot about restaurants and a lot about McDonalds; for its part, McDonalds knew a lot about them. All in all, on both sides, McDonalds and the Kourys were making a very safe bet.
Ed Doherty had a long track record running restaurant chains for Marriott before he went out on his own, and yet his experience did not save him from failure his first time around. It made him wiser the second time around; like Vega and Cook, he looked for a well-run franchisor with a unique brand. He says he found it in Applebees, a casual-dining restaurant that strives to be a neighborhood restaurant on the inside, even if its external appearance and menu are the same throughout the country.
Most franchisors demand three things from a potential franchisee:
Money. Franchisees must pay one-time franchise fees ranging from $15,000 to $500,000. In addition, they must demonstrate creditworthiness, and the ability to raise money on their own. Once the restaurant is launched, the franchisee must pay a fixed percentage of his annual gross sales, anywhere from 4 to 7 percent.
Relevant experience. All the franchisees we've described were experienced business people, and the Kourys and Doherty were experienced restaurant people. Cook and Vega had management experience.
Time. Most franchise operations require a potential franchisee to undergo a period of training, which often includes a stretch of work in one of the corporation's restaurants. Doherty, clearly, had served his time, at Marriott, and Roy Rogers, by the time he talked to Applebees. The Kourys worked for company-owned operations before they went out on their own. "About 30 percent of the (McDonalds) stores are run by the company, and that's the training ground for owner-operators," Diane Koury says.
Trends, Problems, and Two Cheers for Predictability
At the Hackettstown McDonalds on a recent Saturday, the windows were full of greenery ­ big pictures of lush salads with big strips of white-meat chicken laid across them. These are McDonalds "premium salads", and they are part of the general trend toward "fresh and healthy" eating. "Ethnic" food is another trend ­ Italian food at the Olive Garden; Mexican food at Chi-chi's.
Trends can also be part of a business challenge. The business lunch crowd has thinned out at Fuddruckers in Parsippany in the past couple of years, because the companies on whose expense accounts those lunches were charged have thinned out. But there are still plenty of people interested in mixing food and fun, and Vega and Cook are making the most of them.
If franchise restaurants suffer from a single, collective negative image, it is that their food is the culinary version of plastic spoons and forks. The suggestion that McDonalds hamburgers are in any way inferior ­ particularly in fat content ­ to those sold in local diners sends Diane Koury to the very edge of her professional good cheer. So does the idea that she and her colleagues exist merely to trade carbohydrates and calories for cash. She knows her customers.
"We have the same group of seniors come in each morning," she says. "And then, there are the Sprint United Telephone guys who stop in for some coffee. And there are the kids on the weekends."
The idea that franchise restaurants treat their communities mainly as a place to park or drive through offends franchisees, too. Doherty points out that Applebees prides itself on being a "neighborhood place".
"That's our unique advantage," he says. "You come into an Applebees, and you'll see memorabilia from local sports teams. You'll see your high school colors, pictures of your police department, your fire department."
Finally, all the franchisees we talked to suggested that predictability, on occasion, can be a good thing.
If you should be in Hackettstown for two days (and who can experience Hackettstown in less than two days?), and you want the unique taste of the place to linger on your tongue, you might want to check out the Jigger Pub and the Cottage, across Main Street from each other. The food is good, the prices reasonable, the service attentive, and the atmosphere unique.
On the other hand, if you're God-knows-where and hungry, Dennys or Applebees or McDonalds may be just the thing.
"If you put your finger on the success of franchising, (it's) the ability to replicate the experience so that you and I as a customer trust the brand no matter where we go," says Don DeBolt, president of the International Franchise Association, a trade group representing franchisors and franchisees. "Pricing will be what we expect; service will be what we expect. Franchise restaurant serves a need in society."
This story was first published: Winter, 2003