Visiting kids and adults are fascinated, excited, awed, and curious about what they see during their visit. The museum contains a systematic collection of local minerals on display in the local room, mining artifacts, map models explaining how zinc was extracted from the ores, and what the product was used for. There are more mineral species found at Franklin than any other place on the face of the earth (372). Most of them are on display here.
Franklin and nearby Ogdensburg are world-famous for their zinc mines, with Franklin being particularly known for its colorful fluorescent minerals. Franklin was proclaimed "the Fluorescent Mineral Capital of the World" by a New Jersey State resolution in 1968.
The building in which the mine replica is housed is listed on New Jersey State Historic Site Register and until the late 1800s was the engine house for the Taylor mine. Behind the museum, collecting is available on the world famous Buckwheat dump where people can find their own fluorescent rocks. Dark room facilities are available as are identification services."
The Franklin Mineral Museum is well-known in New Jersey schoolrooms. The teachers coordinate with the guide staff to present an age and curriculum appropriate tour, with grades ranging from kindergarten-aged children to post graduate students. Mineral ID kits and check lists are available to the teachers. A staff person is usually available to assist teachers and students with field collecting. Summer programs are implemented for younger rock hounds. Geology patch courses for scouts and story time sessions are growing ever popular.
The museum hosts exhibits pertaining to many realms of earth science; a room dedicated to American Indian archaeological and cultural artifacts; another full of fossil fish, shells, dinosaur eggs, fossil teeth and fossil dung and a wall full of striking polished slabs of petrified wood. And Welsh Hall holds more than 5,000 specimens of minerals from around the world. But the Museum's mission is to "preserve and disseminate knowledge related to the mineral wealth, geology, and history of 'the greatest mineral locality on Earth,' and to foster scientific inquiry into those subjects." Accordingly, the Museum's primary efforts are for the acquisition and display of mineralogical and geological specimens, artifacts, and documents specific to the history and mineralogy of the Franklin-Sterling Hill mining district.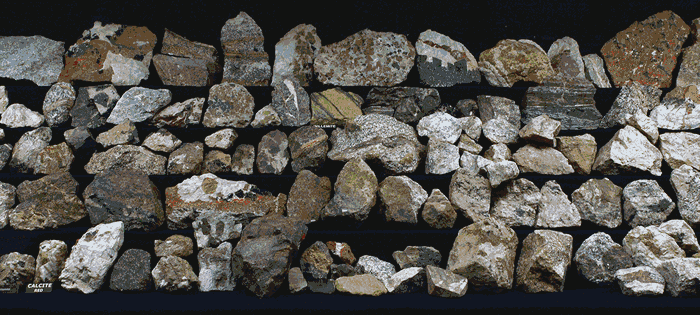 In the Fluorescent Mineral room, a thirty-two-foot-long pageant of rocks includes many of the ninety-plus fluorescent minerals found here. When the lights go out, the brilliant rainbow that jumps from under the display glass never fails to amaze. And in the Local Minerals room, the Museum's curator, Dr. Earl Verbeek, recently completed a complete reorganization of more than two thousand specimens representing most of the 372 mineral species native to Franklin, twenty-four of which appear nowhere else. It will take some time in this room to begin to comprehend why this place is world famous, but it's all there; how each relates to the other and to us. Verbeek and his colleagues constantly tend to the collection, and a large part of the Museum's purpose is continued research at this extraordinarily complex and abundant resource.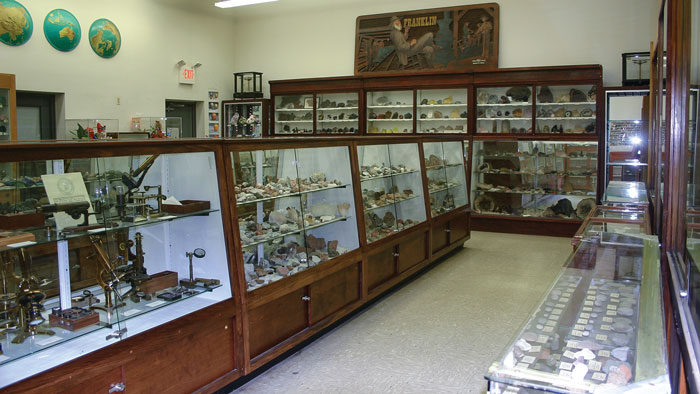 The old Taylor powerhouse now contains an underground mine replica, which was constructed originally by the New Jersey Zinc Company as a training facility for its miners. Before the underground labyrinths were built for zinc mining, Taylor Mine ore came from an open quarry known as the Buckwheat Pit. Waste rock from that pit, rock containing too little zinc to merit smelting, was left in a huge mound that occupies more than three acres on the Museum grounds. Collectors have scoured the Buckwheat Dump for decades in search of fluorescent treasure, so much so that the huge pile is now half its original size. But the Buckwheat is still prime territory. "Because zinc is no longer mined, there are few new specimens available to us," explains Dr. Verbeek. "So, prices keep going up for collectors. People find good stuff all the time. One gentleman recently found a piece of esperite worth $1,000!" Collectors can comb the dump whenever the Museum is open, using an ultraviolet light and black plastic trash bag to block the daylight; or during special nighttime digs. There is a small admission charge and poundage fee for whatever is taken away.
Depending on the age and interest level of the group, tours can last from thirty minutes to one hour, while collecting generally lasts much longer--there's always the possibility a visitor might make a genuine discovery.
Kids and their teachers or parents can picnic in a large area behind the building, and if the weather should prove inclement, the peanut butter and jelly sandwich set can move indoors to the lecture hall. Whether you're a kid or a kid at heart, come spend an hour or two or three and steep yourself in the mineral-rich history of the area. You might just learn something--and have a lot of fun at the same time.
Franklin Mineral Museum
32 Evans Street, Franklin
Open Daily April-November Monday – Friday, 10-4; Sat, 10-5; Sun. 11-5
Click or call 973-827-3481
Nearby accommodations and attractions
, Sussex

Wilbur's is the perfect destination on a drive through the New Jersey countryside. British foods and candy, Yankee candles, wind chimes, pet-themed gifts, preserves, much more. Charming location in barn complex between Newton and Blairstown.

735 Route 94, Newton 07860, 908/362-8833

The Byram lake is a good kayaking destination.

Located in Sussex County near the Kittatinny Mountains the camping resort offers park model, cabin and luxury tent rentals as well as trailer or tent campsites with water, electric and cable TV hookups on 200 scenic acres.

69 Kymer Rd., Branchville 07826, 800/526-2267
This story was first published: Spring, 2003