Consider your participation as a membership
in our proven marketing organization
intended precisely for the audience you want...
Annual fee of $365 includes:
MAGAZINE:
Each issue includes a directory, calendar of events and regional map. These are probably the most looked-at pages in the magazine. Your membership includes a directory and/or event listings and regional map location in each issue.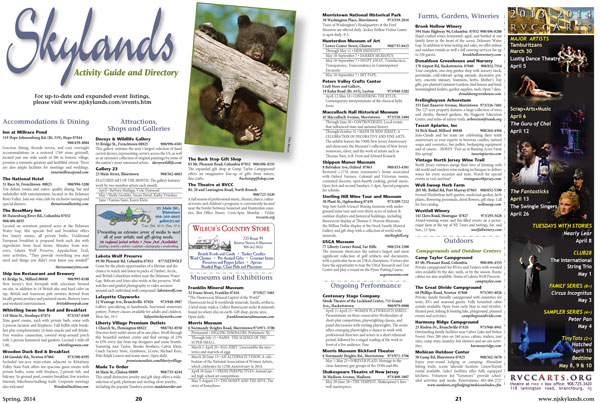 Download pdf of sample magazine spread here...
Magazine listing consists of name, address, phone, website and three line (approx 25 words) description. Additional lines are $25 each.
WEBSITE:
$1 per day to reach a wide and established audience who read the Skylands Visitor because they're interested in YOU!
---
Thank you for considering the Skylands Visitor
as part of your marketing plans.
For rates, print specs, banner sizes, etc, please check here.
Or for more information please e-mail or call
908/496-8598 or 973/879-4887 (cell)
If you DON'T want to receive future Skylands Visitor promotions,
please click here.
Skylands Visitor Magazine, PO Box 329, Columbia, NJ • Privacy Statement