distinct personality of our region.

Each seasonal issue of the Skylands Visitor also includes an extensive calendar of events and activity guide highlighting
Outdoors and Recreation
Topics include dozens of hikes, canoe and kayak trips, camping and fishing ideas, scenic tours, parks and preserves.
Complete index...
Some recent stories:
Back Road Bounty:
An incredible bicycle-friendly network of quiet back roads linking together small towns and historic villages, repurposed rail trails creating pastoral off-road adventures, and miles of single track trail tracing through the rocky upland forests.
Skylands by Saddle:
In a land crisscrossed by interstates, punctuated with traffic lights, and clogged with cars, it's easy to overlook how much northwestern New Jersey territory you can still cover on a horse.
Wallkill River:
Follow the tiny but mighty river on its 88.3-mile journey north through eastern Sussex County into New York State.
Paulinskill Valley Trail:
Hiking the 27-mile railtrail.
Islands of the Delaware:
markers for the miles traversed on a float down the river, and for centuries of human history along its banks.
Blue Mountain Lake:
A wilderness escape yields scant evidence of the ambitious development for which it was created.
---
Towns and tours
Scenic drives, follow a river, town and county profiles.
Complete index...
Some recent stories:
Sparta, Ogdensburg and Franklin:
A mining heritage corridor like no other in the world.
Big Skylands Country:
Montana Mountain down through the Pohatcong Valley is rewarding for students of history and devotees of the outdoors.
Denville Detour:
Jonathan's Woods, lakes, and area history.
Jockey Hollow in Bernardsville:
Explore trails that crisscross through a National Park and a wildlife sanctuary.
Trails, Tracks and Taverns:
Old roads and new trails in and around Hunterdon County's Jugtown Mountain.
Park Place: Montague and High Point:
One day you are likely to find yourself headed to New Jersey's northernmost corner in search of adventure.
---
History and Heritage
The themes and traditions that define our region from colonial times to current monuments and museums.
Complete index...
Some recent stories:
Canal Days at Bird's Lock:
Among the shreds of Morris Canal that have somehow avoided destruction is a quarter-mile watered stretch that leads to Lock 2 East in Wharton's Hugh Force Park.

Historic Barns:
The west central part of New Jersey has the greatest diversity of barn types perhaps in the entire North American continent.
High Bridge and the Union Furnace:
A story of the workers who helped shape the history and destiny of the United States.
Millstone Scenic Byway:
Eight historic districts along the D&R Canal in southern Somerset County
The Blair Trail:
Follow John I. Blair's life through Blairstown, Hope, Belvidere and Delaware.
Drakesville Historic Park:
District just off busy Route 10 pays tribute to Morris County's pedigree of innovative pioneers.
---
Farms and gardens
Produce markets and pick-your-own, orchards, berry cultivators, equestrian centers, wineries, herb growers, honey producers, cheese makers,
complete index...
Some recent stories:
Your Neighbor's Cow:
Northwest New Jersey is now home to two dairy farmers who sell their milk directly to the consumer.
History You Can Taste:
Garden State Heirloom Seed Museum
Women Farmers
make up twenty-two percent of New Jersey's 15,936-plus farmers, and their rate is steadily increasing.
Home Gardening:
Put away dozens of quarts of homegrown produce for consumption throughout the year.
Beekeepers
are meteorologists, botanists and entomologists all at once.
Community Gardens:
New Jersey's edibles emerge in pieces of land subdivided into individually tended parcels.
Risky Business:
New Jersey's first hemp farmers face a maze of risks.
---
Nature and Wildlife
While you enjoy a wide range natural phenomena - watchable wildlife, bird species, wild flowers, whatever – don't miss the rest of the story.
Complete index...
Some recent stories:
The Musconetcong River Valley:
The river and its valley describe, for better or worse, the evolution of modern American culture in the advance of agriculture, transportation and industry.
Turtles
require space to roam to do all the things creatures need to do - eat, breed, escape, shelter
St. Hubert's Giralda:
Geraldine Dodge's solution for unhappy dogdom.
If You Plant It, Will They Come?
Insects are critical components of any natural area.
Moths: Moonlight Miracles
---
Arts and Culture
Events, fine arts, crafts, musicians, theater, museums,
complete index...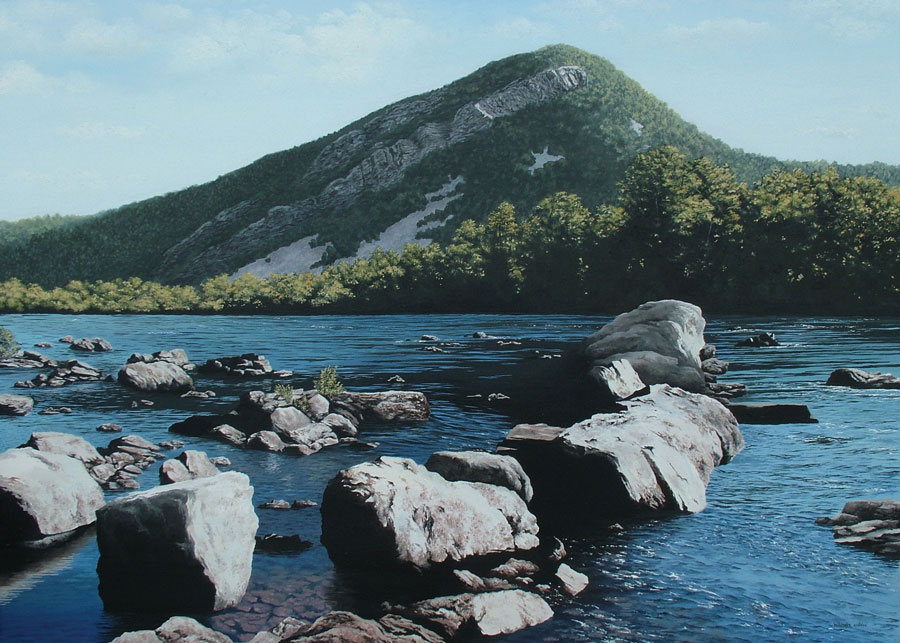 Some recent stories:
Delaware River Artists
who portray the river and its environment in all its splendor.
How Sweet The Sound:
Mark Simon's resonator guitars.
Summer Fairs:
In spite of all the turbulence in our lives, or perhaps because of it, traditional fairs and festivals remain especially popular.
Shakespeare Theater
magic as fine as any in the realm.
Centenary Stage Company:
A fountain of entertainment, but more an investment in artistic expression and cultural vitality.
2020 Juried Highlands Art Exhibition
---
Attractions and Accommodations
Family attractions, events, farm visits, getaway accomdations, restaurants worth the trip,
complete index...
Schuyler-Hamilton House:
Alexander Hamilton courted Betsy Schuyler and the beautiful socialite in this historic Morristown home, rescued and maintained by the Daughters of the American Revolution.

Duke Farms:
A park with a mission.
Macculloch Hall:
Multiple threads of Skylands heritage.
National Hotel:
Revived in Frenchtown.
Comfort Food:
Warren County diners.
Read the Spring, 2022 issue
Read the Autumn, 2021 issue
Read the Summer, 2021 issue
Read the Spring, 2021 issue
Read the Autumn, 2020 issue
Read the Spring, 2020 issue