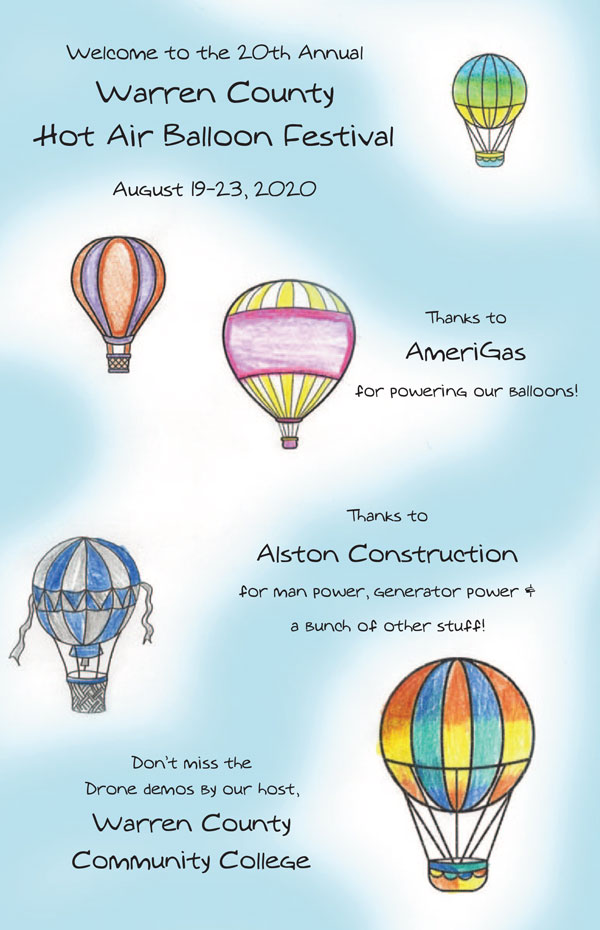 Hot Air Balloon Festival to Take Flight at Warren County Community College - Let's Fly!
This year, under the guidelines set by NJ Dept. of Health, the 20th Annual Hot Air Balloon Festival in Warren County is ON! The event will take place on

August 19-23, 2020,

at the

Warren County Community College,

475 Route 57, Washington, NJ.

Download our daily schedule of events and make plans to join us!



Tickets are available online

at balloonfestnj.com. Quantities are limited, based on current NJ guidelines for outdoor events. In addition to tickets, visitors will be required to have masks on hand to be worn in areas where social distancing is not possible, and where designated. Please feel free to

bring blankets and lawn chairs

to comfortably socially distance around the balloon port. There will also be a limited option to park and watch from your car, once you have entered the campus with your ticket. Tickets will be sold the day of the event only if we are not at maximum capacity, so purchasing in advance is suggested.


See you there!
---
Share this email
*|MC:TOPSHARE|*
---
Skylands Visitor Magazine, PO Box 329, Columbia, NJ • Privacy Statement