Trip the (Fluorescent) Light Fantastic
Franklin Mineral Museum
by Kathryn Ptacek
Is it the bronze statue of the miner on the front lawn greeting the visitor or perhaps the full-size replica mine inside the building? Or could it be the lure of dinosaur footprints from New Jersey, the world's largest polished slabs of petrified wood, scorpions, dinosaur dung, and over 3000 specimens of local minerals that brings nearly 20,000 school-age children to the Franklin Mineral Museum each school year. The Museum, a non-profit educational institution which opened in 1965, is located in Franklin (Sussex County), New Jersey.
"Visiting kids and adults are fascinated, excited, awed, and curious about what they see during their visit," says Museum curator John Cianciulli. The museum contains, "a systematic collection of local minerals on display in the local room, mining artifacts, map models explaining how zinc was extracted from the ores, and what the product was used for. There are more mineral species found at Franklin than any other place on the face of the earth (357). Most of them are on display here."
Franklin and nearby Ogdensburg are world-famous for their zinc mines, with Franklin being particularly known for its colorful fluorescent minerals. Franklin was proclaimed "the Fluorescent Mineral Capital of the World" by a New Jersey State resolution in 1968.
The building in which the mine replica is housed is listed on New Jersey State Historic Site Register and until the late 1800s was the engine house for the Taylor mine. Behind the museum, collecting is available, says Cianciulli, "on the world famous Buckwheat dump where people can find their own fluorescent rocks. Dark room facilities are available as are identification services."
The Franklin Mineral Museum is well-known in New Jersey schoolrooms. "The teachers coordinate with our guide staff to present an age and curriculum appropriate tour," Cianciulli reports, with grades ranging from kindergarten-aged children to post graduate students. "Mineral ID kits and check lists are available to the teachers. A staff person is usually available to assist teachers and students with field collecting. Summer programs are implemented for younger rock hounds. Geology patch courses for scouts and story time sessions are growing ever popular."
Depending on the age and interest level of the group, tours can last from thirty minutes to one hour, while collecting generally lasts much longer--there's always the possibility a visitor might make a genuine discovery. New minerals have been found there as recently as two years ago.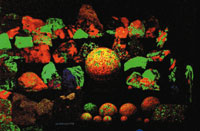 The fluorescent minerals, second- to-none in the world, are one of the feature attractions in the Franklin Mineral Museum. The sphere made of willemite (green) and Calcite (red) is the largest such sphere in the world at 12" in diameter.
Not just a series of displays behind glass, the Franklin Mineral Museum provides hands-on experience as well--for kids as well as their teachers. "We have large specimens of hands-on minerals like magnetite with a magnet attached to it for the younger kids to experience magnetism. We have rocks that spark if you bang them together. We have rocks that will glow if you heat them in hot water... and more."
The Museum has revolving exhibits-- "mineralogical, geological, or historical, scientific in nature."
Kids and their teachers or parents can picnic in a large area behind the building, and if the weather should prove inclement, the peanut butter and jelly sandwich set can move indoors to the lecture hall.
Also found at the Museum is the David B. Jensen Annex, home to the Wilfred R. Welsh Natural History Collections and archeological collection, and consisting of a fossil room (where the polished petrified wood slabs can be seen--including one nearly four feet in diameter), an Indian room, and a world mineral room with a display of over 5000 minerals from around the world. "Also we have a small entomological collection that is new and an antique microscope collection that will be viewed for the first time in 2003."
Curator Cianciulli reports that they are "presently working on a local walking tour of the museum property that has visible remnants of industrial archaeology that ties in with the mining history of Franklin."
Whether you're a kid or a kid at heart, come spend an hour or two or three and steep yourself in the mineral-rich history of the area. You might just learn something--and have a lot of fun at the same time.
Where: 32 Evans St., Franklin, Sussex County, New Jersey. For directions, go online to the website or call (973)827-3481.
When: The museum is open on weekends in March, weekdays by appointment; collecting depends on the weather. From April through November, the museum is open daily, Monday through Saturday, from 10 a.m. to 4 p.m. Sunday hours are 11 a.m. to 4:30 p.m.
How much: Hourly guided tours: Adults $5, Children (through 12th grade) $3, Senior Citizen $4.
Rock Collecting: Adults $6 (up to 6 pounds), Children $3 (up to 3 pounds), Senior Citizen $4 (up to 4 pounds). $2 per pound for each pound over the limit.
Combination Tour and Collecting: Adult $9, Children $5, Senior Citizen $7.
Group Rates available. All prices subject to change.
Facilities: The museum also has a gift shop, and most areas are handicap-accessible.
What Else: Annual "Miners and Volunteer Appreciation Day" is held the first Sunday in May. The Science Award Ceremony for Annual Science Award Competition is held at same time.
Nearby accommodations and attractions
There's always something fun happening at the Sussex County Fairgrounds. Visit our web site for a full year of family fun, right in your own backyard.

27 Plains Road, Augusta 07822, 973/948-5500

"The Fluorescent Mineral Capitol of the World" Fluorescent local & worldwide minerals, fossils, artifacts, 2-level mine replica. Join in ?mine games? and dig for fossils, gem pan and rock collect! Collect fluorescent rocks & minerals found no where else on earth. Gift shop, picnic area. Open daily.

32 Evans Street, Franklin 07416, 973/827-3481

Private campground community offering affordable vacations that include central water and sewage disposal, boating, hiking,fishing and planned activities throughout the summer for all ages. Located minutes from Mountain Creek and only 55 minutes from New York.

100 Tall Timbers Rd, Sussex 07461, 973/875-1991

Wilbur's is the perfect destination on a drive through the New Jersey countryside. British foods and candy, Yankee candles, wind chimes, pet-themed gifts, preserves, much more. Charming location in barn complex between Newton and Blairstown.

735 Route 94, Newton 07860, 908/362-8833