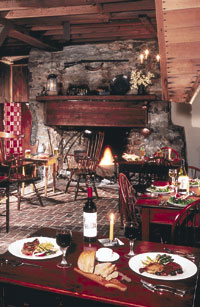 The seventeen-room Inn and Restaurant is comprised of three main buildings, the Grist Mill (location of the restaurant, tavern, registry, and the majority of rooms), Millrace House, and the stone Wheelwright's Cottage. The "engine" that once allowed the mill to do its work; a hand-carved, shoulder-width watercourse through grey striated shale, drew water down from the pond and directed to the waterwheel in the basement of the mill. At Grist Mill the warm hearth of the tavern downstairs invite the eye and spirit to enjoy the friendly character of the Inn's loving restoration. (Tavern Menu).
Upstairs, exposed post and beam construction treat the eye of every restaurant patron. The race, giving the site its name, fills now only to give reflection to the quiet woods that gently rise from behind the old millmaster's home, Millrace House, where wide board flooring and antique furnishings grace every view. A deep plenum frames each window in the formal symmetry of the two rooms at Wheelwright's Cottage.
A fourth building, the Raoul Wallenberg Conference Center at The Inn at Millrace Pond opened its doors in the Spring of 1999. The rescue and renovation of this 170 year-old home has resulted in singular opportunities for productive meetings in a state of the art facility on the grounds of inn. Having prevailed over of physical relocation to the property and the rigors of historic restoration, the house now appears, in large part, as it did in 1830.

And from the famous grist mill, where so many have already enjoyed elegant hospitality, it will be hard to look across the lawn at the old, proud house and imagine that it belonged any place else.
The Inn at Millrace Pond is located on Rt., 519 in Hope, NJ 07844. For information and reservations call 908/459-4884 or check their website .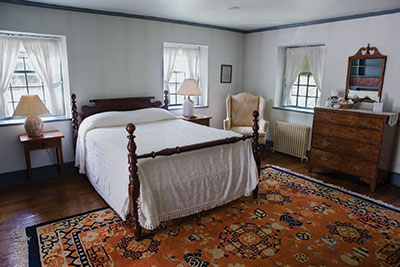 Nearby accommodations and attractions
Organic-style, healthy fast-food for cozy dining in, carry out or delivery. Dozens of delicious, hardy soups, salads, wraps and more made fresh every day with ingredients that are locally grown, raised, pastured, and free of any pesticides, hormones, chemicals, or inhumane treatment. Pre-order from our daily menu posted online. Farm to Ladle, Pot to Table!

199 Main St., Hackettstown 07840, 908/736-6004

Come for the photo opportunities of a lifetime and the chance to watch and listen to packs of Tundra, Timber, and Arctic wolves near the Delaware Water Gap. Bobcats and foxes also reside at the preserve. Wolfwatches and guided photography or video sessions around each individual wolf compound.

89 Mt Pleasant Rd, Columbia 07832, 1-877-SEEWOLF

, Columbia

The UACNJ facilities in Jenny Jump State Forest, near Hope in Warren County, are 1,100 feet above sea level, one of the few dark sky locations left in the state.

, ,

Located on the Delaware River near the Delaware Water Gap, where you?ll enjoy raft, canoe, kayak or tube trips, the campground offers trailer and tent campsites as well as trailer and cabin rentals.

100 Route 46, Columbia 07832, 800/543-0271

Located on the Delaware River near the Delaware Water Gap, where you?ll enjoy raft, canoe, kayak or tube trips, the campground offers trailer and tent campsites as well as trailer and cabin rentals.

100 Route 46, Columbia 07832, 800/526-2267