The Personality of Northwest New Jersey
"Skylands" is simply a perspective; a way of looking at and appreciating Northwestern New Jersey. "Thinking Skylands" endeavors to meld those characteristics shared by the constituent counties, towns, ridges, valleys, country roads and sections of interstate into a comprehensive portrait; one more attentive to geographic, cultural, and historical attributes than county and municipal borders. Explore the remarkable personality of this place!
A variety of eateries and shops, offering delectable treats, imaginative gifts and treasures, are just waiting to be discovered! Treat yourself and your loved ones to a Historic Chester Experience you will never forget.

Tree farmers must plan years in advance, provide year-round care, and invest time, labor, and love into a crop which takes 7-15 years from planting to harvest.
Take advantage of the fall harvest, and "put up" some food for healthy, nutritious eating during the long winter months.
The Pequest Furnace played a role in the Industrial Revolution along with dozens of other sites in Northwest New Jersey. However, the part played here has been relatively obscure, pieces of a puzzle hidden in the Warren County woods.
As the autumnal equinox approaches, local residents and visitors to the Northwest New Jersey Skylands gather to watch the raptor migrations as they fly along the thermals created along the path of the world's oldest mountain range the Appalachian Mountains.
The historic and scenic river towns of Easton, Portland, Columbia, Belvidere and Phillipsburg all merit in-depth exploration of their own, but this forty-eight-mile loop tour emphasizes the old roads connecting them.
Sprinkled with nearly a dozen vineyards, the area is also making its mark as a delightful destination for a diversity of wineries.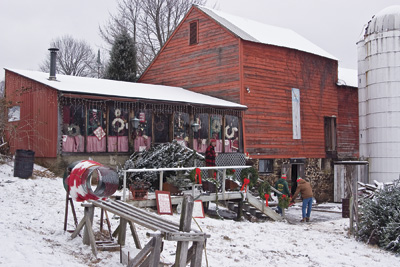 Officially, the Skylands Region refers to Northwest New Jersey and includes the counties of Morris, Somerset, Hunterdon, Warren, and Sussex. Destinations just beyond those borders, in neighboring counties and states (Pennsylvania and New York), are equally intriguing and convenient, so don't be confused if you come across some of those here.
The region contains two national parks at its edges, 60,000 acres of state parkland, and a diverse and beautiful geography filled with lakes, rivers and picturesque hills dotted with farms. The region's rustic nature is perfectly complemented by many vigorous towns and villages that offer wonderful entertainment, shopping and dining opportunities, fine museums, theaters and accommodations. And there is a year round schedule of arts & crafts fairs, antique shows, exhibits and festivals in New Jersey's Great Northwest.
Think Skylands for the holidays!
Make it a point to get out and enjoy the pleasures of the season. We've collected lots of ideas for you and your family. Some may be obvious, some might surprise you. We hope we're helpful when you're planning an afternoon, a weekend, or perhaps a permanent relocation to New Jersey.
Most of the material you'll find here has been published in our quarterly guide to the region: the Skylands Visitor Magazine. If you'd like a free copy, move over here.