The Personality of Northwest New Jersey
"Skylands" is simply a perspective; a way of looking at and appreciating Northwestern New Jersey. "Thinking Skylands" endeavors to meld those characteristics shared by the constituent counties, towns, ridges, valleys, country roads and sections of interstate into a comprehensive portrait; one more attentive to geographic, cultural, and historical attributes than county and municipal borders. Explore the remarkable personality of this place!
New Jersey is well known for its canoeable rivers, but nowhere in New Jersey is there a greater diversity of canoeing/kayaking experiences than in the Skylands.
These days, enjoying life outdoors is almost a hazard to your health. But Nature in the Skylands is not to be missed despite voracious female mosquitoes seeking blood for protein and fat for her eggs, or despite deer ticks or black flies, sometimes just out to taunt. So don't be scared. Be aware!
Islands of the Delaware are markers for the miles traversed on a float down the river, and for centuries of human history along its banks.
The Bouman-Stickney Farmstead in Readington is well into a new chapter, one written for posterity.
Drawing visitors and vendors from throughout the Northeast US for over a quarter century, Scandinavian Fest is the largest all-Nordic festival in the US.
Shakespeare Theatre of New Jersey
Jean-Claude and his team are celebrating their 10th anniversary as your experts in beeswax candles, natural soaps and cosmetics, bee pollen, beekeeping equipment and of course, HONEY!
Follow John I. Blair's life through Blairstown, Hope, Belvidere and Delaware.
Right here, right now!
Sprinkled with nearly a dozen vineyards, the area is also making its mark as a delightful destination for a diversity of wineries.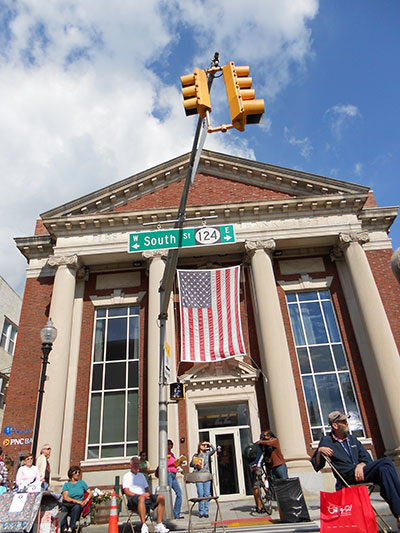 Officially, the Skylands Region refers to Northwest New Jersey and includes the counties of Morris, Somerset, Hunterdon, Warren, and Sussex. Destinations just beyond those borders, in neighboring counties and states (Pennsylvania and New York), are equally intriguing and convenient, so don't be confused if you come across some of those here.
The region contains two national parks at its edges, 60,000 acres of state parkland, and a diverse and beautiful geography filled with lakes, rivers and picturesque hills dotted with farms. The region's rustic nature is perfectly complemented by many vigorous towns and villages that offer wonderful entertainment, shopping and dining opportunities, fine museums, theaters and accommodations. And there is a year round schedule of arts & crafts fairs, antique shows, exhibits and festivals in New Jersey's Great Northwest.
This Summer, Think Skylands!
Make it a point to get out and enjoy the pleasures of the season. We've collected lots of ideas for you and your family. Some may be obvious, some might surprise you. We hope we're helpful when you're planning an afternoon, a weekend, or perhaps a permanent relocation to New Jersey.
Most of the material you'll find here has been published in our quarterly guide to the region: the Skylands Visitor Magazine. If you'd like a free copy, move over here.